Tuesday's Federal Reserve statement (see below) contained no big surprises. We expected them to reiterate their intention of completing all the bond purchases as outlined originally in the second quantitative easing program (QE2). The Fed's hope is that rising asset prices will increase confidence, and in turn lead to more spending and more hiring.
For those who were expecting the Fed to water down QE2 as a result of improving economic data, you may be underestimating the role of asset prices in the Fed's decision making process. As we explained on October 29, 2010 in Quantitative Easing and Asset Price Inflation:
QE attempts to flood the global financial markets with fresh cash in an attempt to reinflate asset prices. When the stock market goes up, people and businesses feel more wealthy, and are thus more apt to spend, invest, and take risks (in theory). Rising asset prices can improve the asset side of impaired global balance sheets, which the Fed hopes can rekindle the wealth effect.
When we made the comments above the S&P 500 was trading at 1,183. Today, the stock market stands 9.55% higher despite commentary from many that QE2 would have little effect on the markets. The important portion of the Fed's January 26, 2011 statement is below:
Information received since the Federal Open Market Committee met in December confirms that the economic recovery is continuing, though at a rate that has been insufficient to bring about a significant improvement in labor market conditions. Growth in household spending picked up late last year, but remains constrained by high unemployment, modest income growth, lower housing wealth, and tight credit. Business spending on equipment and software is rising, while investment in nonresidential structures is still weak. Employers remain reluctant to add to payrolls. The housing sector continues to be depressed. Although commodity prices have risen, longer-term inflation expectations have remained stable, and measures of underlying inflation have been trending downward.

Consistent with its statutory mandate, the Committee seeks to foster maximum employment and price stability. Currently, the unemployment rate is elevated, and measures of underlying inflation are somewhat low, relative to levels that the Committee judges to be consistent, over the longer run, with its dual mandate. Although the Committee anticipates a gradual return to higher levels of resource utilization in a context of price stability, progress toward its objectives has been disappointingly slow.

To promote a stronger pace of economic recovery and to help ensure that inflation, over time, is at levels consistent with its mandate, the Committee decided today to continue expanding its holdings of securities as announced in November. In particular, the Committee is maintaining its existing policy of reinvesting principal payments from its securities holdings and intends to purchase $600 billion of longer-term Treasury securities by the end of the second quarter of 2011. The Committee will regularly review the pace of its securities purchases and the overall size of the asset-purchase program in light of incoming information and will adjust the program as needed to best foster maximum employment and price stability.
Gold (NYSEARCA:GLD) responded to the Fed by jumping 1.0% on Tuesday. For now, gold remains in a short-term downtrend shown via the orange lines below. The recent break of the upward sloping green trendline means what "once was support may now act as resistance" (see green arrow).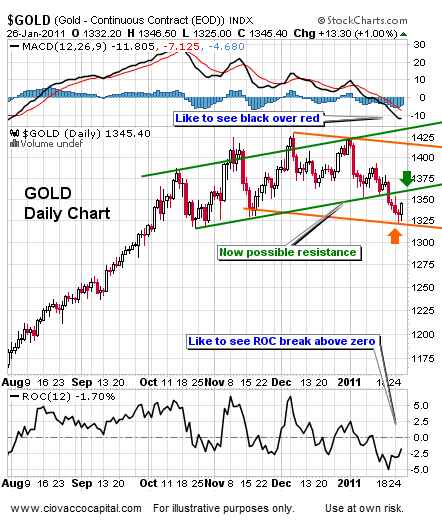 From a bullish perspective, we would like to see the black MACD line (see top) cross above the red MACD line. A move above the zero line in the Rate of Change indicator (ROC shown at bottom), especially with a steep slope, would also hint at the lower orange trendline stemming the recent decline at least for a time. As of Wednesday's close, we believe a little patience is needed prior to adding to our gold (NYSEARCA:IAU) holdings. As mentioned yesterday, we are in the process of updating our asset allocation models.
Disclosure: I am long GLD, IAU.
Additional disclosure: Generally, I am long global stocks and commodities,