National Instruments Corporation (NASDAQ:NATI), an Austin, Texas, manufacturer of measurement and automation software/products, moved sharply higher on Wednesday, making a new 52 week high. After NATI reported earnings that topped estimates, volume spiked to over one million shares traded and the stock closed out the day at 44.75. Along with earnings NATI announced an increase in dividends and a 3 for 2 stock split for a busy press release day.
The market liked the news of a $.02 dividend increase combined with the record quarterly revenue of $250M. The new dividend per share will be $.15 per common share. Compared to the fourth quarter a year ago, NATI experienced an increase of over 20% net income for a quarter, which also created a new record for the company. Adding fuel to the fire for bulls is a stock split that will increase the number of shares outstanding to approximately 118 million shares of common.
NATI is debt free and has about $350M in liquid assets. Short interest is less than 2% of the float and while the short interest did climb slightly from the month earlier, it is still what would appear to me to be a non-catalyst for a price spike.
Once again for the 12th year in a row NATI has been named to the Fortune 100 best places to work. NATI sounds like a great company running on all eight cylinders and I would tend to agree. So why in the world would I believe that NATI has made a peak in price?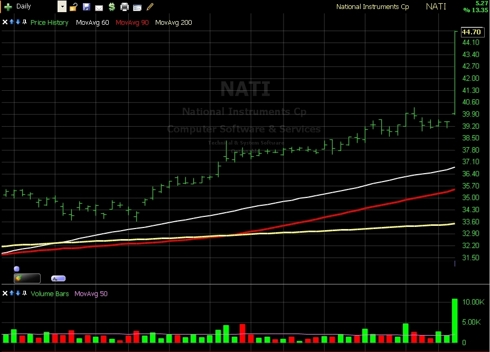 (Click to enlarge)
I use a proprietary blend of technical analysis, financial crowd behavior, and fundamentals in my short term trades and while not totally the same in longer swing trades to investments, the concepts used are similar. I believe the company and the company stock correlation have separated. I believe the stock to be overpriced relative to the performance of the company. The price of the stock has been increasing for a while with the 60 day and 90 day moving higher for the last few months and increasingly becoming higher relative to the 200 day moving average which is one of the very first things I look for to determine if a stock has gotten ahead of itself. Add in a news event that causes the price to rise sharply without other factors such as short covering and we have a perfect recipe for a blow off short term peak in price. The market as it often does is pricing in continued growth at the rate just reported.

I spent much of the day on EDGAR Online looking over the financial and the conference call and here are some examples of fundamentals which I believe are important: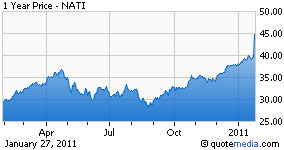 The PE has reached a level of over 40 which in itself is fine for a growth company, but in the conference call (see transcript) Senior Vice President of Sales and Marketing Pete Zogas gave me the impression that there may be some chinks in the armor. Mr. Zogas, in responding to a question by JPMorgan, let us in on management's belief that margins will be shrinking going forward. Of course this was worded a bit differently but the meaning is all the same. Here is what Mr. Zogas said; you can decide:
"So increasing operating margin this year or in '10, I should say the 17.3% for the full year was I think really our outstanding performance, well ahead of our original expectations as we entered the year. Now as we said, in a week or a couple of months ago and at the earnings call back in October as we're getting closer to our target of 18% and operating margin we're getting also more focused on what else we can do to drive the long-term top-line growth. So, the goals we have going into '11 are to continue to grow revenues faster than expenses, but they will be more closer aligned than they were in the last two years and the primary goal behind that is to try to fulfill our ambitions to scale the company in the next number of years well beyond the $1 billion in revenue."
These are the phrases I look for when a stock might be peaking out right after an earnings beat. Basically what the big print gives the little print takes away. These are the type of phrases that so many smaller investors miss and create opportunities to short. Another example of possible greater than reality expectations come from the follow up question during the conference call. CFO, COO and Executive Vice President Alex Davern stated that NATI plans on growing head count while not growing the expenses proportionally. This is going to be attempted by a reduction in variable pay (think employee incentives) with the idea that you can pay people less and get the same results. Mr. Davern may be correct and if so this should help NATI maintain the growth rate without the relative offset in expenses resulting in greater margins. As someone who has managed people in sales and has operated several businesses, I believe it is a very difficult task to undertake. If I am going to bet a company can pay its staff less and get the same results or no,t I will normally go with no,t as I did today. Included with expenses related to employees is a risk disclosure that the adoption of Patient Protection and Affordable Care Act (Obama care), "... such legislation could increase the costs of providing health care to our employees ..." and "In addition it is likely that we will incur additional administrative costs to comply with certain provisions of this legislation."
I feel this is going to be a serious problem for the bottom line of many companies, not just NATI. Longer term I would be very concerned about margins being squeezed as the leadership reaches for ever higher sales revenue. How much will the ability of reaching the magical $1B a year in sales be the focus and will that cause a reduction in the focus of how much money the company actually earns. Companies put dollars in the bank, not percentages, but as an investor I would not want a large ramp up in sales to happen at the cost of creating greater risk during a sector downturn. I am not going to make a long term capital allocation as that is not why I am interested in this stock, but it was something I came across as I was studying this stock today.
NATI appears to have a lot of future potential if they are able to execute sales while keeping expenses in relative check. Unfortunately for those buying into the exuberance of the news today it does appear that they overpaid and I expect NATI to close lower tomorrow than tomorrow's open. While maybe not as early as tomorrow, I will be looking for a price retracement back down to the $42-43 price range. I believe from my experience that trying to chase a stock that has already made a large move either up or down is a great method to make regrets rather than profits. For someone who would like to gain exposure in this space with NATI I believe it would be reasonable to wait for a pull back in price before committing capital.
Selling always becomes easier for me when management is doing the same. I shorted NATI as I did with other companies that I have written about such as Nanometrics (NASDAQ:NANO) during the first peak over 17, and Molycorp (MCP) when it went over 60 recently. Shorting fast moving stocks I feel is appropriate for experienced very active traders, but if you're looking for a long entry you may very well get another kick at this can with a much better price to start out with.
Disclosure: I am short NATI.