The decoupling of stocks and indices is happening just as I suspected it would. Hardest hit lately have been small-cap stocks. Check out the precipitous drop, and subsequent bounce, in the S&P 600 Small Cap Index over the past week. The index almost hit its 50-day moving average before turning back up: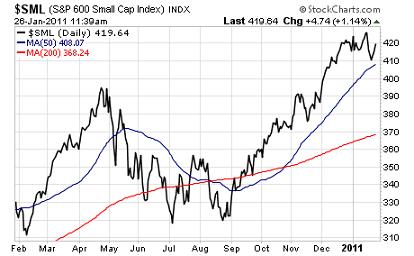 This may make you wonder if it's time to jump out of the small-cap foxhole and run for high water, i.e. mid- and large-cap stocks. Especially when you read the headlines that are all over today, like "Dow Breaks Through 12000 for the First Time Since 2008."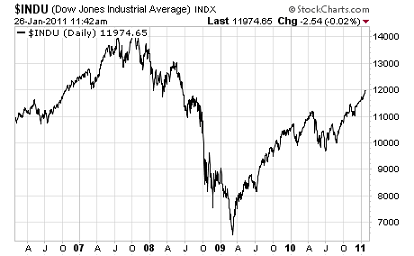 Man, are small-cap investors in the wrong asset class? With many small caps shedding 10 percent over the last week, or more, is it time to head for high water?
Not so fast.
Now look at the S&P 600 Small Cap index over the same five-year timeframe as the Dow Jones Industrial Index chart above. You'll see that the small-cap index surpassed its 2008 high in late 2010 -- well before the Dow returned to its 2008 level of 12000. In fact, the Dow still has a thousand points to go before it gets into the same relative territory as small caps.
So sure, add a little exposure to blue-chip stocks to take advantage of the upside potential -- you should always be doing this, since small caps should just make up a portion of your portfolio.
But that doesn't mean the run for small caps is over. Far from it.
It does, however, mean that we need to look to the right sectors for this stage of the recovery. So let's do that.
Right now, the consensus is that we are in the early to middle stages of the economic recovery. You can debate this all you want, but I'm not going to split hairs today. And I truly believe this is where the economy is.
The important thing is that the market thinks we're in the mid-to-early stages of the economic recovery, and that's where I take my direction. And that means that we need to look to the right sectors to take advantage of the current market cycle. A handy guide for this analysis is Sam Stovall's S&P Guide to Sector Rotation. The below image is courtesy of Stockcharts.com.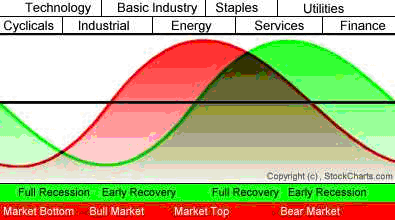 Legend: Market Cycle | Economic Cycle
This cyclical rotation guide is saying that, from early economic recovery to full economic recovery, the market is in bull mode. That's where we are right now.
So the recent dip in small-cap stocks isn't a sign to exit the asset class; it's a sign that you should rotate your holdings to maximize your gains. Small caps tend to outperform during a recovery.
Right now, the market still favors technology, and increasingly, energy stocks. That means oil, gas, and oil and gas services stocks.
You can make investing difficult, and hem and haw over what the market is doing. Or you can listen to the market, take your direction from what it is telling you, and stay the course with the right industry allocation in small caps -- simply the best performing asset class over the long term.
Right now the market is telling you to allocate to technology and energy stocks. That's what I'm doing, and I recommend you do the same.
Further Reading: Small Cap Investor PRO lead analyst Tyler Laundon and I recently added two oil and gas exploration stocks to the portfolio to take advantage of the market's sector rotation. Since our original recommendation, these stocks are up 10 percent and 30 percent -- and we believe they have much more room to go as the market completes its sector rotation.
Disclosure: None