The municipal bond markets were hit with two revelations this week that won't help muni bond investors. Standard & Poor's is proposing changes to its credit rating procedures for bond insurers, and there appears to be massive lack of financial reporting by municipalities to their bondholders. These seem to go hand in hand, adding risk to an already shaky muni bond market.
Bloomberg reported that S&P will be increasing its capital requirements or requiring offsetting lower risk exposure for bond insurers to maintain their ratings. The biggest change is a new leverage test to measure the amount of risk relative to its capital reserves that the insurer is accepting by guaranteeing debt. To achieve a AAA rating, bond insurers will either have to increase capital reserves or reduce their risk exposure. According to S&P, the level of reserves needed to achieve a "high investment-grade ratings will increase significantly under the proposed criteria because of higher capital charges used in scoring capital and the new leverage test."
Bond insurers agree to pay both principal and interest in the event of an issuer default. Prior to the credit problems in 2008, underwriting muni bonds was a $2.3 trillion business that offered a credit-rating boost to issuers that didn't have AAA ratings.
In the wake of the financial crisis in 2008, rating agencies have been revamping their criteria, and this is the latest move to tighten their requirements to receive the highest ratings. Of the big three bond insurers, Assured Guaranty (NYSE:AGO), MBIA (NYSE:MBI) and Ambac (ABK), only Assured Guaranty has been able to maintain its rating, with the creditworthiness of the other two falling below "A" investment grade. In October, S&P lowered Assured Guaranty's rating to AA+, while MBIA's National Public Finance Guarantee Corp. is currently rated BBB, the lowest tier of investment grade, and Ambac is in bankruptcy.
In late 2007, Berkshire Hathaway (NYSE:BRK.B) dipped its toe in the muni bond insurance business, only to withdraw less than 18 months later. In announcing the departure in February 2009, chairman Warren Buffett told investors that insuring muni debt is "a dangerous business."
The Wall Street Journal has reported a growing lack of financial disclosure by states and municipalities that is leaving muni bond investors in the dark concerning the financial health of their investments:
At the request of The Wall Street Journal, DPC Data Inc., a specialist in municipal disclosure, did an extensive analysis of disclosure and found the problem growing since a 2008 study. Of 17,000 bond issues it studied, more than 56% filed no financial statements in any given year between 2005 and 2009. More than one-third of borrowers entirely skipped three or more years, and the number grew to 40% in 2009, as credit woes mounted. Another 30% filed extraordinarily late in 2009. "This works out to insufficient ongoing disclosure information for more than $2 trillion of the $3 trillion in outstanding bonds," says Peter Schmitt, chief executive of DPC of Fort Lee, N.J.

The rampant lack of current official filings reflects a broader disclosure problem. Many cities, states, hospitals and other public borrowers don't make general financial records accessible, investors and regulators say, and if they do, they are often so confusing or spotty that even professionals can't make sense of them.
An example used in the article asserts that for 10 years the Clay Gas & Utility District of Clay County, Tenn. didn't file financial statements or disclosures until November of last year, when it announced it didn't expect to make future payments on its muni debt.
The SEC is investigating Illinois pension funds for lack of disclosure, and has settled a similar New Jersey case where the state failed to provide bond investors full disclosure of its oversized pension obligations.
Below is a graph depicting the number of municipalities that have failed to provide financial disclosures: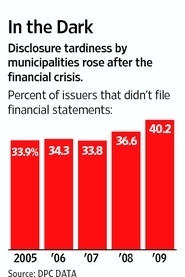 The question now facing muni bonds investors is twofold:
Will insured muni bonds continue to be offered, backed by an investment grade bond insurer that has the financial strength to make good on those policies if the issuer defaults?
Will investors have the necessary financial disclosures to evaluate if their muni bond investments are still "safe"?
Usually, investors are willing to accept a lower interest coupon if the muni bond is insured against default. If the bond insurance business dries up and muni bonds are no longer offered as "insured," interest rates paid by municipalities and states will rise due to a higher perceived risk, adding pressure to their already shaky finances.
Time will tell, and muni bond investors should keep a close eye on these developments.
Disclosure: I am long BRK.B, and have been a shareholder in BKR.B since 2009