I've always found that watching the price action of Wal-Mart (NYSE:WMT) can be very telling about future expectations for the economy and can give a sense of whether investors are positioning for a period of higher inflation or deflation expectations. Consider that Wal-Mart, the world's largest retailer, generally does very well (relative to other stocks) in weak economic environments, attracting buyers to its low price points. When the economy is booming, bargain basement pricing may not be as important to buyers, causing investors to put more money to work in other retailer stocks.
Entertaining the idea that Wal-Mart's stock performance could be a leading indicator on the economy and the stock market is not that far-fetched of an idea when you look at it relative to the S&P 500. Take a look at the price ratio of Wal-Mart to the S&P 500 (NYSEARCA:IVV). As a reminder, a rising price ratio means the numerator/Wal-Mart is outperforming (up more/down less) the denominator/S&P 500.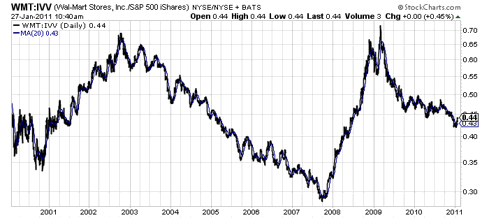 Click to enlarge
(Click charts to expand)
Notice that Wal-Mart's price ratio began to underperform, turning lower from its ratio high in late 2002 (ahead of the 2003 rally), reached an extreme ratio low sometime around the 3rd quarter of 2007 just as the sub-prime crisis was taking hold, and reached its peak in the price ratio again just as the market was to stage its most recent rally starting in March 2009. The trend from a big macro perspective is what is important here.
The question we are faced with now, however, is whether the "age of deleveraging" has now caused the price ratio to reach an equilibrium state, whereby Wal-Mart relative to the S&P 500 does not underperform to the point where it reaches for those 2007 lows/overall bull market highs. If we zoom in on recent price action, we can see there has been clear outperformance in Wal-Mart so far this year.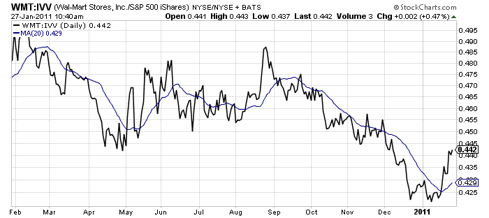 Click to enlarge
While this certainly could be just a blip of strength, given the longer-term chart I've shown earlier, it might be worth entertaining the possibility that Wal-Mart stages an outperformance run that could last for several more months. The implication of this could mean that equity markets actually don't perform as well as has been the case since March of 2009 due to the signal Wal-Mart's leadership has for the overall health of the consumer and inflation expectations.
Disclosure: I have no positions in any stocks mentioned, and no plans to initiate any positions within the next 72 hours.

Additional disclosure: The author, Pension Partners, LLC, and/or its clients may hold positions in securities mentioned in this article at time of writing.