By Brian Sozzi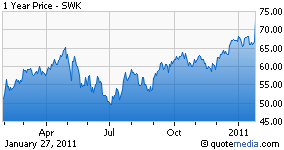 There was an absence of disappointment in the 4Q10 report out of Stanley Black & Decker (NYSE:SWK) [see call transcript]. Sure, pro forma operating margins in the CDIY and Security segments compressed y/y, and FY11 guidance baked in at least a 100 bps headwind from ever-advancing commodities costs. That said, the pitch to current shareholders and would-be shareholders regarding Stanley Black & Decker, mainly the realization of significant upside potential to consensus earnings forecasts that is not priced into the stock through continued integration of Black & Decker, hands down remained intact. The management team (John Lundgren - one of the best CEOs you may have not heard about) at Stanley Black & Decker has not only done a superb job of identifying additional cost synergies since the time of the Black & Decker deal announcement, but has executed upon them, while uncovering more ways of driving a stronger global top line. As I penned on the day the deal went public, it was likely to be a powerful combination that brought together two top of mind U.S. industrial platforms and one best in class management team that has a stellar track record of extracting shareholder value. Thus far, no disappointment to be found.
I rate the stock a buy, and now see fair value to $100.00, up from my prior estimate of $85.00. Barring a renewed downdraft in housing market fundamentals (caused primarily by 44 months of shadow inventory hitting, according to S&P estimates) and an EU collapse (company gets 26% of its revenues from Europe), I think the earnings power will approach the top end of management's FY11 pro forma guidance of $4.75-$5.00. In what I suspect will be challenging, modest revenue growth conditions in advanced economies, Stanley Black & Decker's increased penetration of international markets (presently 11% of revenues) through brand expansion, cross-selling, and acquisitions, as well as the cost synergy realization inherent in the SFS process improvement plan (re-launched January 11), will get the company to my new FY11 EPS estimate of $5.00. For FY12, I am at $6.10 per share, about 23% growth off my projected FY11 base, having embedded revenue and expense synergies tied to Black & Decker, a healthier organic demand environment in advanced economies, greater pricing recovery success, and an increased share of the emerging market opportunity.
Interestingly, Stanley Works shares only trade on a P/E multiple of 11.1x my FY12 estimate, a sizable discount relative to most industrial minded companies, perhaps a result of lower emerging market scale. I believe the stock has the ability to fetch a P/E multiple in line with sector peers (15x to 16x) given the glaring earnings power at the company. By applying a 16.0x multiple to my FY12 estimate, a $100.00 price target is yielded.
Further supporting the company's stock is what I expect to be the arrival of new shareholders as Stanley Black & Decker seeks to raise its dividend yield to 2.5% from 2.0% currently in order to best utilize a significant amount of FCF coming down the pike. A decision on a meaningful dividend hike is likely to be forthcoming sometime in February.
More of What You Need to Know
Earnings beat, and it's not all about the tax rate: Stanley Black & Decker reported pro forma EPS of $1.05 (consensus: $0.92) on total revenue of $2.41 billion (consensus: $2.38 billion). I estimated EPS of $0.95 on revenue of $2.4 billion. The most obvious linchpin to the upside surprise on earnings was a lower than expected tax rate. I learned on the call (if you do not listen to earnings calls, start today), however, that the tax rate being lower than guidance was 50% of the outperformance, the remainder being synergy realization. In other words, this was not a flaky beat to consensus.
The nuts and bolts: Ex. items gross margin continued to be pressured as the lower gross margin Black & Decker business pierces legacy Stanley Works; gross margin on this basis was down slightly to 36.5% y/y, and down 40 bps q/q. Pricing was generally flat to unfavorable by major business segment, owing to some uncompetitive Black & Decker product remnants. Encouragingly, sales were higher in Stanley Black & Decker's two largest markets, the U.S. (54% of revenue), and Europe (26% of revenue), and gained by strong double-digit percentages in Latin America (7% of revenue) and Asia (5% of revenue).
Segment rundown: Industrial was once again the "star" of the quarter for Stanley Black & Decker. Acquisitions, rebounding end user demand, and share gains were all contributors to revenue and operating margin expansion. The CDIY and Security segments packed much less star quality, though our sense was that overall trends were firmer than 3Q10. Forward-looking commentary on each segment was more upbeat than in prior quarters, particularly as it pertained to Security.
Interesting information: The board of directors and management will meet in February to discuss the dividend, five months ahead of plan; all balance sheet cash is held internationally, so acquisitions overseas is in the cards; SFS officially re-launched on January 11, very important from the standpoint of drilling down on Black & Decker's working capital to generate FCF; management has gotten incrementally aggressive on manufacturing plant and DC closures; promotional activity will return in 1H11.
Disclosure: No positions