Welcome to Part II of Monringstar's Take out names for 2011 (see Part I here). Today, we'll be going through the last few names on Morningstar's top ten list.
Myriad Genetics (NASDAQ:MYGN): Myriad is a molecular diagnostic company focused on developing and marketing novel predictive medicine, personalized medicine and prognostic medicine products. MYGN has been a takeout name for the last year.
Petrohawk Energy (NYSE:HK): HK is an independent oil and natural gas company engaged in the exploration, development and production of predominately natural gas properties located onshore in the United States. Its business consists of an oil and natural gas segment, and a midstream segment. Its oil and natural gas properties are concentrated in four domestic shale plays.
HK rumors have been abundant last year, with Chesapeake Energy (NYSE:CHK) being the main mention as acquirer.
Range Resources (NYSE:RRC): RRC is an independent natural gas company, engaged in the exploration, development and acquisition of primarily natural gas properties, mostly in the Southwestern and Appalachian regions of the United States. RRC was a highly rumored name last year,
Sun trust Banks (NYSE:STI): STI is a diversified financial services holding company, which provides a range of financial services to consumer and corporate clients. Through its principal subsidiary, SunTrust Bank, the Company provides deposit, credit, and trust and investment services.
Regional Banks have been highly touted takeout names for the last few years and when it comes to naming one, regional Sun Trust tops the majority of lists.
click to enlarge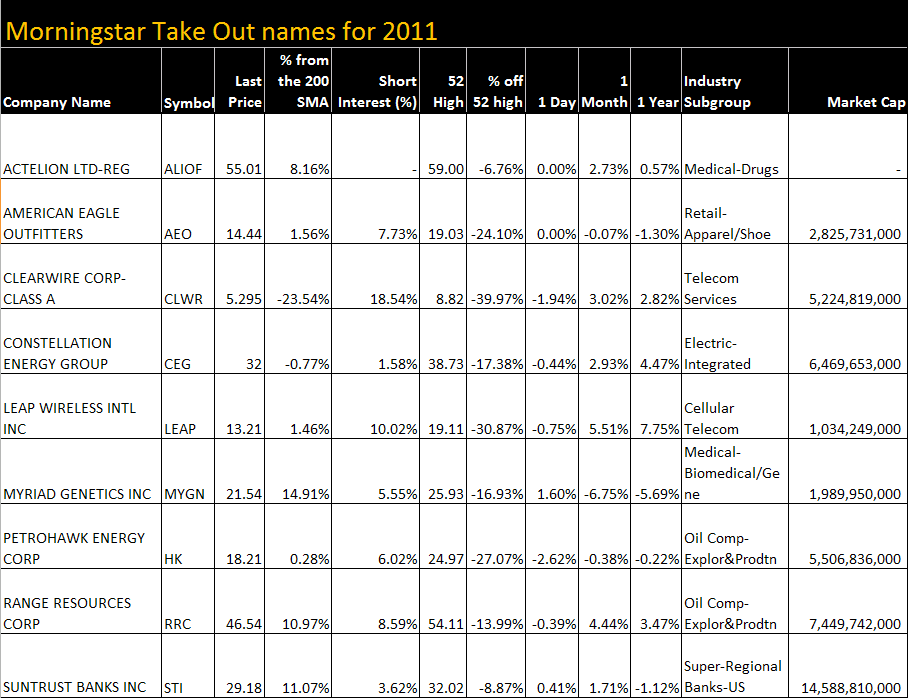 Disclosure: I have no positions in any stocks mentioned, and no plans to initiate any positions within the next 72 hours.