President Barack Obama seemed quite pleased with a roaring stock market during his State of the Union speech, leaving out the fact that Main Street America and retail investors have not participated in the Fed manipulated, and created, equity bubble. The reason this is true is clear. Americans do not trust the market and they certainly do not trust the Securities & Exchange Commission to protect their interests.
If you steal a candy bar from a convenience store, you could face a year in jail and a thousand dollar fine. If, however, you are a well known Wall Street firm, you can steal billions from retail investors and only have to pay back a small portion of the money you stole, while promising (with fingers crossed) to not do that again. The S.E.C. is great at taking the small time drug dealer off a street corner, yet ignores the smuggler bringing the mother lode to town. Its token arrests of small time players do little to bolster investor confidence.
Tuesday morning, the S.E.C. issued a very quiet press release that it had fined Merrill Lynch (NYSE:BAC) for fraud, which was subsequently sat on by major financial news media until after the market had closed.
Washington, D.C., Jan. 25, 2011— The Securities and Exchange Commission today charged Merrill Lynch, Pierce, Fenner & Smith Incorporated with securities fraud for misusing customer order information to place proprietary trades for the firm and for charging customers undisclosed trading fees. To settle the SEC's charges, Merrill has agreed to pay a $10 million penalty and consent to a cease-and-desist order. "Investors have the right to expect that their brokers won't misuse their order information," said Scott W. Friestad, Associate Director in the SEC's Division of Enforcement. "The conduct here was clearly inappropriate. Merrill's proprietary traders had improper access to information about the firm's customer orders, and misused it to place trades on the firm's behalf."
No arrests were made. No one will be prosecuted. And Merrill Lynch gets to keep the bulk of the money it gained illegally. We've seen this before with Goldman Sachs (NYSE:GS), which has been fined multiple times for illegal naked short selling violations, and faces accusations that it continued the same illegal practices, and now faces lawsuits by its victimized companies.
Let's face it. If you knew you could walk into a bank, steal a million dollars, and only have to give back $10,000 if caught while promising not to do it again (again, with fingers crossed), no matter how many times you had done it previously, wouldn't YOU do it? You can hardly blame Goldman and Merrill. The problem is the S.E.C., which permits it to occur and further victimizes the victims by taking little to no meaningful action.
I believe there are some very hard working people at the S.E.C., and that the problems are at the top, with S.E.C. decision makers selectively choosing which cases they will prosecute, which exclude all friends and friends of friends of those deemed too big to prosecute. Furthermore, I believe these same decision makers are just as guilty of illegal practices as those they accuse.
In a previous report, I discovered that a clear pattern emerged demonstrating that whenever a filing is made to the S.E.C., prior to its dissemination, shares of Sirius XM Radio (NASDAQ:SIRI) fell ahead the release. This was true even if a press release was positive. Short sellers were given information ahead of everyone else that a filing was received. As it turned out, the system was designed that way.
In another report, I noted that short interest increased in Sirius XM Radio ahead of news that the S.E.C. was questioning the company's financial report two years ago, and that short interest decreased once again ahead of the news that the S.E.C. was satisfied with the company's explanations. It is clear to me that the S.E.C. was either frontrunning the information itself, or divulging the information to outside parties.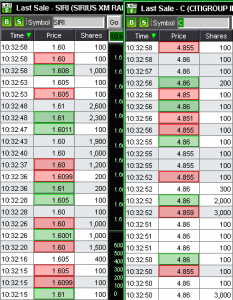 CNBC has focused investor attention on Citigroup (NYSE:C) trading, which due to its low price and high volume, is being gamed by traders in the same way that we have witnessed with Sirius XM Radio. The CNBC report falls short, however, of explaining some of the major problems with the trade.
For starters, Citi, and Sirius, for that matter, are trading above one dollar, yet the trades being executed by the manipulators are being placed using four decimal places.
Retail investors do not enjoy the same luxury of four decimal trading on stocks above a dollar, yet the manipulators are trading within the retail bid and ask, locking retail investors out. Just ask any SIRI or C investor that waited three hours with an order that never executed recently.
This loophole, as reported by CNBC's Bob Pasani, was started by the Cincinnati Stock Exchange, under the direction of Bernie Madoff. BIG RED FLAG HERE.
Making matters worse is that the exchanges themselves brought this manipulation to the attention of S.E.C. just this past September, describing the gaming of "sub one dollar stocks". As if an announcement had been made, these manipulators have changed their tactics to now game "sub five dollar stocks." At the time, the market makers alerted the S.E.C. to the following:
Market makers and brokers are pushing regulators to address anomalous trading patterns in stocks that fall below $1 per share…

Some stock traders are exploiting a five-year-old wrinkle in U.S. securities law to drive trading in low-priced shares like Sirius XM Radio Inc. (SIRI) and trucking company YRC Worldwide Inc. (NASDAQ:YRCW) to dizzying levels when their prices fall below the $1 threshold.

The legal loophole, which can drive trading activity in shares of stocks like Sirius (volume) far above the level seen when the stock is above $1, arises from rules that let traders quote prices to one-hundredth of a cent when the stock falls below that level. However, the rebates paid by exchanges to market participants who contribute liquidity do not scale in the same way, letting traders in cheap stocks reap relatively big profits on tiny movements in share prices, with little risk.

For traders using retail brokerage accounts that pass along these exchange rebates to customers and charge a flat monthly fee no matter how many shares are traded, it's essentially a risk-free way to make money, according to Jamil Nazarali, head of electronic trading for Knight Capital Group Inc. .

Nazarali, whose company has investigated the practice, said there's evidence that individuals using the strategy may be trading with themselves through multiple accounts maintained at separate online stock brokerages– an illegal practice tracked by federal security agencies to prevent money laundering.

"This is bad for the market, because these are not legitimate trades," he said. "It's also bad because it diverts a lot of time and resources from [stock order] wholesalers to deal with this problem. And some legitimate traders get caught up in all the m easures we put in place to deal with this."
What had been potentially illegal, and bad for the market, is now being touted as an outstanding strategy. Perhaps employing these tactics to stocks above $1.00, yet below $5.00, is a match made in heaven in that the exchanges and traders alike can fleece retail investors and elude investigators.
Perhaps the S.E.C. will pay attention under a new President in two years, at which time we can expect that the criminals behind these actions will be given a good old fashioned scolding, somewhere on a yacht in the Caymans, over drinks.
Disclosure: I am long SIRI.