Many biotech investors have been closely watching the upcoming PDUFA date for DM-1796, DepoMed's (NASDAQ:DEPO) investigational extended-release gabapentin formulation. Depomed's story has been marred with ups and downs, panicking those investors with a faint heart and forcing weak hands to exit, while the major funds continue to accumulate shares.
To understand DM-1796's approvability and its market potential, one first has to understand its history.
History in the Making
DM-1796 began its turbulent story in July of 2007, when its first Phase III clinical trial barely missed its primary endpoint. After an analysis of the data, DepoMed concluded that if it altered the inclusion criteria and adjusted the run-in period, it should achieve success in the next trial. The FDA agreed and success soon followed. In October of 2009, DepoMed's management announced positive results for DM-1796's second phase III trial, but the cheers were soon eclipsed by the failed BREEZE trials only one week later.
In February of 2010, the FDA rejected XenoPort's (NASDAQ:XNPT) gabapentin formulation for treatment of Restless Leg Syndrome. Although one may think that the failure of a competitor would be a positive for DepoMed and DM-1796, investors were spooked by the FDA's concerns of gabapentin's carcinogenicity in male wistar rats. Later, in June 2010, alongside NDA acceptance, DepoMed informed investors that it had filed a Paragraph IV certification claiming that Pfizer's (NYSE:PFE) original patents for gabapentin were invalid, not enforceable, or would not be infringed. Pfizer had previously initiated lawsuits against a number of companies marketing generic gabapentin, but DepoMed believed that it would not be sued since several legal complaints had already been dismissed that were similar to its own.
In August of 2010, DepoMed announced that no lawsuit had been initiated by Pfizer within the 45 days of receiving the Paragraph IV notice. This meant that DM-1796 would not incur a 30-month stay of approval. And most recently, well after NDA acceptance and the announcement of Orphan Drug Status for DM-1796, Abbott (NYSE:ABT) informed DepoMed that it no longer believed that it was obligated to market DM-1796.
Over the past four years, DepoMed's stock price has been extremely volatile and exceptionally reactionary. The stock price has risen above $4 during four separate periods, and fallen below $2 during three separate periods.
[Click all to enlarge]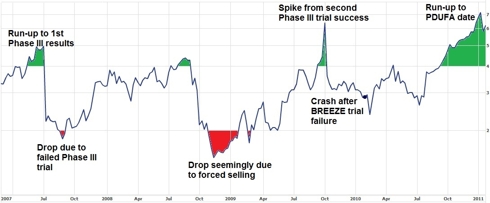 Click to enlarge
Chances of Approval
The chances of approval seem great. Gabapentin is already approved for Post-Herpetic Neuralgia (PHN), and millions of scripts are written annually. Unlike Xenoport's rejected NDA submission, DM-1796 is filed as a 505(b)2, which references all previous gabapentin safety studies. Furthermore, the Acuform technology used in DM-1796 is made of benign polymers that are already found in several FDA-approved products, including Glumetza, Glucophage XR and ProQuin. And most importantly, DM-1796 demonstrated comparable efficacy to incumbent therapies with significantly decreased dosing and adverse events.
Basically, DM-1796's main ingredient is already approved for PHN, the inactive ingredients are already used in other FDA-approved products, the side effects profile is incredibly benign and the efficacy is comparable to currently approved therapies. Why wouldn't the FDA approve DM-1796?
Of course there are remaining minor issues. The FDA could express new or unforeseen safety or manufacturing concerns. Along with the cancer issues, suicide has been linked to anti-convulsants like gabapentin and pregabalin.
But more relevant to DepoMed, the second Phase III trial for DM-1796 had a slightly different inclusion criteria compared to Pfizer's Lyrica, Neurontin, Endo's (NASDAQ:ENDP) Lidoderm or NeurogesX's (OTCPK:NGSX) Qutenza. DepoMed essentially enrolled older and sicker patients, in an effort to mitigate the placebo effect. Surprisingly, despite the unhealthier patient pool, DM-1796 still displayed an incredibly benign adverse events profile. It is unclear how the FDA will react to these protocol changes.
Clearly, my thesis overwhelmingly supports approval. But is approval enough? What is the potential market size for DM-1796? Will the ongoing mediation between Abbott and DepoMed loom over the stock price despite approval from the FDA?
Market Potential
With Abbott's recent and perplexing move to mediation, one may assume that there is an essential defect to previous models of potential sales. But examination of IMS data demonstrates that the overall market is growing for the class of drugs that includes DM-1796, Neurontin, Lyrica, and generic gabapentin.
It's important to note that Lyrica scripts have fallen slightly as generic gabapentin scripts have continued to grow. Carl Pelzel, CEO of DepoMed, believes the reason for this is that there is no compelling reason to use Lyrica over generic gabapentin. He also believes that DM-1796 has several qualities that warrant use over Lyrica, Horizant or generic gabapentin. DM-1796 is prescribed once a day and the side effects are exceptionally tame. When slips and falls are a precursor to death in the elderly, a decrease in somnolence and dizziness could save lives but also save hospital costs for managed care.
Sadly, in one of XenoPort's clinical trials for Horizant, one subject died after a fall, 25 days after stopping Horizant. The fall was deemed not related to Horizant, but the point I am trying to make is that falls can be deadly for the elderly, and DM-1796's decreased incidence of somnolence and dizziness give it a compelling selling point to physicians and managed care.
The market size for PHN itself is relatively small; after all, DM-1796 received tentative orphan drug status, a program that was enacted to encourage research in rare diseases affecting less than 200,000 people in the U.S. But to use the PHN market size to estimate the potential sales for DM-1796 would be foolish. Typically, this class of drug is prescribed off-label. Some estimates claim that over 80% of prescriptions are for indications not approved by the FDA. And considering that gabapentin and Lyrica are already prescribed for a variety of conditions, indicated and off-label, it would be relatively easy for physicians to transition to DM-1796, given its common ingredient.
At branded prices, the market for DM-1796 approaches $7 billion. But recent comparable products, approved for the treatment of PHN, have been hit or miss. Most recently, Qutenza's launch has been somewhat of an upset, with a run-rate of less than $20 million in annual sales. In contrast, 2009 U.S. sales were $1.9 billion and $750 million for Lyrica and Lidoderm, respectively. Qutenza's launch difficulties may be applicable to its cumbersome administration protocol and a relatively small sales force, whereas Lyrica and Lidoderm were marketed more aggressively.
In my opinion, a conservative estimate for DM-1796 peak sales potential would be $200 million, assuming that it's marketed by a boutique sales force, but in the hands of a profound marketing and sales engine, worldwide sales could surpass $2 billion, for all indications, similar to Lyrica.
Ongoing Mediation: A Function of Abbott's Restructuring Efforts
Furthermore, the recent Abbott debacle is explainable: Abbott continues to restructure its Pharmaceutical Unit. Last September, Abbott cut 3,000 jobs after its purchase of Solvay Pharmaceuticals. Just this week, Abbott announced that it would shed another 1,900 jobs from its pharmaceutical business. During Abbott's recent conference call, CEO Miles White expressed his interests in diversifying beyond Humira and pharmaceuticals in general.
DM-1796 is not really in Abbott's therapeutic focus. Abbott's neurology and pain units were severely cut following the introduction of generic Depakote in 2009; further cuts occurred last September; and now more cuts have been announced. Besides the poor fit, Abbott only has the rights to pain indications, which means in the future it's possible that Abbott would have to compete for off-label sales against the same product for another indication from another competitor. It makes sense why Abbott is looking to bail.
But could it be that there is merit to Abbott's claim that it is no longer required to market DM-1796? While it is true that Pfizer didn't file a lawsuit in response to DepoMed's Paragraph IV, it is possible that Pfizer launched a lawsuit outside of the act, in the hopes of a reverse payment settlement ... who knows? Given Carl Pelzel's "perplexed" sentiment from the recent conference call, one has to assume the issue relates more to Abbott's lack of interest. With this dispute headed to mediation and possible arbitration, investors may never understand the nature of the dispute.
Final Thoughts
Given this history, it's a fair assumption that risk-averse retail investors have sold off their shares during one of the many aforementioned blips on the path towards approval. After FDA approval, as the risk averse investors return and short positions begin to cover, the price is likely headed much higher. ThirdPoint, BlackRock (NYSE:BLK) and Goldman Sachs (NYSE:GS) have all maintained their substantial positions, and Deltec recently reported that it has added more shares.
As the weak hands leave and as the shorts consolidate their positions, the opportunity improves. The chances of approval are overwhelmingly probable but not a given. The potential sales can be great, but they depend on the size of the sales force.
Given the nature of this story, with PDUFA, marketing and mediation all uncertain, I suspect that as the tale unfolds, DepoMed's PPS may be headed for a prolonged and steady increase, rather than a quick pop post-PDUFA that most biotech players are hoping for. And I wouldn't be surprised if DepoMed's future brings a couple more blips on the way.
I am holding my shares through PDUFA, but I also look forward to adding to my position post-PDUFA, because a CRL will present another buying opportunity, and approval will prelude DepoMed's profitability. It's a win-win for those with more cash on the sidelines and the guts to keep going.
Below is a chart outlining my previous recommendations.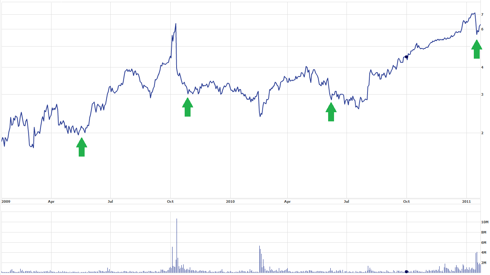 Click to enlarge
Disclosure: I am long DEPO, ABT, MRK, SNTS, NGSX, DRRX, XNPT, BNVI.