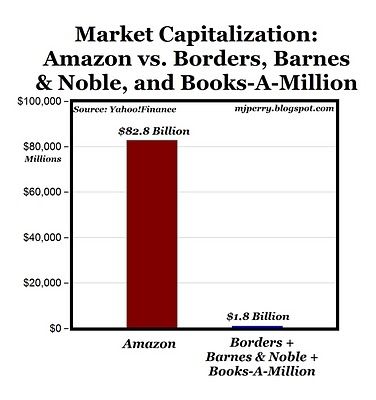 Founder and CEO of Amazon (NASDAQ:AMZN), Jeff Bezos said in a statement: "We had our first $10 billion quarter, and after selling millions of third-generation Kindles with the new Pearl e-ink display during the quarter, Kindle books have now overtaken paperback books as the most popular format on Amazon.com. Last July we announced that Kindle books had passed hardcovers and predicted that Kindle would surpass paperbacks in the second quarter of this year, so this milestone has come even sooner than we expected – and it's on top of continued growth in paperback sales."
Actually, Amazon sales last were quarter were $12.95 billion, an increase of 36% from the fourth quarter 2009 ($9.52 billion). Net income increased 8 percent to $416 million in the fourth quarter compared with net income of $384 million in the fourth quarter 2009, an increase of 8.3%.
The total dominance of Amazon in the book market is illustrated in the chart above, which shows that the current market capitalization of
Amazon
is at
$82.8 billion
, or 46 times greater than the
combined $1.8 billion market value
of
Barnes and Noble
($928 million and 1,357 stores),
Borders
(BGP) ($58 million and 511 stores) and
Books-A-Million
(NASDAQ:
BAMM
) ($92 million and 223 stores). Call it a "Schumpeterian gale of creative destruction."