By Bryan McCormick
U.S. stock index futures have been relatively unchanged so far this morning and have just edged into positive territory. The fluctuations are likely to continue until initial GDP for the fourth-quarter is announced at 8:30 a.m. ET.
Asia markets were again mixed with Japan trading on the downside while China finished higher. Despite the S&P's credit downgrade of Japan yesterday, the yen rebounded along with the U.K. pound. Other currencies in the basket were down against the dollar, suggesting that this move in the yen and pound was end-of-week short-covering.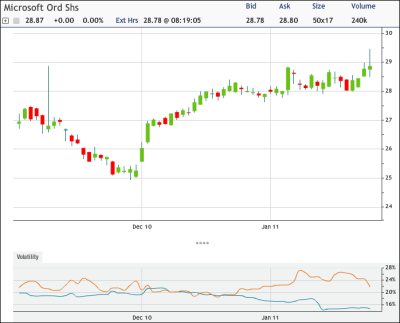 European stocks started in the red this morning but have since come off their lows. The markets appeared to calm after comments by the International Monetary Fund that it might yet intervene in peripheral European economies if they continued to weaken.
In stock-specific news, Ford (NYSE:F) disappointed traders this morning when it missed analyst forecasts with adjusted earnings of $0.30 per share versus expectations of $0.48 EPS. The stock fell as much as 8 percent this morning but is now off those lows. General Motors (NYSE:GM) shares have declined by as much as 2 percent in sympathy.
Honeywell's (NYSE:HON) fourth-quarter results came in at consensus, but the company lowered its guidance for first-quarter earnings well below the $0.85 forecast. The high end of the revision was at $0.80, sending the stock down more than 1 percent as of this writing.
In earnings news after yesterday's close, the big surprise was the margin squeeze that Amazon.com (NASDAQ:AMZN) reported as it grew sales. Revenues for the fourth-quarter were also below consensus.
AMZN plunged by nearly 10 percent last night and is lower by more than 7.5 percent this morning. That is weighing on the Nasdaq 100, despite a better performance from Microsoft (NASDAQ:MSFT).
Expectations were low for Microsoft before it released earnings yesterday. The company reported fiscal second-quarter earnings of $0.77 per share versus the $0.68 consensus. The shares are trading flat to slightly lower than yesterday's close.
The pace of earnings news will still be quite high next week as we begin to see a shift to small-cap names, which will directly affect the Russell 2000. On Monday the following S&P 500 companies are expected to report earnings results: In the pre-market we will hear from Gannett (NYSE:GCI), Illinois Tool Works (NYSE:ITW), and Roper Industries; after the markets close will get reports from Anadarko Petroleum (NYSE:APC), C.R. Bard (NYSE:BCR), Eastman Chemical (NYSE:EMN), McKesson (NYSE:MCK), Plum Creek Timber (NYSE:PCL), and Novellus (NASDAQ:NVLS-OLD).

Disclosure: None