The economy and the marketplace continue to do what they always have – that is, cycle. Economically that means, according to Washington and the global media, that it is improving. At least that is what they keep telling you.
Marketplace-wise, there is no argument that investors continue to power the indices upward. What the investor often forgets is that what has become a fact is -- in reality -- very creative fiction. The flow of fictional stories being told by Washington and the global media and many economists are so compelling that the average Investor takes the bait along with the hook, line and sinker most every time. That's a fact and, for me, it is very sad to realize that this kind of deception is actually going on, day in and day out.
Following the financial crisis trough of February-March 9, 2009, the stock market has embarked on a relatively sharp rally to date.
The chart below focuses on one particular stock market index -- the S&P 400 (mid-cap stocks). My focus is on the fact that the S&P 400 achieved a significant milestone earlier this past week, when it achieved a new, all-time record high. Considering the magnitude of the financial crisis, the state of the world economy and resulting bear market, this is indeed a meaningful achievement. The same is also true for the large- and small-cap companies.
However, my somewhat unique opinion is that this is not all that significant. Mid-cap securities and small-cap securities are considered to be higher risk, and that should send a message to most all investors. With the large-cap participating, it clearly is a balance and positive bullish move. Furthermore, indexes that make new highs are just as likely to fall in times of a meaningful pull back ... and oftentimes they fall the hardest.
Comparative valuations of the component companies of the indices, sectors and industry groups really let you know how to be "selective" when investing in bullish or bearish market conditions. So if you are really looking for action and want to chase down the valuations of the top companies or the bottom companies in the mid-cap arena, here are some specific suggestions for both a bullish market and for a bearish market.
Bullish Market: Ranked by My Valuation Methodology (Very Good to Poor)
United Rentals (NYSE:URI) – Average
Atmel Corp. (NASDAQ:ATML) – Good
Riverbed Tech. (NASDAQ:RVBD) – Good
Skyworks Solutions (NASDAQ:SWKS) – Very Good
Tibco Software (NASDAQ:TIBX) – Good
Bearish Market: Ranked by My Valuation Methodology (Very Good to Poor)
Strayer Education (NASDAQ:STRA) – Poor
Thoratec (NASDAQ:THOR) – Good
BancorpSouth (NYSE:BXS) – Good
Dreamworks (NASDAQ:DWA) – Very Good
Comstock Resources (NYSE:CRK) – Poor
Selectivity based on excellent valuation work has become essential, and understanding the ebb and flow of "rotation" is a key answer to your question of whether or not you are doing well, or are perhaps not so pleased with your current portfolio. Viewing this chart will likely cause you to think just a bit about your mutual funds and the two-plus years of consistency / inconsistency you have experienced annually.
The following graphic is very good for supporting your understanding of how valuation can work for you or against you.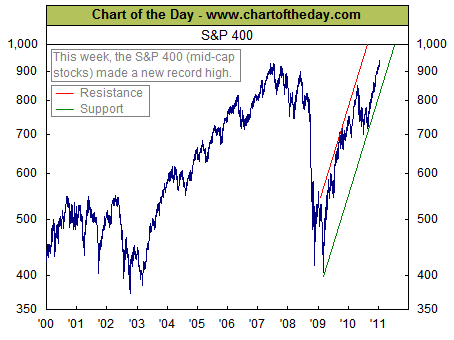 Conclusion
While I believe the general market may be in for a meaningful pullback, the prevailing questions from most investors are: When? How big and how long will it be? Do I hold my current positions or do I sell? Is there a profitable alternative? And so on.
The answers will be obviously quite clear when the pullback is over, but an old axiom for profitable investing tells us to be prudent in times like this. You might want to remember that cash is always an excellent safe harbor. However, if you are a proactive investor, taking bearish positions may also be wise.
My focus is "investing wisely," e.g. taking advantage of the bull/bear cycles as they occur within the overall marketplace. These cycles are both economic and stock market-driven in nature, and must be carefully and frequently analyzed. Within the stock market, you can integrate modern analytics within these "cycles." This also means maintaining a comprehensive process of the thorough economic, fundamental, technical and consensus analysis of the many companies, 15 sectors and more than 200 industry groups in my universe.
I believe that this discipline provides the necessary clarity regarding the rotation that the economy and most all sectors, industry groups and companies go through – from favorable times to unfavorable times, and perhaps back again. Few investors seem to understand that it's the same for the economy. The world continues to produce an economic "cycle" effect that continues as a process, like life itself.
My economic and stock market work / analytics are just another way to help identify prudent securities for buying and for short selling as the marketplace cycles from bull to bear and back again -- over and over again.
The good news about the marketplace is that we are presented frequent and conservative/low risk opportunities to invest long, invest short or to simply to hold cash. For me, this is called "investing wisely."
Disclosure: I have no positions in any stocks mentioned, and no plans to initiate any positions within the next 72 hours.