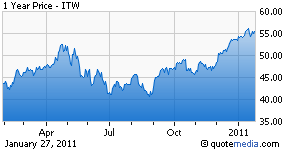 Illinois Tool Works Inc. (NYSE:ITW) is slated to release its fourth quarter and fiscal year 2010 results on Monday, January 31. The current Zacks Consensus Estimate for earnings per share (EPS) is 80 cents, representing an annualized growth of 29.60%.
With respect to earnings surprises, over the trailing four quarters, Illinois Tool outperformed the Zacks Consensus Estimate in two quarters, equaled in one quarter and lagged behind in another quarter. The average earnings surprise was a negative 3.03%, implying that the company underperformed the Zacks Consensus Estimate by the same magnitude over the last four quarters.
Third Quarter Highlights
Illinois Tool's third quarter earnings per share from continuing operations were 83 cents, up 38% compared with 60 cents in the comparable quarter of 2009. EPS in the quarter surpassed the Zacks Consensus Estimate of 82 cents by a penny and was toward the high end of the company's guidance range of 72–84 cents.
Net income from continuing operations soared 38.6% year over year to $419.3 million, compared with $302.4 million in the third quarter of 2009. Increase in net income was primarily attributable to higher organic growth in revenue and benefits derived from restructuring activities.
Operating revenue in the third quarter increased 12.2% year over year to $4,018.5 million compared with $3,580.4 million in the year-ago quarter and above the Zacks Consensus Estimate of $4,010.0 million. Growth in operating revenue signifies continued improvement in end market demand. The year-over-year increase was at the high end of the company's projected growth range of 9%–13%.
Detailed discussion on the third quarter results can be found here: Illinois Tool 3Q Beats Estimate
Agreement of Estimate Revisions
In the last 30 days, out of the analysts providing estimates, 2 upped their EPS estimates for the fourth quarter of 2010 while one lowered it. Estimates for fiscal year 2010 remained stable and for 2011 were increased by three analysts.
The positive revisions incorporate the company's growth prospects in its reviving end markets primarily the Transportation and Construction Products. With the economy stabilizing gradually, demand for Auto products has grown significantly. Strong upside is also expected from the strategic acquisitions made by the company.
Magnitude of Estimate Revisions
Estimates over the last 30 days remained intact for the fourth quarter of 2010 at 80 cents per share, representing a year-over-year growth of 29.60%.
Estimate for fiscal year inched up 2 cents to $3.08 while that for fiscal year 2011 by a cent to $3.69 per share. Estimates for 2010 and 2011 represented annualized growth of 40.67% and 19.64%, respectively.
Our Take
Illinois Tool Works expects its fourth quarter 2010 EPS from continuing operations guidance to fall within the 74–82 cents range. Revenue growth is likely to be between 7%–9% range. For full-year 2010, the company hopes EPS to be within the $2.99–$3.07 range based on the revenue growth expectations of 13%–14%.
Taking into consideration the November-end revenue growth, we believe the company is well positioned to benefit from its strong end markets with a solid demand for its products.
Illinois Tool Works, operating through 800 business units in 57 countries, is one of the leading manufacturers of industrial products and equipment. The company faces stiff competitions from its peers including Cooper Industries plc (CBE), General Electric Co. (NYSE:GE), and Manitowoc Co. Inc. (NYSE:MTW).
We currently maintain our Neutral recommendation on the stock.
Disclosure: No position