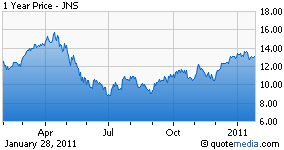 Janus Capital Group Inc.'s (NYSE:JNS) fourth quarter 2010 earnings per share came in at 36 cents, outpacing the Zacks Consensus Estimate of 21 cents on a better-than-expected increase in revenues and higher assets under management (AUM). Results were also significantly higher than the 18 cents reported in the prior quarter and 20 cents in the year-ago quarter.
For full-year 2010, the company reported earnings of 88 cents per share, ahead of the Zacks Consensus Estimate of 72 cents per share. The full-year results also compare favorably with a loss of $4.55 per share reported in the prior year.
For the reported quarter, net income was $65.9 million compared with $32.5 million in the prior quarter and $37.0 million in the year-ago quarter. For full-year 2010, net income totaled $159.9 million compared with a net loss of $757.1 million.
Fourth quarter 2010 results were supported by a 10 cent per share non-operating benefit from the sale of structured investment vehicle securities and a 2 cent per share operating benefit from an insurance recovery.
Behind the Headlines
Total revenue increased 13% sequentially and 10% year over year to $275.7 million in the fourth quarter. The revenue figure also surpassed the Zacks Consensus Estimate of $260.0 million. The growth reflects higher average AUM and separate account performance fees.
For full-year 2010, revenue came in at $1.0 billion, 20% ahead of $848.7 million reported in the prior quarter and also slightly ahead of the Zacks Consensus Estimate of $999 million.
Total operating expenses decreased 4% sequentially to $179.9 million. Results included a $6.5 million insurance recovery associated with two significant fund administrative errors that aggregated $13.6 million in the prior quarter. However, expenses spiked 3% year over year.
Operating margin was 34.7% compared with 23.4% in the prior quarter and 30.2% in the year-ago quarter.
Asset Position
As of December 31, 2010, Janus Capital's reported AUM of $169.5 billion compared with $160.8 billion as of September 30, 2010, and $159.7 billion as of December 31, 2009. Average AUM increased 8% both sequentially and year over year to $167.3 billion.
The increase in overall assets during the reported quarter was driven by $13.5 billion of net market appreciation, partially offset by long-term net outflows of $4.7 billion. Long-term net outflows at mathematical equity and fundamental equity totaled $2.6 billion and $2.7 billion, respectively, which were partially offset by fixed income long-term net inflows of $600 million. A single $2.6 billion fundamental equity redemption by an institutional client significantly impacted the fourth quarter flow.
Balance Sheet
As of December 31, 2010, Janus Capital had stockholders' equity of $1.2 billion, cash and investments of $581 million and outstanding debt of $800 million.
Recently, Janus Capital won back its investment grade rating from Standard & Poor's, resulting in a 25 basis point decline in interest rates on all of the company's outstanding senior notes. Hence, annualized interest savings are expected to be approximately $1 million. The rating upgrade by Standard & Poor's Ratings followed an improvement in the company's financial position in the last 18 months.
Our Take
Janus Capital, which has peers such as Calamos Asset Management Inc. (NASDAQ:CLMS) and Waddell & Reed Financial Inc. (NYSE:WDR), has the best-in-class investment boutique with the potential for AUM and revenue growth along with competitive leverage. However, weakness in flows remains a concern.
Though fixed income and global businesses are improving, headwinds persist and the company's equity-heavy portfolio exposes it to equity market volatility. Nevertheless, given its healthy balance sheet and total AUM growth, we believe Janus has the potential to outperform its peer group in the long run.
Janus Capital shares are carrying a Zacks #3 Rank, which translates into a short-term "Hold" recommendation.
Disclosure: No position