One of the more closely watched sagas in the pharma biz these days is the dispute between Merck (NYSE:MRK) and Johnson & Johnson (over a pair of rheumatoid arthritis meds - Remicade and the Simponi follow-up. Much is at stake because this is a big, albeit crowded market, and Remicade rings registers; last year, sales were $4.6 billion and Wall Street looks to Simponi also to become a reasonably big seller.
Here's the background: Schering-Plough had distribution rights to both drugs outside the US. But after Merck bought Schering-Plough, with which J&J had a co-marketing agreement, J&J claimed the takeover canceled their deal, citing a change-of-control provision. Merck argues its takeover was really a reverse merger and so J&J, which receives a portion of profits each year, filed for arbitration. A decision is expected…soon (back story).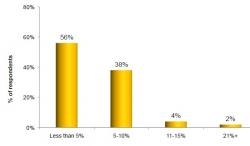 Meanwhile, here's an interesting tidbit. A recent survey of 50 medical and pharmacy directors from leading health plans, who are responsible for formulary or coverage decisions, indicate that Simponi does not stand out from the pack, which includes Enbrel and Humira, among other, injectables. Although nearly one-third acknowledge Simponi offers benefits from self-administration and less-frequent dosing.
Significantly, the chart notes 56 percent of respondents expect Simponi sales growth of less than 5 percent over the next year (this is the tall bar to the left), while 38 percent believe the med will grow between 5 percent and 10 percent (this is the next bar). This is noteworthy in that Remicade appears under pressure - global sales last year were up 7 percent and were helped by sales outside the U.S., which rose 24 percent to $1.48 billion. But sales in the key U.S. market were flat at $3 billion (see this).
"The (overall) market will grow. There are more older people, but you have more products. (So) it's a crowded market," says Rhonda Greenapple, who heads Reimbursement Intelligence, a consulting firm that conducted the survey. "From a payer's point of view, we're not seeing the market shifting from current products. But that doesn't mean doctors won't switch … So it will be a battle over physicians."
Indeed, doctors and payers may save the day for whoever wins the dispute, but perhaps only to a point. While it may be true that uptake for new meds is often sluggish - Simponi was approved in April 2009 - the ability of this follow-up to compensate for slackening Remicade sales appears unclear. Remember, that newer oral meds, such as JAK-inhibitors, are working their way through various pipelines. As a result, this arbitration may well be a fight over a shrinking pie.
Disclosure: None