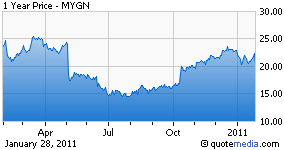 Myriad Genetics (NASDAQ:MYGN) reported an EPS of 26 cents for the second quarter of fiscal 2011, in-line with the Zacks Consensus Estimate. However, the EPS was 27.8% lower compared to 36 cents in the year-ago period.
Revenues were $100.4 million, up 8% compared with the year-ago quarter's $92.8 million and higher than the Zacks Consensus Estimate of $99.0 million. Despite an 8% growth in revenues, Myriad's EPS was lower compared to the year-ago quarter due to a decline in interest income, higher income tax provision ($14.9 million compared with $980 million in the year-ago period), partially offset by a 5.8% decline in share count.
Myriad derives a majority of its revenues from Oncology, which increased 5% year over year to $69.4 million. Revenues from woman's health grew 16% to $31 million. While Myriad markets several molecular diagnostic products, the company's flagship product isBracanalysis, which studies BRCA1 and BRCA2 genes for assessing woman's risk of developing hereditary breast and ovarian cancers. This test recorded an 8.5% growth in annualized revenues to $89.2 million. Moreover, revenues derived from Colaris and Colaris AP, which assess a patient's risk of developing hereditary colorectal and uterine cancers, increased marginally to $7 million.
Gross profit (representing 88% of revenue) increased 8.2% year over year to $88.4 million. Operating expenses increased by 5.6% during the quarter, due to a 3.8% rise in selling, general and administrative expenses ($43.7 million) while research and development (R&D) expenses increased 20.4% ($6.1 million). Consequently, operating margin increased 120 bps to reach 38.4%.
Myriad exited the quarter with cash and marketable securities of $494.4 million, up 1.2% from $488.4 million at the end of June 2010. The company repurchased 2.9 million shares during the quarter.
Guidance
Myriad reiterated its outlook for fiscal 2011. The company expects total revenue and EPS of $380-$400 million and $0.95-$1.00, respectively. Gross profit margin and tax rate are expected to be 88% and 38%, respectively.
Recommendation
We consider Myriad's Bracanalysis as a valuable asset for top line growth as it has the potential to tap a widely unexplored market. Although the company's molecular diagnostics business is performing well, we remain concerned about the overall weakness in the economy and the tough competitive scenario in the biotechnology and genetics-testing field. However, with a strong cash balance, the company is well placed to expand its product portfolio and target new territories. Its bottom line is expected to strengthen further with the share buyback program.
We have a 'Neutral' recommendation for the stock.
Disclosure: No position