Innovation, ingenuity, governance, taxation, culture, literacy, debt ratios, fiscal balances, wage levels, and many other things help shape the economic future of a country, but one giant force in the future of any country is population size and age structure.
Awareness of what countries are the largest by population, how their size rank has changed and is expected to change, can be helpful in looking down the road as an investor. Which countries may themselves gain or lose economic power is influenced by size and population growth rate.
Of course, size and growth rate is not enough to take a country from poverty to riches. Equally, riches may not be sufficient to prevent financial decline, but looking into size and growth rate can be helpful in some cases.
Population History and Future for Ten Largest Countries by Population
(1970 through 2050 at 10-year intervals from U.S. Census bureau):
(Click to enlarge)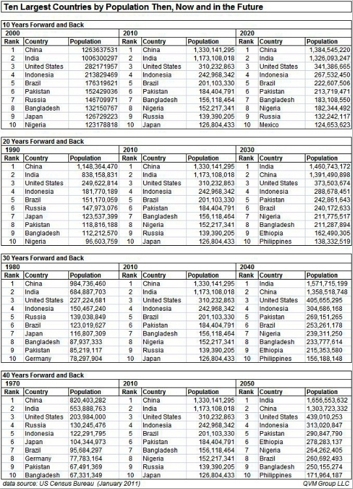 Countries in the Table with Proxy Country Funds:
China (NYSEARCA:GXC), India (NYSEARCA:INP), United States (NYSEARCA:VTI), Indonesia (NYSEARCA:IDX), Japan (NYSEARCA:EWJ), Brazil (NYSEARCA:EWZ), Germany (NYSEARCA:EWG), Russia (NYSEARCA:RSX), Mexico (NYSEARCA:EWW), frontier markets Pakistan and Nigeria (each in the S&P Select Frontier Markets Index, and the MSCI Frontier Markets Index), and Bangladesh (in the MSCI Frontier Markets Index) – Nigeria and Bangladesh are in the eligible countries for the FTSE Frontier 50 Index, but not Pakistan – a frontier markets ETF is the Guggenheim Frontier Market fund (NYSEARCA:FRN).
Stock Market Free Float Ranking for Ten Largest Countries: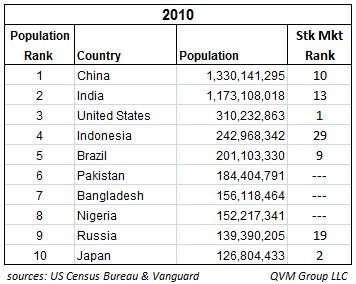 Population Age Structure Pyramids:
(Click to enlarge)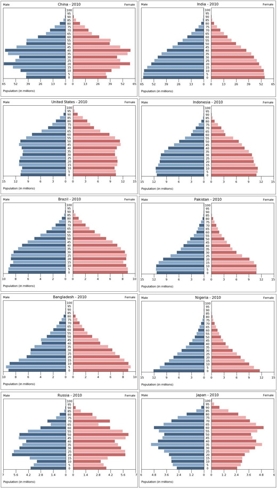 Demographics is one of the great unstoppable forces in the world. Population size and age structures are one of the most fundamental demographic factors.
Being aware of demographic factors is an important part of investment theme development.
Other recent articles with potentially useful country data are:
Countries with Highest and Lowest Forward P/E Multiples (01/2011)
Sovereign Risk and Currency Risk Ratings by Country (01/2011)

Holdings Disclosure: As of January 27, 2011 we hold positions in some but not all managed accounts for the following securities mentioned in this article: EWS, EWY, RSX, VTI, EWZ.

Disclaimer: Opinions expressed in this material and our disclosed holdings are as of January 27, 2011. Our opinions and holdings may change as subsequent conditions vary. We do not make any commitment to publish or provide any public notice of future changes to our opinions or changes in our holdings.

This published material is not personal investment advice to any specific person for any particular purpose. Do not take any investment action based solely on the contents of any our published material. We are not responsible for your use of our published materials in making any investment decision, and are not responsible for any losses you incur in taking any investment action. You are fully responsible for any use you make of the content of any published material prepared by us, and for any losses that occur as a result of any investment action taken in reliance upon any published materials prepared by us. Investing involves risk of loss of capital.

All of our published materials are for informational purposes only. More factors than considered in our published materials should be evaluated before taking any investment action. Perform your own investment research before making any investment decision. Consider seeking professional personal investment advice before implementing your portfolio ideas.

We utilize information sources that we believe to be reliable, but do not warrant the accuracy of those sources or our analysis. Past performance is no guarantee of future performance, and there is no guarantee that any forecast will come to pass.

We are a fee-only investment advisor, and are compensated only by our clients. We do not sell securities, and do not receive any form of revenue or incentive from any source other than directly from clients. We are not affiliated with any securities dealer, any fund, any fund sponsor or any company issuer of any security.

Disclaimer for all of our materials anywhere in the public domain.