China Natural Gas's (OTC:CHNG) long delayed new LNG facility appears to be further delayed, according to a note out today by analysts who visited the plant on January 25th. Roth Capital as a result downgraded CHNG to "Sell" and cut their price target to $4.50, or 6X their $0.76 FY11 EPS estimate. Roth estimated an additional 2-3 quarter delays in LNG production as well as the fact CHNG has not secured any major customers as reasons for their downgrade, noting that the project is at least 18 months behind schedule.

Incredibly, CHNG management has not issued any press release to announce the significant additional delay to its LNG production. In fact as recently as December 1, 2010, CHNG stated in a press release (here) announcing a supply agreement for its LNG plant that it expected to complete Phase I of the plant before the end of the year.

Since that press release, there have been more significant signs of trouble with CHNG's governance: On December 23, 2010, CHNG disclosed in an 8-K its CFO, David She, had been replaced by Shaocheng "Bode" Xu. Then on December 6, 2010, CHNG disclosed in an 8-K it had replaced its auditor, Frazer Frost, LLP with Friedman LLP.

In addition, on November 25th, 2010, CHNG disclosed in an 8-K that independent director Carl Yeung had resigned.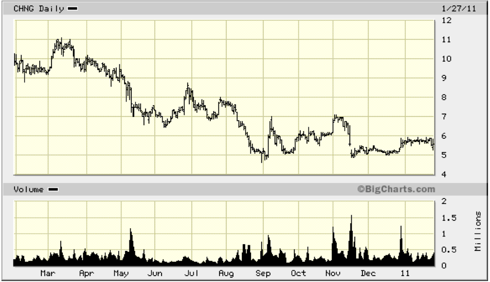 I first wrote about CHNG on September 8, 2010, after the company announced it had hired Ernst & Young to help improve internal controls. As I pointed out (here), CHNG failed to explain that this was the second time they had hired E&Y to work on their internal controls, the lack of which had previously resulted in up to $20 million undisclosed related party payments to a company owned by its Chairman for its Lingbao acquisition, $14 million in loans to 3rd parties to "help" the company obtain government approval to expand its LNG business (ever heard of the Foreign Corrupt Practices Act?), and most recently $17 million undisclosed borrowing by Chairman Qi Jinan for who knows what.
After an initial jump from $5 to $7 on the misleading press release, CHNG shares skid right back to the $5's where they have remained, more or less, ever since.
I will simply repeat my conclusion from September: When management has repeatedly shown they do not value shareholders no amount of remediation, even from an expensive Big 4 firm, will make any difference. Roth Capital by cutting CHNG to a "Sell" seems to be catching on.
Disclosure: I have no positions in any stocks mentioned, and no plans to initiate any positions within the next 72 hours.