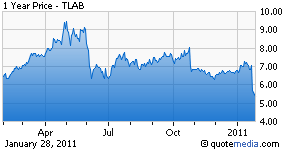 It has been a pretty rough week for the maker of networking products for communications service providers, Tellabs, Inc. (NASDAQ:TLAB). The stock lost 20% of it's value overnight after the company pre-released its fourth quarter and year end 2010 results. Tellabs disappointed on two main fronts: Gross margins and forward guidance. Revenue for the quarter and year was in line with expectations and climbed by 5% from the previous year but margins fell by more than expected. These margin declines resulted in a slight loss for the quarter when a slight gain had still been expected. For the year, Tellabs only disappointed by a penny, but it was the 2011/2012 guidance and subsequent downgrades that really hurt.
How much of these recent developments were already priced into the stock and what has actually changed from six months ago is up for debate. Let's back up a little bit to the second quarter of 2010 when things were going relatively well for Tellabs. The stock was at a 52-week high after climbing 50% in 2009, and another 50% in the first four months of 2010. The stock was doing well enough to be declared blatantly overvalued by at least one analyst citing a P/E of 33.
In early June, 2010, Morgan Stanley downgraded the stock with news that Tellabs is losing business to Cisco Systems (NASDAQ:CSCO) and Alcatel-Lucent (ALU), including a major source of high margin revenue from AT&T (NYSE:T). The stock took a 40% haircut immediately, and more downward guidance followed. Morgan Stanley had just initiated coverage of the stock three weeks prior with a favorable rating. It also indicated it would like to see the AT&T situation bottom out before any future upgrades.
Then in October, after firming up a bit for a few months, the stock plunged again. The company beat revenue and earnings estimates, but lowered its fourth quarter revenue guidance to $410-$430 million with gross margins as low as 42%. Consensus had been at $440 million and 50% respectively. Tellabs would go on to hit the low end of the revenue guidance, and miss the margin guidance by 2%. The company also lowered guidance once again for the first quarter of 2011. Morgan Stanley has once again lowered its rating, and has said that the AT&T situation may be worse than originally thought.
Tellabs revenue losses to Cisco and Alcatel-Lucent are seen as bottoming in the next six months, yet Morgan Stanley has also cut their 2012 EPS estimate in half. A drop from $7.00 to $5.50 on a 2% margin miss means that AT&T's defection may now be fully priced into the stock. Morgan Stanley has said that the business represented as much as 40% of their high margin revenue. Although this is a significant percentage of overall revenue, the company has managed to grow sales elsewhere quite dramatically, even if they are of the lower margin variety.
Tellabs still sells to 43 out of the top 50 communications service providers worldwide. Revenue from outside of North America grew to 41% of total revenue in the last quarter, up from 34% of revenue in 2009 with a 27% increase in foreign sales overall. So far, the foreign growth is more than outpacing the losses from AT&T, at least from a top line perspective. Also, product revenue, which encompasses the majority of their sales is growing, while their service revenue is shrinking. Yes the service revenue is where the high margins are, but the losses seem to have a finite end, and the gains do not, which is why the 50% cut in earnings estimates for 2012 doesn't seem to fit. The company will definitely see some more losses in the next quarter or two, but the bar may have been set too low for the turnaround potential that exists.
Tellabs could begin beating estimates and raising guidance sooner than many expect. The company did guide pretty low for the first quarter of 2011, around $325 million in revenue, but what many may not have noticed is that Tellabs made a slight change to the way it recognizes revenue. There is at least $20 million that was included in the fourth quarter 2010 results that would have been in the first quarter of 2011, making the drop off much less dramatic than it looks.
With all of the latest figures, TLAB has a P/E of 13 which is a five year low in an environment where the average P/E for communication equipment stocks is 31.5. The stock is trading very close to its cash per share, and is even closer to its book value. The balance sheet has over a billion dollars in cash and very little debt. If Tellabs was blatantly overvalued before Morgan Stanley got involved, it stands to reason that it may now be blatantly undervalued.
Disclosure: I have no positions in any stocks mentioned, and no plans to initiate any positions within the next 72 hours.