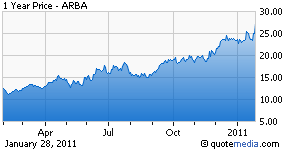 Ariba (NASDAQ:ARBA) was a high-flying stock during the dot com boom, and managed to survive the subsequent bust. Unfortunately, today's investors are showing the same enthusiasm for the stock that caused it to shoot upwards in 2000 followed by a more than 99% decline. Ariba is a marginally profitable company with questionable financial reporting, and investors are likely to get burned buying the stock at these levels. For the intrepid, it also represents a good shorting opportunity to guard against a market decline. Short interest is a relatively small 5% of float.
Ariba operates a global buying network through which companies can procure supplies and services from a variety of vendors. Given the investor fascination with cloud computing, it is trying to emphasize that it operates in a "cloud-based environment." The business seems to be a good one, except that it generates very little in the way of true profits.
The stock is up more than 100% from the beginning of 2010, and more than 15% in 2011 alone. During this period, the company has rarely beat earnings estimates, and in fact, forward estimates have come down as the company divested a division and bought another company. More importantly, the company is only marginally profitable, and almost its entire "non GAAP earnings" are due to the exclusion of an unusually high amount of stock compensation.
For the fiscal year ended September 30, 2010, the company reported $361 million in revenues (up 6% YOY), $18.5 million in operating income (including a $7 million litigation benefit), and net income of $16.4 million with a 8% tax rate. EPS was $0.18 for the year, and would have been half this without the litigation benefit and a 30% tax rate. For the quarter ended December 31, 2010, the company reported $3.9 million in operating income including a $2.9 million restructuring benefit and $1 million of transaction costs for an acquisition. Without these, operating income would have been $2 million on $90 million of revenue. By adding back $1 million of amortization of intangibles and $13 million of stock compensation, and neglecting to deduct anything for taxes, the company proclaimed $16 million of non-GAAP net income or $0.18 per share.
Stock compensation at Ariba is almost $50 million a year, which is a huge amount for a company with $360 million of revenue. At 14% of revenue, it eclipses other companies like Amazon (NASDAQ:AMZN) at 1% of revenue, Microsoft (NASDAQ:MSFT) at 2% and Google (NASDAQ:GOOG) at 4%. This high amount of stock compensation ensures that the company is unlikely to ever have a high GAAP operating margin. Notably, most of the stock compensation is for restricted stock rather than options, which means management gets to keep substantial amounts even if the stock declines. Not surprisingly, the share count is up 15% in the last two years in spite of some modest share buybacks.
Companies with a huge amount of stock compensation chug along for a while as eager investors continue to buy the stock that is regularly sold by the company's employees. However, at the first sign of trouble with the company or the economy, investors are quick to bail out, with insiders continuing their selling. This causes the stock to violently ratchet down. For instance, in the 2008-2009 downturn, stocks like ARBA, Aruba Networks (NASDAQ:ARUN) and Cavium Networks (NASDAQ:CAVM) fell 60% or more – an unusually large move for companies with substantial net cash positions and no debt.
Ariba also spends $17 million a year on some property leases, which it took as a restructuring charge a few years ago. So this amount does not go through the income statement, but is still a cash outflow.
Including stock compensation as an expense, the company has perhaps $15 million of earnings power per year. Assuming this is untaxed and putting an aggressive 40x multiple gives you $600 million of enterprise value for the company or $6.50 per share. Add back approximately $3 of cash per share and you get an aggressive fair value for the stock of $9.50, 65% lower than the current stock price around $28. The company just completed an acquisition of a private company with undisclosed financials for $150 million in cash and stock, so this analysis will change with new numbers, but probably not by much.
Disclosure: Author short ARBA