The dollar soared higher today as riots spread across the Middle East and northern Africa. The PowerShares DB US Dollar Index Bullish (NYSEARCA:UUP) was trading up $22.49, +0.14 (+0.60%). This constant move higher throughout the day has crushed the markets. Global instability fears are driving investors to the dollar.
In response, gold is soaring. Usually, when the dollar rises, gold drops. But just like investors are rushing to the dollar for safety, the same thing is true for gold. The SPDR Gold Trust (NYSEARCA:GLD) is ripping higher, trading at $131.32, +3.40 (+2.65%). Oil is also soaring, as the Middle East instability could mean oil is harder to produce and ship to other countries. The United States Oil Fund LP (NYSEARCA:USO) is trading at $37.45, +1.51 (+4.20%).
In addition to all the issues throughout the world, earnings were poor on many key stocks. Ford Motor Company (NYSE:F) is getting crushed, down 15%, while Amazon.com, Inc. (NASDAQ:AMZN) is down 10%. All this combined is making for a drastic drop in the markets. This monster drop may be the start of something bigger. It has the potential to start a correction in this market of 10%. Watch the news this weekend.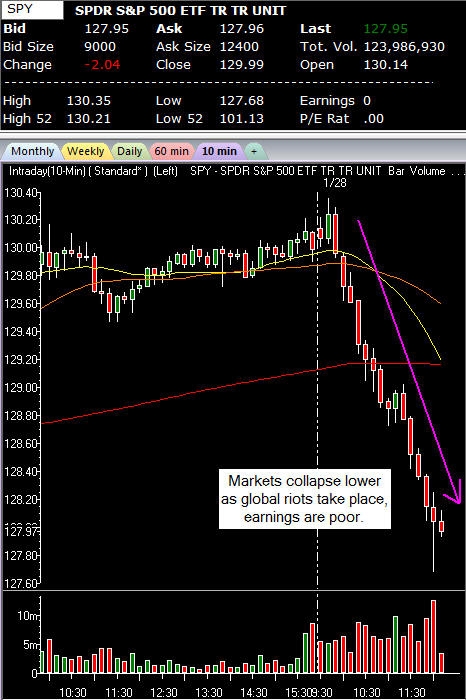 Disclosures: None