With the potential collapse of the country's government at hand, investors are fleeing the Egyptian stock market en masse. In the span of just over two weeks, the country's benchmark Hermes index is down more than 20%.
As one might expect, CDS prices for the country's debt are moving in the opposite direction and spiking, although given the seriousness of the situation, one could argue that the prices to insure against default are relatively cheap.
In late 2008, CDS prices were trading at more than twice the level they are trading at now. Whatever your views are regarding the situation in Egypt and its ultimate resolution, you can bet for more volatility. For those looking to play the volatility, the ETF for the Egyptian equity market is EGPT.
Click to enlarge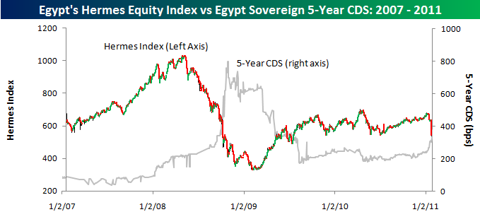 Click to enlarge
Disclosure: No position