Hudson City Bancorp
(NASDAQ:HCBK) is widely recognized as one of the most conservatively and best managed financial institutions in the country. Thanks to their conservative lending practices and prudent fiscal management, Hudson City Bancorp prospered through the great recession while other financial institutions faltered and even collapsed. This prudently run financial institution did not partake in any of the egregious behavior or business practices most financial institutions gluttonously gorged themselves on.
Therefore, with no exposure to subprime and/or other toxic loans or investments, Hudson City Bancorp did not need to participate in the government's Troubled Asset Relief Program. Ironically, we feel that Hudson City Bancorp is today being penalized for this good behavior by the government's forced need to support a fractured mortgage market created by the reckless behavior of other financial institutions. US government-sponsored enterprises (GSE's) have temporarily become formidable competition in the mortgage market. According to Hudson City Bancorp's most recently filed quarterly report, Ronald E. Hermance, Jr., chairman and chief executive officer, had this to say:
"Conditions in the mortgage market continued to produce substantial headwinds. During 2010, market interest rates were at historical lows and pushed mortgage rates below 5%. This caused prepayments and refinancing activity to increase, resulting in lower yields on our mortgage related assets. As expected, the continued low interest rate environment continued to negatively impact our net interest margin in the fourth quarter. The recent increase in longer-term market interest rates have pushed mortgage rates higher, but the continued elevated levels of employment, the weak housing market and the unprecedented level of US government-sponsored enterprises (the "GSEs") involvement in the mortgage market have impacted our ability to grow our loan portfolio as the GSEs were involved in over 90% of U.S. mortgage production."
All of the above is having what we suspect to be a short term, and hopefully short-lived negative impact on Hudson City Bancorp's
earnings growth and performance. On the other hand, we further believe that Hudson City Bancorp's

management and board are deliberately limiting and controlling growth until the situation improves. We also believe that they are hunkering down in order to protect and maintain their pristine balance sheet and capital ratios in preparation of exploiting an improving market for their products and services. Additional comments by Mr. Hermance have led us to these conclusions:
"As we look forward to market conditions that are more conducive to our business model, we're exploring the best ways to reduce interest rate risk, strengthen our balance sheet to restore traditional earnings trends and to prepare our balance sheet for future growth. We expect that this process would result in a further restructuring of our funding mix-a process we started in 2009 with the modification of putable borrowings to extend or eliminate put dates and to fund asset growth with consumer deposits. Any such restructuring will focus on the prospects for long-term overall earnings stability and growth as market and economic conditions become normalized. We believe it is important to adjust to current market conditions and prepare to capture a greater share of the residential mortgage market when conditions improve. While it is difficult to predict when that may occur, we believe that this is the time to look ahead to the 'new normal.'"
We interpret these words to mean that this company and its prudent management are not willing to sacrifice long-term shareholder value for the sake of short-term satisfaction. Unfortunately, we also read this to mean a potential interruption in their ability to generate earnings growth in calendar year 2011 and possibly beyond. But, from a more positive perspective, we believe that management is taking the right steps, which will ultimately lead to accelerated earnings growth when conditions do approve.
Analyzing Hudson City Bancorp
The following graph looks at Hudson City Bancorp since it went public in July 1999 through year-end 2010. First and foremost, notice that Hudson City Bancorp not only grew earnings at an average rate of 19% a year, but especially notice how earnings growth accelerated during the great recession. When other banks and financial institutions were experiencing collapsing earnings, Hudson City Bancorp had their best year ever. This is a testament to their prudent fiscal management and strong underwriting practices. Hudson City Bancorp requires 20% down payments, which has created a strong equity cushion against falling home values.
Starting in 2003 and extending into 2008, the stock market placed a premium valuation on Hudson City Bancorp. Conversely, the current low valuation is not only historically unprecedented, but we believe unjustifiably low. Even if you expect a significant slowing in earnings growth, as some do, we would argue that this company is still worth a minimum of 15 times earnings. Therefore, with a PE ratio under 12, we believe the stock is undervalued.
Therefore, modest appreciation due just to PE expansion to normal levels of 15 or above is possible and even likely.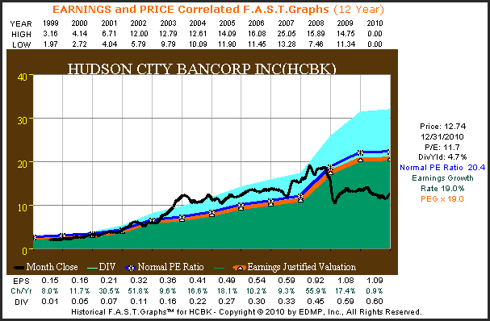 (Click to enlarge)
The performance results associated with the above price and earnings correlated graph tells a couple of interesting stories. First of all, notice howstrong their dividend growth has been and how it has significantly outpaced the total cash dividends paid by the S&P 500. Next, notice how their dividend payout ratio had grown to the 50% plus level starting in calendar year 2004. As we'll discuss later in this article, Hudson City Bancorp is strongly committed to shareholder value.
(Click to enlarge)
Short Term Risks
As the title of this article indicates, we believe that there are short-term risks associated with holding a position in Hudson City Bancorp. On the other hand, as the title also indicates, we believe that the long-term opportunity of owning this quality financial institution is quite attractive. The majority of the risk that we can identify lies in how the board and management deal with dividends over the next year or so. Our concerns are predicated on the following additional comments that Mr. Hermance made in their quarterly announcement:
"We are also very aware that the regulatory environment, as indicated by legislative and regulatory reactions to the recent recession and financial crisis, is expected to result in greater oversight and additional regulations for Hudson City and the entire industry. We expect capital and liquidity levels to become an even greater focus in 2011. Although our regulatory capital ratios are in excess of the requirements to be considered "well capitalized" for bank regulatory purposes, we believe the current regulatory environment will necessitate maintaining a reasonable cushion above the applicable regulatory requirements to be considered "well capitalized." Accordingly, we will consider our level of earnings, capital ratios and asset growth in our future decisions regarding dividends." (Bolding added for emphasis)
As a result of these statements, there is a lot of reading between the lines that can be done. Regarding future dividends, we would offer the following possibilities:
Hudson City Bancorp could maintain their dividend, but not increase it until things improve.

Hudson City Bancorp could partially cut or reduce their dividend to preserve capital.

Hudson City Bancorp could completely cut their dividend to conserve cash.

Hudson City Bancorp could continue to raise their dividend, but at a lower rate and/or payout ratio.
Frankly, we believe the idea that they would completely cut their dividend is remote. We feel that management understands that this could create a very negative impact on their stocks value. Keeping their dividend at the current rate for another four quarters or longer seems the most likely possibility to us. However, any of the above possibilities could occur depending on how the mortgage market plays itself out over the near, intermediate and longer term.
Worst and Best Case Scenarios:
The following price and earnings correlated graph on Hudson City Bancorp is updated to include current consensus estimates for 2011. Although we certainly believe that this estimate for 2011 is possible, we believe that it is overstated. For example, in contrast, Value Line Investment Survey currently only forecasts 2011 earnings to be flat. The speed in which the mortgage market in Hudson City Bancorp's core markets improves will be the primary determinant of which forecast is correct. In either case, we are confident that an improvement will come and Hudson City Bancorp will once again resume profitable growth. To be clear, if consensus is correct, then Hudson City Bancorp's stock is appropriately priced today. On the other hand, if Value Line Investment Survey is correct, then Hudson City Bancorp is trading at a bargain valuation. Either way, we feel that Hudson City Bancorp represents an attractive long-term holding for investors willing to exercise intelligent patience. In our mind, the term "intelligent patience" refers to patience based on long-term fundamental values, in lieu of short-term temporary interruptions.
In other words, we doubt that what Hudson City Bancorp is experiencing today amounts to a permanent impairment. Instead, we view today's positioning as a long-term opportunity to resume above-average and profitable growth. Regardless, it's important to point out that this company remains strongly profitable and is a long ways away from financial disaster. Even more importantly, Hudson City Bancorp's current level of profitability when the market for their core products are so weak speaks volumes about the strength of this company's business model.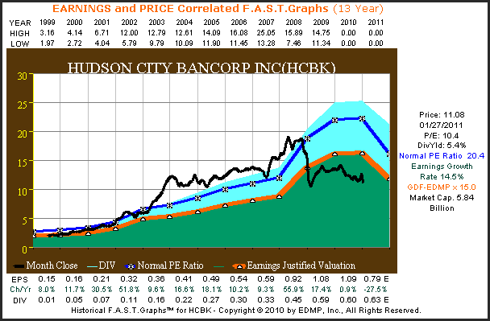 (Click to enlarge)
The following graph estimated earnings and return calculator on Hudson City Bancorp reflects the current consensus view for earnings growth over the next five years. The consensus of 16 analysts reporting to FirstCall expect earnings to fall from 2010's level of $1.09 to $.79 per share in 2011. Beyond 2011, they expect earnings growth of 5% per annum. If this were true, then one would have to logically conclude that the company is fairly valued at today's price. On the other hand, it would also be logical to conclude that there is little downside from these levels.
Looking forward, a drop in earnings this year followed by a 5% growth out to 2016 would imply a five-year compounded estimated annual return of 10.8%, including dividends. Of course, this is a mathematical calculation based on those estimates which also assumes that the dividend would follow suit. This is not a wildly optimistic scenario, and very well could be worse case.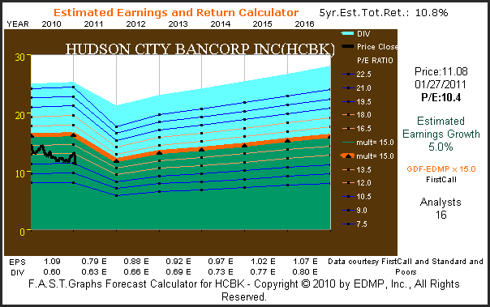 (Click to enlarge)
This next graph estimated earnings and return calculator depicts numbers taken from the January 14, 2011 Value Line report authored by Robert Mitkowski. This report shows flat earnings of $1.10 per share in 2011 and an estimated growth rate out to 2015 of 10.5%. If these numbers were to come to pass, the mathematical calculation of the five-year estimated compounded annual total return balloons to a very attractive 19.9%, including dividends.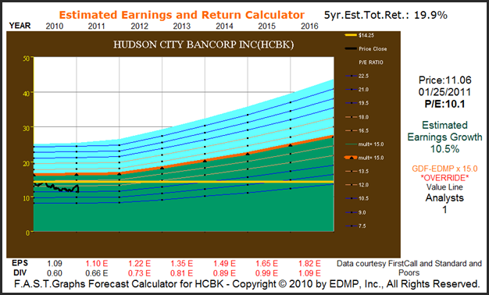 (Click to enlarge)
Please keep in mind that both of these scenarios are simply mathematical depictions of the possibilities based on the various forecasts and assumptions presented. Therefore, the forecast cash flows (earnings stream) are capitalized utilizing widely accepted formulas for valuing cash flows. Both of these assumptions are at least within the realm of reasonableness and possibility. A great deal is going to depend on what happens to the mortgage markets over the next several quarters.
Risks
Much of the current negative attitude towards Hudson City Bancorp's common stock has to do with what we believe to be a very modest increase in nonperforming loans and an increase in pre-payment and refinancing activity. MorningStar's Jim Sinegal and his analysts note on January 20, 2011 wrote:
"Low rates resulted in an increase in prepayment and refinancing activity, and the company's reported net interest margin fell to 1.73% in the fourth quarter. Additionally, the thrifts growth has lost gusto, as the government-sponsored enterprises have taken market share in recent quarters. Net loans have now fallen for two consecutive quarters. Finally, credit quality is continuing to decline, albeit at a manageable rate. Nonperforming loans rose from 2.64% to 2.8% of total loans during the quarter. The ratio of net charge-offs to average loans remained at relatively low levels-- 0.32% versus 0.33% in the previous quarter-- thanks to Hudson City's strict lending standards."
Summary and Conclusions
The bottom line is that we believe Hudson City Bancorp remains one of the most prudently and best managed thrifts in the nation. Their capital ratios remain strong, their balance sheet is pristine and their management team is steadfastly committed to prudence and fiscal responsibility. Even though growth may temporarily stall, Hudson City remains a very profitable and conservatively run thrift. In this vein, management is properly adapting to the changing banking regulatory environment. On the other hand, they are not changing their core business model and practices. Mr. Hermance succinctly corroborated our opinion with his concluding remarks in their recent quarterly release:
"With all of the challenges facing our business, we are committed to shareholder value. Your management team remains focused on our core residential lending model and adapting this model to changes in the marketplace as they occur."
We believe that Hudson City Bancorp is intelligently and prudently managing their business in this changing mortgage environment. Furthermore, we also believe that Hudson City Bancorp's conservative business model will once again take them back to industry dominance when conditions improve. But most importantly, we believe this will translate into profitable long-term growth, to include a strong and rising dividend income stream. There are risks to our expectations for sure, but this company's competent management team has earned our confidence and respect.
We are currently long Hudson City Bancorp and remain committed to our position. It would take a fundamental deterioration that is far greater than we currently see to shake our confidence. As long-term investors, we expect to own this company for years to come. On the other hand, we are continuing to scrutinize each quarter's results as they manifest. Unless our expectations change dramatically, we would more than likely add to our position if prices weakened much further.
Disclosure: I am long HCBK.