Now that Depomed's (NASDAQ:DEPO) GRALISE has been approved by the FDA, making a bull case for Depomed becomes easy. GRALISE is an extended release gabapentin formulation, formerly DM-1796, that is prescribed once-daily for the treatment of post-herpetic-neuralgia ("PHN"), which is pain associated with shingles. Approval of GRALISE triggers a milestone payment of $48 million from Abbott (NYSE:ABT) to Depomed, or approximately $1 per share.
Dosing and Adverse Events make GRALISE compelling
The most compelling feature of GRALISE is the tame adverse events profile. The incidence of dizziness for patients treated with GRALISE was 10.9% versus 2.2% for placebo. The incidence of somnolence was 4.5% versus 2.7% for placebo. The incidence of headache was 4.2% versus 4.1% for placebo. The difference becomes tremendous when you juxtapose GRALISE's profile against that of LYRICA, Pfizer's (NYSE:PFE) blockbuster drug with annual sales over $2 billion dollars worldwide. Besides dizziness, somnolence, and headache, LYRICA also mentions peripheral edema, weight gain and edema as common adverse events, unlike GRALISE. For LYRICA, the incidence of dizziness was 31% versus 9% for placebo. The incidence of somnolence was 18% versus 5% for placebo. The incidence of headache was 8% versus 4% for placebo.
| | | |
| --- | --- | --- |
| | Dizziness (treatment group) | Dizziness (placebo group) |
| GRALISE | 10.9% | 2.2% |
| LYRICA | 31% | 9% |
| | | |
| --- | --- | --- |
| | Somnolence (treatment group) | Somnolence (placebo group) |
| GRALISE | 4.5% | 2.7% |
| LYRICA | 18% | 5% |
| | | |
| --- | --- | --- |
| | Headache (active group) | Headache (placebo group) |
| GRALISE | 4.2% | 4.1% |
| LYRICA | 8% | 4% |
The dropouts rate during the clinical trials, again, demonstrates GRALISE's superior tolerability. The drop-out rate due to adverse events for GRALISE was 9.7% versus 14% for LYRICA.
| | |
| --- | --- |
| | Drop-out rate due to Adverse Events |
| GRALISE | 9.7% |
| LYRICA | 14% |
Furthermore, GRALISE is dosed once-daily versus LYRICA which is dosed two-to-three times daily. Although a head-to-head study for this type of comparison would be preferred, this data is highly suggestive of GRALISE's superiority over LYRICA with regards to dosing, tolerability, and adverse events. Whether GRALISE will achieve superior sales remains to be seen.
The comparison of GRALISE to generic gabapentin (NEURONTIN) is just as impressive.
| | | |
| --- | --- | --- |
| | Dizziness (active group) | Dizziness (placebo group) |
| GRALISE | 10.9% | 2.2% |
| NEURONTIN | 28.8% | 7.5% |
| | | |
| --- | --- | --- |
| | Somnolence (active group) | Somnolence (placebo group) |
| GRALISE | 4.5% | 2.7% |
| NEURONTIN | 21.8% | 5.3% |
| | | |
| --- | --- | --- |
| | Headache (active group) | Headache (placebo group) |
| GRALISE | 4.2% | 4.1% |
| NEURONTIN | 3.3% | 3.1% |
Marketing against generics and LYRICA
One of the main issues for GRALISE's launch will be how to position the product against LYRICA and generic products. Generic LYRICA may hit the market in Q1 of 2014, while generic gabapentin is already on the market and commands a majority percentage of the total scripts for this class of drug. It is clear that detailing and labeling will play a paramount role for GRALISE. Since GRALISE appears medically superior to both LYRICA and generic gabapentin, the main issue won't be a lack of prescriptions made by physicians. More probably, the issue may involve pharmacies, generic substitution, and reimbursement from managed care.
Depomed can combat generic substitution in a number of ways. First of all, given GRALISE's significantly different dosing and pharmokinetics, the FDA was willing to work with DEPO to make sure less substitution occurs. For example, Depomed was able to ensure that the phrase "GRALISE is not interchangeable with other Gabapentin products" appears on the front of every label and bottle. Furthermore, Depomed is employing a 30-day "titration pack", similar to Pfizer's popular Z-Pak, making generic substitution somewhat more cumbersome at the pharmacy. When a physicians prescribes the "titration pack", it will be difficult for a pharmacy to switch to a generic.
Finally, GRALISE is not a controlled substance, whereas LYRICA is controlled. A controlled substance means that pharmacies have to adhere to strict rules regarding sales and distribution. For example, it is difficult for a practitioner to orally prescribe LYRICA to a pharmacy, since a written follow-up must be submitted to the pharmacy within 72 hours. Furthermore, pharmacies must keep logs and records of all controlled substance prescriptions, like those of LYRICA, for five years. These and other regulations are reasons why pharmacies tend not to stock controlled substances. But GRALISE is not a controlled substance, it will not have these issues, and will probably be preferred at the pharmacy.
Ongoing Mediation with Abbott, risk revaluation for Serada and more deals to come...
One week ago, when Depomed announced that they would enter mediation with Abbott, FDA approval was still an uncertainty. Now it's not. And everyday that Abbott delays GRALISE's launch, is another day of damages that Abbott will be forced to pay if the dispute enters arbitration. With this in mind, one can assume a speedy resolution. And with that resolution, one can expect that Abbott will pay some penalty for breaking their contract which in its current form has substantial sales milestones.
Approval not only gives Depomed more leverage when dealing with Abbott, it also revaluates the pipeline. SERADA, like GRALISE, is also a gabapentin formulation. With this recent approval, certain risks that haunted SERADA can be readjusted in Depomed's favor. Furthermore the Acuform technology is again reaffirmed. With another approval, Depomed may have more strength in any negotiations to license DM-1992 for Parkinson's, DM-3458 for GERD, ProQuin for Urinary Tract Infections, or its patents for Glumetza.
Final Thoughts
A revaluation of Depomed stock price is in order. But beyond the initial, expected bump in PPS, investors can look forward to a number of key events for continued stock price appreciation. Abbott and Depomed's resolution over GRALISE is clearly paramount. Later, Depomed will partner GRALISE both in the U.S. and the rest of world, which should bring in more cash and more favorable royalties. But also, investors can expect a revaluation of Serada, the technology as a whole, and the rest of Depomed's pipeline. Depomed's story will unfold throughout 2011, with many significant events that investors can look forward to.
For more information about Depomed's dispute with Abbott, click here
For more information about GRALISE, click here
For more information about SERADA, click here
Below is a chart outlining my previous recommendations for DEPO: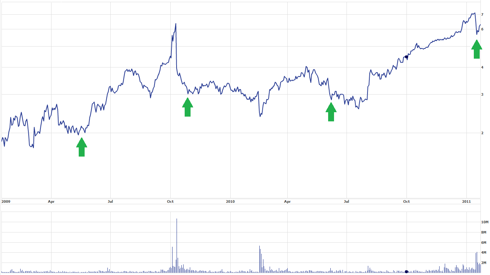 Disclosure: I am long DEPO, ABT, XNPT, MRK, SNTS, OTCPK:NGSX, OTC:BNVI, DRRX.