We have been making rare earths our primary focus in our articles on Seeking Alpha so far in 2011, but we have a generally bullish view on commodities in general as part of our "2 billion people entering the middle class in the next twenty years" thesis.
The mining sector is divided into two groups: The producing companies and the exploration & development companies ("juniors"). In the simplest terms, the producing companies are generating operating cash flow from monetizing a resource deposit whereas the junior companies are cash flow negative because they are developing a deposit to potentially exploit.
Not being geologists, it is rather difficult for us to pick winners in this space since the drilling assay results are not exactly written in laymen's terms. We stumbled onto Pinetree Capital a couple of years ago as a vehicle that we then used to gain exposure to the junior mining community across a broad swath of commodities (precious metals, uranium, rare earths, base metals, oil & gas). We like Pinetree Capital for its diversification effects because it allows us to give some of our capital set aside for junior mining companies to a manager who specializes in the space.
Traditionally classified as a financial company, we view Pinetree Capital as a junior mining investment fund instead. Pinetree invests in a broad portfolio of junior mining companies from the seed phase onward with an investment portfolio worth C$468 million as of September 30, 2010.
The Net Asset Value of the firm on a diluted basis on September 30, 2010 was $2.46/share versus the current market price of $3.45/share, but the markets and especially commodities had a very good fourth quarter so we believe that the Net Asset Value of Pinetree Capital is substantially higher than $2.45/share.
In fact, we will show in this article that based on current market prices the NAV of Pinetree Capital is very likely higher than the current market price of Pinetree Capital. With the last four months being very bullish for commodities, we went into the third quarter numbers from Pinetree and looked at their portfolio.
Based on the largest 8 positions plus the rare earths portion of the Pinetree portfolio (less than 40% of the total portfolio), we came to a current diluted Net Asset Value for Pinetree of $3.41/share, the stock closed today at $3.47. Please note that with the CAD/USD exchange rate essentially at par, we have used a one for one exchange rate in this analysis.
click to enlarge images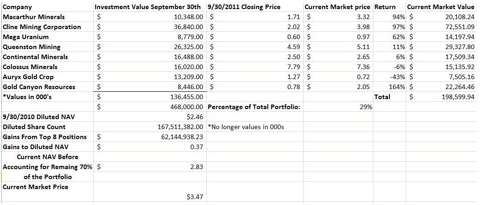 The eight largest positions in the Pinetree portfolio accounted for 30% of the total portfolio as of September 30th. Based on the gains in these eight largest positions, we get a current diluted NAV of $2.83.
In addition to accounting for the top 8 positions, we decided to include the rare earth portion of the Pinetree portfolio which was on September 30th was approximately $30 million in fair market value. Ninety percent of the rare earth portfolio is broken out individually in the Pinetree 3Q10 report, which we then did a fair market valuation for using current market prices.

When we include market gains from the rare earth portion of the Pinetree portfolio, we come to a current diluted NAV for Pinetree of $3.41 before including gains from the remaining 60%+ of the total portfolio.
While we only accounted for less than half the portfolio, we would point out that commodities in general have had a good four months and especially the ones Pinetree focuses on so we think the portfolio sample we analyzed is representative of the entire portfolio. We have come to the conclusion that Pinetree Capital is trading at a discount to its current diluted Net Asset Value.
For the simple sake of an educated extrapolation of what the current diluted NAV of Pinetree actually is, here is a table based on where it would stand if the remaining 60%+ of the portfolio gained 10%, 15%, 20%, 25%, or 46% as the top 8 positions did.

Based on our sensitivity analysis, we believe the current NAV/share of Pinetree Capital is approximately $3.70 on a conservative basis. As such, we do not think investors need worry about valuation when considering Pinetree Capital as it is trading at a P/NAV of 0.94 based on our estimate of current NAV.
After resolving the valuation issue, we come to the issue of management. As in any investment fund, an investment in Pinetree is both an investment in an asset class but also in the manager.
The CEO of Pinetree Capital is Sheldon Iwentash who, according to the Pinetree corporate presentation has over twenty five years investing experience with a substantial amount of that time in the resource sector. According to the corporate presentation, management has grown the NAV of Pinetree 15.5% annualized rate for the past five years, so the track record is impressive.
The third component to investing in Pinetree Capital is whether or not you are bullish on the commodity space as we are (see here).
If you are bullish on commodities, we think investors should consider Pinetree Capital for its broad exposure to several junior mining companies across several commodities and its diversification effect of giving a portion of your capital allocated to junior mining companies over to a manager who specializes in the junior mining sector.
Disclosure: I am long OTCPK:PNPFF.
Disclaimer: The facts in this newsletter are believed by the Strategist to be accurate, but the Strategist cannot guarantee that they are. Nothing in this newsletter should be taken as a solicitation to purchase or sell securities. These are Mr. Evensen's opinions and he may be wrong. Principals, Editors, Writers, and Associates of The Strategist may have positions in securities mentioned in this newsletter. You should take this into consideration before acting on any advice given in this newsletter.