There are many factors to consider when creating a long term buy and hold dividend portfolio. First and foremost is obviously diversification. As I have stated in previous articles, a properly diversified portfolio can better withstand the occasional sell-off in certain sectors. Second, it is important to accurately identify 'Best in Breed' stocks within each sector. These stocks should always be the core of your portfolio. Every investor has different ideas on what constitutes a good investment, here is what I look for.
What constitutes a 'Best in Breed' dividend stock?
Consistent Long Term Dividend Payments: For the most part, we are looking for companies that have paid a consistent dividend for over 10 years. A few good starting points for indentifying these companies are the Dividend Champions and the S&P Dividend Aristocrat.

I prefer the Dividend Champion resource as it focuses on consistent dividend growth.
Dividend Growth: Speaking of dividend growth, we are looking for companies that consistently raise their annual dividend payments. It's easy to for investors to get stuck on current yield when doing due diligence on a stock. Although a decent current yield is important, it is your future yield on cost that will ultimately matter. The compounding returns of dividend growth stocks will outperform strictly high yield stocks in the long run. More on this later.
Dividend Payout Ratio:

Are the company's dividends sustainable? The easiest metric to judge this criterion is Dividend Payout Ratio. The Payout Ratio is simply the Dividends Per Share divided by the Earnings per share. We are looking for DPS ratios that are between 30-50%. This allows the company capital to reinvest in the business while returning capital to its share holders.
Consistent Return on Equity: We are looking for companies that have an above average Returns on Equity. Companies that consistently provide investors with 15% or greater ROE have a proven sustainable competitive advantage over their competitors.

The average ROE for an American company is 12%.
Sustainable Growth: Additionally, we are looking for companies that have long term sustainable growth rates. Buffett used the average rate of return on equity and average retention ratio to calculate a company's sustainable growth rate. The SGR is used to calculate the book value per share in the future. Dividends paid are added to the probable future price to calculate the total gain. We are looking for companies with consistent and predictable earnings. This formula allows us model future growth. Again we are looking for companies with a greater than 13% Sustainable Growth Rate.

Durable Competitive Advantage:

Finally, the company must have strong brand equity. It should be the leader in its field with a highly recognizable product or service. This allows the company to adjust pricing accordingly to either better contend with competitors or adjust for inflation. We are looking for iconic, must have, brands.
With all these principles in mind, what are the 'Best in Breed' dividend stocks? Disregarding entry prices, what should a diversified 'Best of Breed' dividend portfolio look like for the long term investor? For the purpose of this series I will focus on 8 specific sectors: Financials, Consumer Staples, Health Care, Services, Energy, Technology, Utilities and Industrials. Without further ado, I present part one of the The Best of Breed Dividend Stocks.
Energy
Chevron Corp (CVX)
Current Yield 3.01%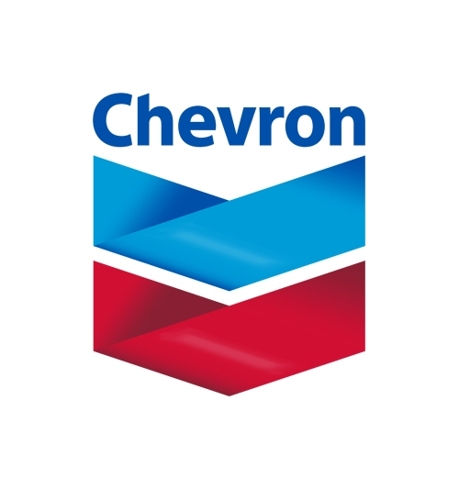 The Chevron Corporation is the second largest energy company in the U.S. and isone of the six super major oil companies. With operations in 180 countries, it has a strong network of retail gas stations including Chevron, Texaco, and Caltex. As a vertically integrated oil company, Chevron's operations span from oil production to mining and petrochemical manufacturing.
Chevron (CVX) has increased its dividend for 23 straight years. Its Compound Dividend Growth Rate over the last 7 years is over 10%. Its Dividend Payout Ratio over the same time span is 31.3% leaving plenty of room for future increases.
The fundamentals of Chevron (CVX) are rock solid (click to enlarge images):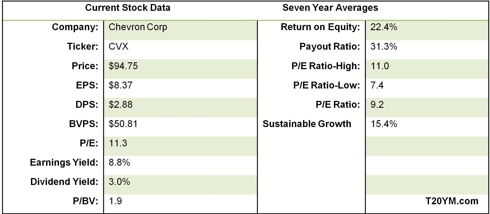 Chevron's 7 year average ROE is 22.4%, well above the average of 12%. Additionally, the Sustainable Growth Rate is 15.4%. Additionally, CVX operates with a ridiculously low PEG ratio of .51, making it severely undervalued. Using the Sustainable Growth Rate from Chevron (CVX) should offer investors substantial return on their capital:

Chevron's (CVX) current price of $94.75 may seem pricey but it is extremely undervalued. Furthermore, with a strong balance sheet, great dividend track record and future growth potential, Chevron is easily the 'Best of Breed' of the energy sector.
Services
McDonald's Corporation (MCD)
Current Yield 3.33%
McDonald's Corporation, together with its subsidiaries, operates as a worldwide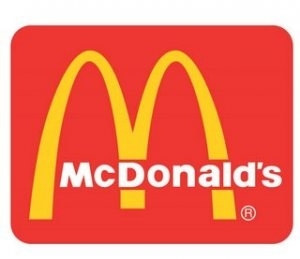 foodservice retailer. It franchises and operates McDonald's restaurants that offer various food items, soft drinks, coffee, and other beverages. As of December 31, 2009, the company operated 32,478 restaurants in 117 countries, of which 26,216 were operated by franchisees; and 6,262 were operated by the company. McDonald's Corporation was founded in 1948 and is based in Oak Brook, Illinois.
McDonald's Corporation (MCD) is an elite Dividend Champion increasing its annual dividend for 34 consecutive years. Its Compound Dividend Growth Rate over the last 7 years is over 35%. Its 7 year historical payout ratio is 37.5%, leaving considerable room for growth.
The fundamentals of McDonald's are compelling:

McDonald's (MCD) 7 year average ROE is 20.8%. Its future Sustainable Growth rate is 13%. When we model McDonald's (MCD) future earnings using these metrics, the results are again staggering: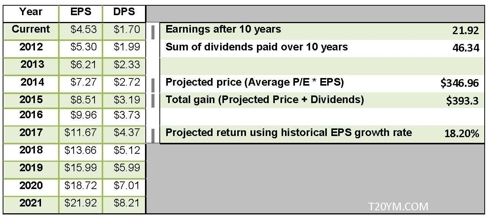 As my last article stated (here), I am a huge believer in McDonald's (MCD). It possesses one of the strongest brands in the world. Its dividend is as strong as they come and its future outlook is bright. McDonald's (MCD) operates strongly in any economic environment making ideal for long term investors. The 'service' sector encompasses many businesses, but I feel McDonald's strong and growing dividend make it the service sector's 'Best of Breed'.
Health Care
Johnson & Johnson
Current Yield 3.60%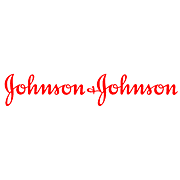 Johnson & Johnson (JNJ) engages in the research and development, manufacture, and sale of various products in the health care field worldwide. The company operates in three segments: Consumer, Pharmaceutical, and Medical Devices and Diagnostics. The Consumer segment provides products used in baby care, skin care, oral care, wound care, and women's health care fields, as well as nutritional, over-the-counter pharmaceutical products, and wellness and prevention platforms under the names JOHNSON'S, AVEENO, CLEAN & CLEAR, JOHNSON'S Adult, NEUTROGENA, RoC, LUBRIDERM, Dabao, Vendome, LISTERINE, REACH, BAND-AID, PURELL, CAREFREE, STAYFREE, SPLENDA, TYLENOL, SUDAFED, ZYRTEC, MOTRIN IB, and PEPCID AC.
By now, most investors are aware of JNJ's recent penchant for recalls. These recalls have been broad range from Children's Tylenol, Sudafed and Rolaids. The majority of these recalls were for minor reasons. The negative long term impact on the stock should be minimal.
Again, Johnson & Johnson (JNJ) is a member of the Dividend Champions, increasing its dividend payment for an astounding 48 straight years. Its Compound Dividend Growth rate over the last 7 years is a respectable 13%. Johnson & Johnson's (JNJ) average payout ratio over the last 7 years is 38.7%, leaving room for more growth.
Fundamentally Johnson & Johnson (JNJ) is a model of consistency:

Johnson & Johnson (JNJ) sports a 7 year average ROE of 31.4% crushing the average ROE of American companies by 19.4%. Furthermore, it is trading at a very low P/E compared to its 7 year average of 15.9. Johnson & Johnson (JNJ) has a long term Sustainable Growth Rate of 19.3%. Again, let's model future returns using these factors:

Simply stated, Johnson & Johnson (JNJ) has been one of the safest and most lucrative investments over the last 20-30 years. It maintains a sustainable and growing dividend, and hemorrhages free cash flow. This is a long term buy and hold company and is easily the 'Best in Breed' of dividend paying stocks in the health care sector.
Utilities
Southern Company (SO)
Current Yield 4.8%
Southern Company, through its subsidiaries, operates as a utility company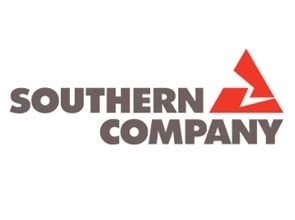 that provides electric service in the southeastern United States. The company generates, transmits, and distributes electricity through coal, nuclear, oil and gas, and hydro resources. It offers electric service primarily in Alabama, Georgia, Florida, and Mississippi; and serves approximately 4.4 million retail customers.
Other than the high yield, utility companies are not my favorite investment. But, any good dividend portfolio should have at least a portion of their capital allocated to the sector. When analyzing utilities, some of the metrics I mentioned above are not overly useful. For one, Dividend Payout Ratios of utilities are usually abnormally high. This is due to the fact that the majority of earnings are returned to the shareholder.
Additionally, since utilities are such a highly regulated industry, ROE and EPS growth are somewhat subdued. What I look for is a long term sustainable customer base, good management and a hefty yield. With that being said, let's take a look at Southern Company (SO):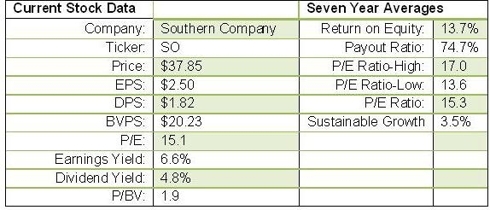 Southern Company (SO) sports a Earnings Yield of 6.6% that is considerably higher than the 3.6% currently offered by the US ten year treasury. Additionally, the 4.8% Dividend Yield is far above the 3% mark I use when screening dividend stocks. It sports a 4.4% dividend growth rate over the last 10 years and has raised its annual dividend payment for the last 9. With Southern Company's (SO) sound fundamentals and growing yield, it gets my vote for the 'Best in Breed' utility company.
So there you have it, the first installment of The Best in Breed Dividend Stocks. My next article will cover Financials, Industrials, Technology and Consumer Staples. Disagree with any of my picks? I would be interested to hear your ideas in the comment section.
(As I wrote this article the market sold off over 1%... great entry points!)