It's not easy for large institutions to reinvent themselves. Look at Blockbuster (OTC:BLOAQ) - the video rental outlet was asleep at the wheel while Netflix (Nasdaq: NFLX) and Coinstar (Nasdaq: CSTR) zipped right past it to grab market share. Blockbuster soon crumbled into bankruptcy.
Even mega-cap multinationals like International Business Machines (NYSE: IBM) have faced similar challenges. The need to innovate in a complex and rapidly developing competitive landscape means nothing is assured.
Nowhere is the speed of innovation more apparent than in world of transactions. Twenty years ago most of us carried cash - no more. Now we purchase items with a quick swipe of a credit card, debit-card, or just by punching a few keys on a mobile phone.
Small cap investors have a few ways to play this trend, and NCR Corporation (NYSE: NCR) is worth a hard look. In the era where cash registers have morphed into point-of-sale terminals, NCR is one of many companies producing the devices that take our money or plastic at the checkout counter.
The company has global name recognition as the king of the cash register. Since the National Cash Register Company was founded in 1884, the company has become a technology pioneer. One of its scientists discovered liquid crystal displays, it developed the first transistorized business computer; and it was the first to commercialize bar code scanners.
Now it's emerged as a player in ATMs, self-service kiosks, point-of-sale devices and document-imaging devices. It's also in an entertainment-distribution venture with Blockbuster as that company tries to reinvent itself.
The fallen angel will soon roll out 10,000 DVD kiosks, a move that has garnered key exclusivity deals with Warner Brothers, Universal Studios and 20th Century Fox.
NCR's stock has moved higher along with the rest of the market since September of 2010.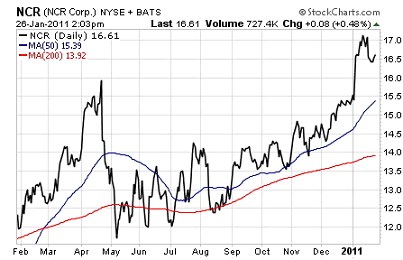 NCR had a rough time in the 1990s as a subsidiary of AT&T (NYSE: T), before being spun off in 1997. Just over a decade later, in 2009, the company pulled its Rust Belt roots from Dayton, Ohio and moved headquarters to Duluth, Georgia.
On the competitive front NCR faces off against Diebold (NYSE: DBD) and Germany's Wincor Nixdorf GmbH & Co. (F: WIN) in the ATM business, especially as it targets increased overseas expansion. It goes head-to-head with IBM and Hewlett-Packard (NYSE: HPQ) for retail sales terminals.
During the just-completed fourth quarter, NCR expanded its portfolio by announcing the acquisition of Mobiqa - a provider of tickets, boarding passes, downloadable applications and coupons for the travel, entertainment and retail industries.
The last two recession years have not been overly kind to NCR - cash flow decreased by $241 million in 2008 and $260 million in 2009. But indications are that when the company reports 2010 results on February 3, cash flow will show marked improvement. The company carries little debt, and has roughly $360 million in cash on the books.
The company is also in the midst of a $210 million share repurchase, which could give the stock a boost.
In a January 24 interview with Bloomberg News, CEO Bill Nuti said NCR turned in record sales of retail self-service checkout stations in 2010, and is looking for at least 10 percent growth in 2011. Retailers like Home Depot (NYSE: HD) are cutting employee costs by installing the company's self-serve devices. It also has partnered with Wal-Mart Stores (NYSE: WMT) on checkout terminals.
The company also just announced that it would be working to replace hundreds of ATMs for JPMorgan Chase (NYSE: JPM) that can scan cash and checks without a deposit envelope. Additionally, it is making moves into more emerging markets, especially China where it already has a substantial presence.
Mr. Nuti also noted in the story that NCR controls 80 percent of the U.S. airport kiosk market, serving up tickets for Delta Air Lines (NYSE: DAL) and Hertz Global Holdings (NYSE: HTZ), among others.
NCR is expected to report full year 2010 results on February 3. Analysts polled by Thomson Reuters are looking for quarterly earnings per diluted share of $0.51, and full-year EPS of $1.48, up from $0.37 and a loss of $0.21, respectively, the year before.
I consider NCR a nice value play, especially since the stock carries a forward P/E of just 10.8 and a PEG ratio of only .53.