By Sheena Lee
Analyst views remain mixed for Yahoo! (NASDAQ:YHOO), which beat fourth quarter earnings estimates but missed sales forecasts [see call transcript]. The company announced it plans to layoff 1 percent of its workforce, and said that its search agreement with Microsoft (NASDAQ:MSFT) did not generate as much revenue as it expected.
The mean price target of sell-side and independent analysts tracked by Alacra Pulse stands at $18.46, up slightly from $18.04 in October, and 14% above Thursday's closing price of $16.20. The median stands at $19.
Current 12-month price targets of selected sell-side and independent analysts. Click image to enlarge.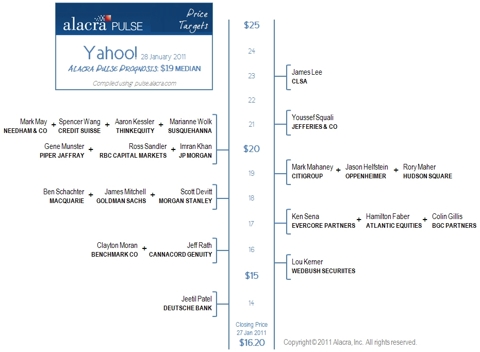 Click to enlarge
Despite their lukewarm comments on Yahoo!, nine are positive and 14 are Neutral.
Deutsche Bank analyst Jeetil Patel reiterated a Hold rating with a low price target of $14: "We feel 2011 represents another tough year of revenue declines as Google (NASDAQ:GOOG) impacts paid search and Facebook waits in the wings to impact Yahoo display ad business. We think growth may resume in 4Q at the earliest, although we believe that Yahoo must lower its monetization and re-invest in products."
"This is not what we expected from Yahoo and the weak guidance gives us further pause," writes Brian Bolan of Williams Capital. "We believe investors will sell first, and ask questions later." Bolan downgraded his rating of Yahoo to Underperform after the firm's earnings announcement.
At the other end of the scale is CLSA's James Lee with a Buy recommendation and a high target of $23. He said Yahoo! continues to make progress in growing its display business and realigning its search operations. He is also positive on the company's Asian operations. Indeed, much of the rationale for analysts' positive recommendations is based on the potential sale of Asian assets.
Goldman Sachs analyst James Mitchell kept a Neutral rating on Yahoo, but cut his price target on the search company to $18 from $19. Mitchell said that Yahoo's display revenue is already at risk of falling behind its 2010-2013 growth target of 13-16 percent year-on-year. Stockholders "will take solace from the company's stated desire to sell part of its 34-percent stake in Yahoo Japan, if it can find a single buyer and tax-efficient exit strategy," wrote Mitchell.
Ben Schachter, an analyst at Macquarie Research said that one of the biggest benefits of the combination of Microsoft and Yahoo was supposed to be on the RPS (revenue per search) side. "We expected it to happen already. We still don't understand why it hasn't happened. So I'm not going to be giving them the benefit of the doubt that it will be magically fixed by the middle of this year,"said Schachter, who has a Neutral rating and $18 price target on the stock.
Morgan Stanley analyst Scott Devitt also lowered its price target for Yahoo to $18 from $19 and maintained its equal-weight rating on the stock.
Imran Khan 0f JP Morgan reiterated an Overweight rating and a $20 price target, citing that the display business is still strong, growing perhaps 12% this year. Khan raised his revenue estimate to $4.56 billion from $4.47 billion, to reflect strong display revenue growth, but lowered his EPS estimate to 68 cents from 79 cents, to reflect the weak Q1 outlook and the issues with the search business.
Citigroup analyst Mark Mahaney upped his target to $19 from $18 and repeated a Hold rating based on Yahoo "very attractive Asian Internet investment portfolio," and the increased cash balance. But he remains concerned about long-term growth in display advertising. Yahoo's share of Internet usage is now less than 10% in the U.S.
Lou Kerner of Wedbush Securities maintains an Underperform rating on Yahoo with a price target on the stock of $15.50, noting that the weak Q1 guidance will be an overhang. "Search advertisers have been broadly disappointed with the combined platform to date, and it's reflected in the results. A 6% revenue drop in search revenue is a reflection of market share loss and poor RPS. While the alliance rights the ship, Google continues to pull ahead," said Kerner.
Youssef H. Squali, an analyst with Jefferies & Co., said that he was still waiting for Yahoo to show some signs of progress. Cutting costs is fine, he said, but what investors really want is for the company to restore growth, and that management will be intense pressure to do so later this year, as they have promised. "As far as growth is concerned, it's a show-me story," Squali said. "The jury is still out on this one."
Colin Gillis, an analyst with BGC Partners, who has a Hold rating and a $17 price target on Yahoo said: "They're reprioritizing the company: social, mobile, local, video, the 'O's."

Source: Alacra Pulse, Zacks, Barrons, StreetInsider, Reuters, New York Times, Bloomberg Businessweek, New York Post