I got some emails about Xinyuan Real Estate (NYSE:XIN) after the third round of eight-point property measures. So the following is a follow-up to this article.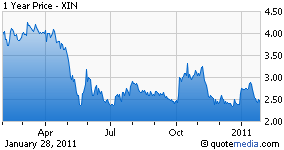 The Chinese Cabinet issued the third round of eight-point property tightening measures on Thursday; these can be summarized as follows:
Rising down payment ratio for second homes, going from 50% to 60%.
Local residents owning one property already can only purchase one more property. Local residents with two or more properties, or non-local residents with one property already, will not be allowed to purchase any additional property.
Local governments will be required to stipulate a target of capping price growth and will be held accountable. The target will be in accordance with local income growth, affordability and economic development.
Enforcing the relevant tax law. For properties that are re-sold within five years of purchase, tax will be levied on the sales value.
Better management of land usage to ensure that 70% of the land supply goes to social housing, to ensure that there will be adequate supply of social housing.
Implications:
The major impacts are more on Points 1 and 2 above. The nationwide sales volume is expected to decline in the next two months; with lower volume, the developers may cut prices (like they did last year). Flat growth or a 10% decline is the expected possible scenario for property prices this year.
According to CICC research estimation and Chinese Vanke's (the largest property developer in China) data, around 30-50% of second-home buyers make a one-off payment in full. Hence, the measure on Point 1 above will likely be more of a psychological, than a substantive, impact on the property market.
The measure on Point 2 will mainly affect high-end home sales, but the total sales in 2011 will unlikely decline much from 2010, thanks to an increased supply in mid/low-end and policy housing.
The measures may dampen sentiment in the stock market in the near-term. Property prices will likely be under control this year after the expected interest rate hike, increased property supply and the existing tightening policies; this should lead to a soft landing in the property market.
Judging from the current property stock valuation, the negative impact from falling property prices due to tough government policies has already been priced in. However, investors normally need to wait for a clearer policy front and property prices being curbed before aggressively buying property stocks.

There is some short-term pressure in the property stocks; this should, however, rebound after the decline in property prices, and be offset by the property developers' sales volume. So China's Xinyuan Real Estate (XIN) investment case is still intact: an undervalued long opportunity.

Disclosure: I have no positions in any stocks mentioned, and no plans to initiate any positions within the next 72 hours.