I have been doing some research on ZAGG Incorporated (ticker: ZAGG) and thought I would post my findings here. I looked at its revenue, net operating profit margin, earnings per share, cash per share, return on equity and quick ratio.

Normally, I would also look at a company's dividend-to-free cash flow payout ratio and its cash flow-to-debt ratio. ZAGG does not pay a dividend and has zero debt.

From ZAGG's press releases:
ZAGG is a market leader in providing innovative consumer products like films, skins, audio and power solutions that protect, personalize, and enhance the mobile experience. ZAGG's products are distributed worldwide with popular, award-winning brands such as the invisibleSHIELD®, ZAGGskinsTM, ZAGGsparqTM, ZAGGbudsTM, ZAGG LEATHERskinsTM, and ZAGGmateTM. The patent-pending invisibleSHIELD, ZAGG's flagship product, is the original thin film full-body protector, and is available in over 5,000 precision pre-cut designs with a lifetime replacement warranty. ZAGG products are available online at ZAGG.com and in major retailers around the globe, including Best Buy, AT&T, Target, RadioShack, Cricket, Carphone Warehouse and hundreds of other retailers.
click on all charts to enlarge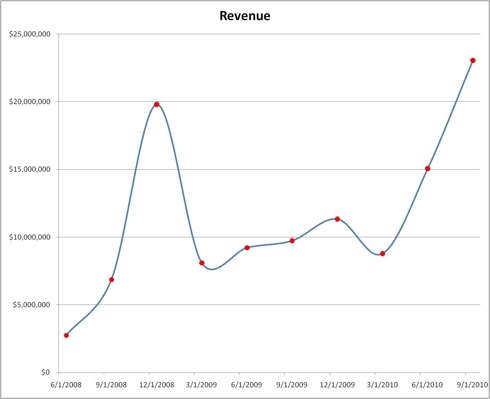 Click to enlarge

With the exception of the 1st quarter of 2010, ZAGG's revenue has been increasing since the 2nd quarter of 2009.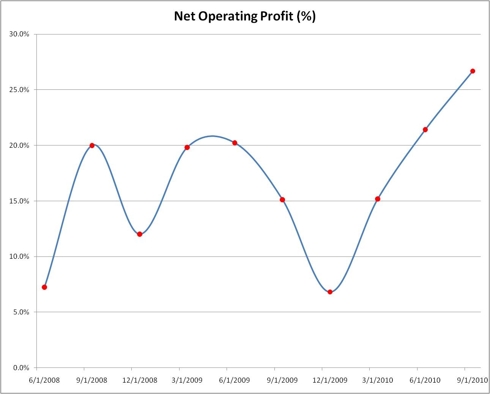 Click to enlarge

ZAGG's net operating profit (%) has been increasing since the last quarter of 2009. ZAGG had record net operating profit for the last two quarters.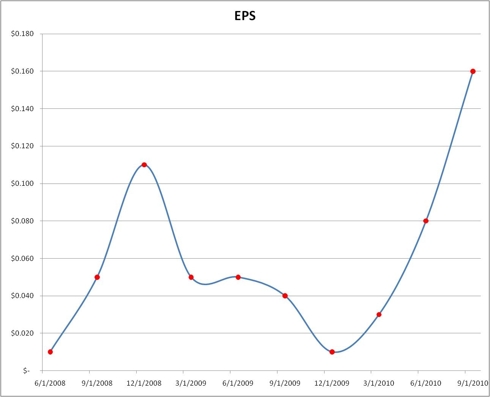 Click to enlarge

The last three quarters have had increasing earnings per share. Since June 2008, ZAGG has not had a negative EPS (I looked only as far back as 2nd quarter 2008). ZAGG had a record EPS last quarter.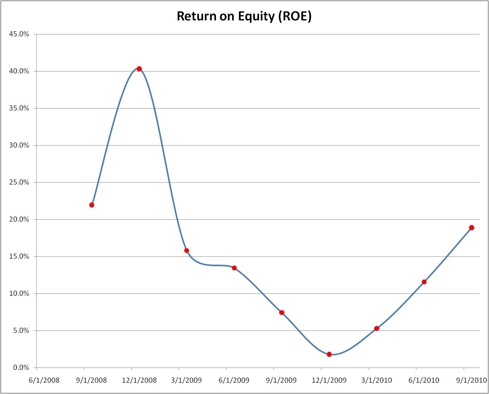 Click to enlarge

ZAGG's return on equity (ROE) is above 15% as of the last quarter. It has been as high as 40% and as low as 1.8%.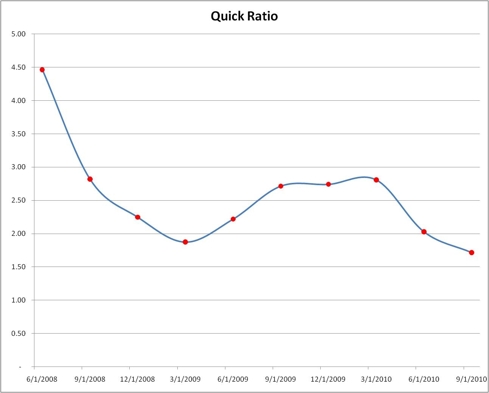 Click to enlarge

With the exception of the first quarter of 2009, ZAGG's quick ratio has been above 2.00. Last quarter it dipped to 1.72 because of an increase in inventory.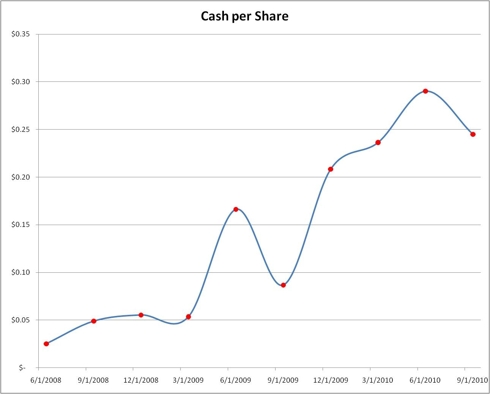 Click to enlarge

One of my favorite metrics is cash per share. ZAGG has been steadily increasing its cash per share over the last 2 years. I am guessing last quarter's dip in CPS corresponds to the increase in inventory. The third quarter of 2009 also saw a dip.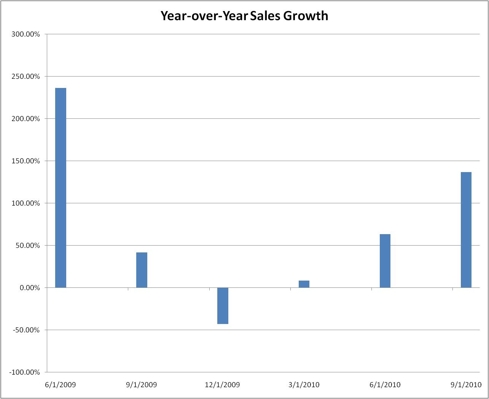 Click to enlarge

Year-over-year sales growth has been improving for the last three quarters. Last quarter, revenue increased 137% from the same quarter a year ago.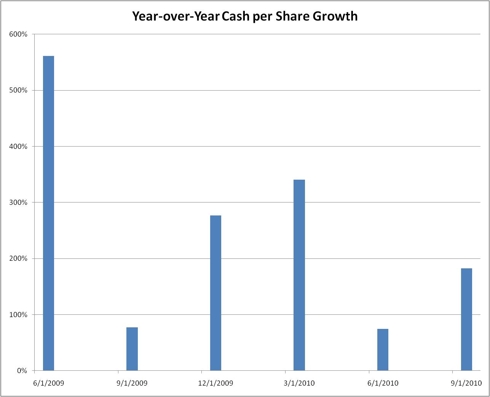 Click to enlarge

Year-over-year cash per share growth has not been negative since June 2009 (didn't look back any further). YoY CPS growth has averaged 252%.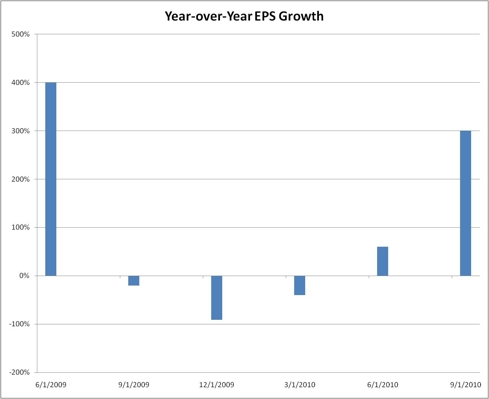 Click to enlarge

The last two quarters have had positive year-over-year EPS growth. Last quarter had an impressive 300% increase in EPS from the same quarter a year ago.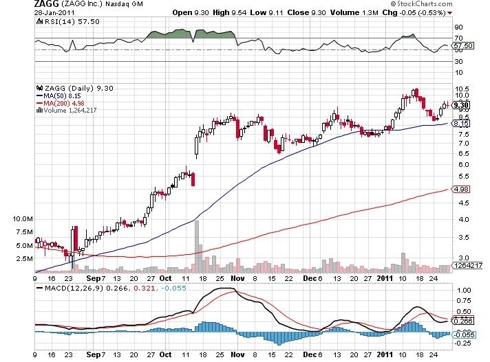 Click to enlarge

ZAGG is trading above its 50-day and 200-day moving averages. ZAGG has been using its 50-day moving average as support since late August. It has sold off since making a new all-time high in mid-January. It is off its low since the new high. ZAGG has had higher lows since mid-November (~$6.50, ~$7.00, ~$7.50 and ~$8.50).

CONCLUSION: I believe the numbers look good. The cell phone, tablet and portable computer space is the place to be. I may be a buyer if ZAGG gets a solid up day on higher than usual volume or after hearing the 4th quarter conference call and seeing those numbers. If the increase in inventory gets converted to sales at reasonable margins, the 4th quarter should be excellent, restoring the quick ratio and cash per share metrics.

Disclosure: I have no positions in any stocks mentioned, but may initiate a long position in ZAGG over the next 72 hours.