The turmoil in Egypt last week sent gold, oil and dollars up, and world stock markets mostly down. Over the weekend, the Saudi stock market (Tawdawul) was down more than 6% on Saturday, but today (Sunday) in Saudi Arabia, their market was up over 2%.
That is not a guarantee that other markets will rise, or that the Saudi market may not reverse and decline more tomorrow, but the Saudi market being open on Saturday and Sunday is more of a real-time reaction to what is happening in Egypt, and how it may impact other authoritarian Middle East regimes -- and the price of oil. Given that, the modest recovery in Saudi Arabia is encouraging from a market perspective.
As of this writing (about 7:50 AM EST in the US) the Saudi market is up 2.47% with 112 issues up and 23 down at its "pre-close" time. That is certainly encouraging.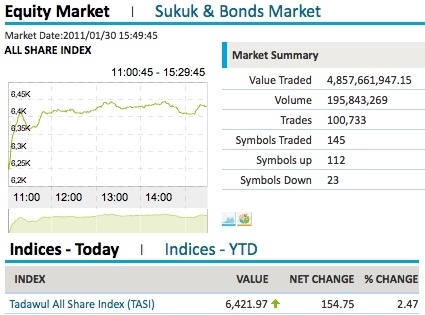 The press has also made a lot of the rise in oil prices during the Egyptian revolt, but in fact, the oil rise has merely brought the price of oil back to where is was a month ago. Gold did not react as strongly as oil, but neither is behaving in a panic mode. On a one month basis, both gold and oil are still somewhat down.
Israel, which is seen at some security risk in this circumstance, declined somewhat, but not tremendously at this time.
click to enlarge images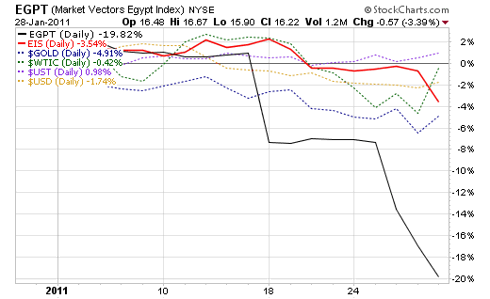 Click to enlarge
The Egypt ETF (NYSEARCA:EGPT) was quite active last week, with total dollar trading volume equal to about 3 times the total asset base. In the week before last week, the 3-month weekly average share volume was about 75,000 shares, but last week EGPT traded over 2 million shares.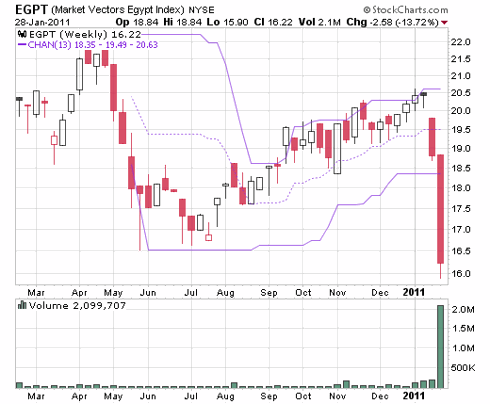 Click to enlarge
Even though there was panic turnover in EGPT, the fund traded at a 4+% premium to NAV. In full panic mode, one might expect a discount to appear.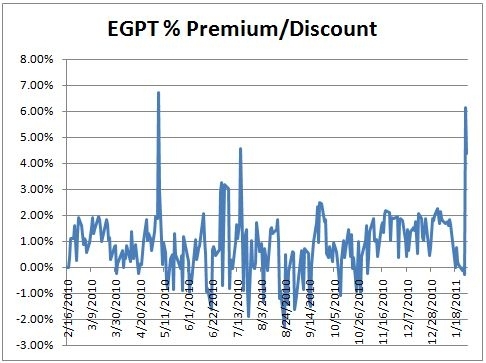 The situation on the ground in Egypt has deteriorated substantially since the US markets closed Friday. However, circling back to the opening point, the Saudi Arabian market is not falling apart today (Sunday) even though they have been named among those nations that could be at risk for the spread of revolt.
Although the current Egyptian government may fall, it is not certain that Egyptian business will fall in concert, or that if the revolt spreads to major oil exporters that there will be a shortage of oil supply. Oil exporters are as dependent on money flow from oil importers as oil importers are dependent on oil flow.
It will be interesting to see if major markets agree with the Saudi market when they open on Monday.
Securities Mentioned in This Article: EGPT, EIS
Holdings Disclosure: As of January 30, 2011 we no positions mentioned in this article.
Disclaimer: Opinions expressed in this material and our disclosed holdings are as of January 30, 2011. Our opinions and holdings may change as subsequent conditions vary. We do not make any commitment to publish or provide any public notice of future changes to our opinions or changes in our holdings.
This published material is not personal investment advice to any specific person for any particular purpose. Do not take any investment action based solely on the contents of any our published material. We are not responsible for your use of our published materials in making any investment decision, and are not responsible for any losses you incur in taking any investment action. You are fully responsible for any use you make of the content of any published material prepared by us, and for any losses that occur as a result of any investment action taken in reliance upon any published materials prepared by us. Investing involves risk of loss of capital.
All of our published materials are for informational purposes only. More factors than considered in our published materials should be evaluated before taking any investment action. Perform your own investment research before making any investment decision. Consider seeking professional personal investment advice before implementing your portfolio ideas.
We utilize information sources that we believe to be reliable, but do not warrant the accuracy of those sources or our analysis. Past performance is no guarantee of future performance, and there is no guarantee that any forecast will come to pass.
We are a fee-only investment advisor, and are compensated only by our clients. We do not sell securities, and do not receive any form of revenue or incentive from any source other than directly from clients. We are not affiliated with any securities dealer, any fund, any fund sponsor or any company issuer of any security.
Disclaimer for all of our materials anywhere in the public domain.