The S&P 500 has added and subtracted lots of companies: NE, NFLX, CVC in, NYT, EK, OPD out. Yet, the index has missed an attractive candidate, New York Community Bank (NYB), something I predict will be rectified in 2011.
NYB has been a serial acquirer of banks, something that has continued even during the Great Recession when it picked up failed banks on the cheap from the FDIC. NYB has an $8 billion market cap. Compare NYB's market cap to other members of the S&P 500: ZION at $4 billion, LM at $5 billion, CMA at $7 billion, FHN at $3 billion, HCBK at $6 billion, and HBAN at $6 billion. NYB is the only U.S. financial with a market cap over $5 billion not included in the S&P500.* It meets all the criteria (.pdf) for inclusion in the index: U.S. based, stable earnings, liquidity, adequate public float.
It's easy to see how NYB got overlooked. The competition was a lot stronger. Four years ago, ZION, LM, CMA, FHN, and HBAN commanded far higher market caps than they do now. They were more muscular. NYB weathered the downturn far better than its peers. It maintained its market cap better, grew its loan portfolio, and gave a steady $1 a share dividend (5.4% yield).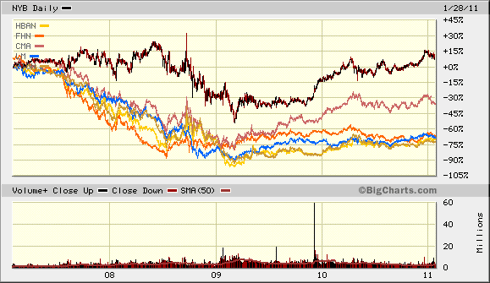 click to enlarge
NYB has fared better than most other banks, in large part due to superior loan quality. Look at its non-performing loans (NPL) and net charge offs (NCO). NPL/Total Loans were 2.23%. NCO/Average Loans were 0.21%. NYB makes a point that, in previous credit downturns, the vast majority of NPLs resolved favorably. Management indicates in its conference call that NPLs this cycle will repeat this pattern and result in minimal loss.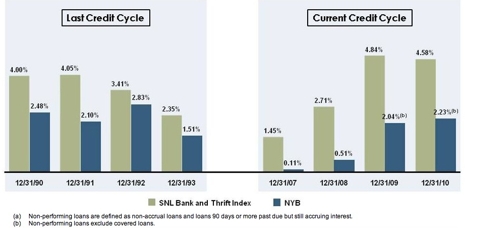 NYB's assets soared with its takeover of failed AmTrust Bank at the end of 2009. The bank no longer is a small community bank. Its geographic footprint extends to Arizona, Ohio, Florida, as well as New York and New Jersey. In addition, NYB's purchase of AmTrust Bank and Desert Hills from the FDIC gives them $4.3 billion in covered loans** with favorable rates, lifting net interest margin (NIM) to 3.57%. Compare that to neighbor HCBK's contracting 1.73% NIM.
Right now, NYB gives investors an appealing 5.4% dividend. It's using the downturn to grow its market base. It's only a matter of time before the S&P 500 brings NYB into the fold. Then, every S&P 500 fund will have to own NYB. I think you should buy your shares before that time.
*NLY is also not included despite a $11 billion market cap, possibly because of having only 87 employees.
**Covered loans are acquired loans backed by the FDIC. In this case, failed covered loans are reimbursed to NYB in an 80/20 split, after a certain loss, the government steps in with a 95/5 coverage.
Disclosure: I am long NYB.