"Armed struggle is considered profitable and armed struggle is considered dangerous...For the skilled it is profitable, for the unskilled it is dangerous."
- Sun Tsu, The Art of War


Monster Worldwide (NYSE:MWW), the $2B market cap New York employment company crashed Friday after an earnings release that was frightful to investors (see earnings results here and earnings call transcript here). Unfortunately, the timing of the release will go down as one of the worst in recent history. With MWW down over 25% at its lows and closing down over 24%, is this a good time to buy MWW, short MWW, or just stay clear away from this beast?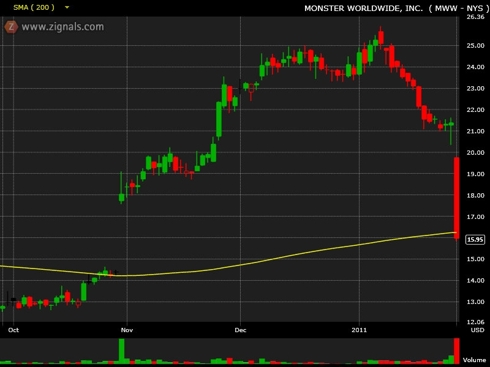 click to enlarge
I use a proprietary blend of technical analysis, financial crowd behavior, and fundamentals in my short term trades. While not exactly the same in longer swing trades to investments, the concepts used are similar. I believe the company and the company stock correlation have separated, thus leaving the stock to be under-priced relative to the performance of the company.
I spent much of the day on EDGAR Online looking over the financial records. I'll start my analysis by looking at what was actually reported compared to expectations. I think few expected (even if investors did have their fingers crossed) MWW to blow off the roof with earnings. The job market has been ugly to say the least and anyone paying attention to the most recent job numbers most likely would not have had much hope for the clouds to give way to sunshine.
The estimate for last quarter was about $262M while MWW reported a small miss at $255M. Bottom line per share was in line with expectations, coming in at $.06 per share.
While MWW has forecasted top line growth of 20-25% for 2011, slightly above their forecasted rate for next quarter of 18-23%, the numbers give the impression that MWW believes growth will accelerate as the year progresses. What really pushed Monster's stock over the edge was their expected bottom line going forward. After the street expected earnings of $.04 per share and the company guided from $.01 up to $.04, the stock opened down sharply at $19.77 and continued to decline from there. After almost a total free fall for the first hour of trading, MWW was finally able to get some traction and the panic appeared to diminish. The 200 day moving average of $16.24 gave some investors confidence to try to catch this falling knife.
JPMorgan reiterated their buy recommendation and suggested that the sell-off was a buying opportunity. This likely helped to stabilize the price. After the JPM recommendation hit the wire, MWW's stock started moving up and actually made it above $17 for a short period before the sell-off resumed. I believe that the sell-off was a knee-jerk reaction which disregarded the information provided in the quarterly earnings report. Many MWW investors made the decision to sell based on fear that the sell-off would continue. This type of fear-based reaction can be irrational and counter-productive. Here is why I believe that to be so.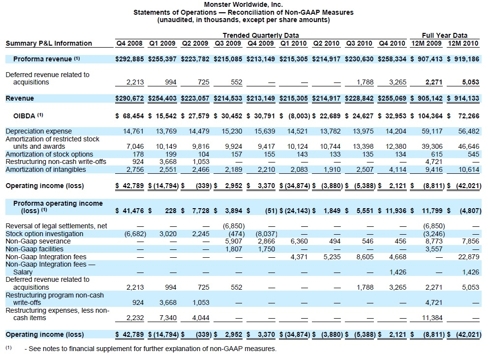 While struggling to meet bottom line estimates, MWW is still profitable in the middle of what may be accurately described as an unemployment crisis. The fact that MWW can keep from losing money and actually achieve double digit growth in this type of environment shows how well management is controlling expenses. While earnings are expected to be considerably less than estimates, especially on a percentage basis, MWW appears to be telling us that perhaps the worst of this economic downturn is over. Here are some key points that I am taking into consideration:
- Guidance suggests that revenue will accelerate toward the end of the next quarter with the bottom line expected to improve proportionately.
- It appears that MWW revenue declines have bottomed. Revenues peaked in 2007, bottomed in 2009 at $907M, and started to bounce back in 2010 with non-GAPP revenue for the full year 2010 of $919M.
- Monster bought HotJobs from Yahoo! and expects to complete the integration-related costs in the first quarter of 2011. It would appear that HotJobs and the commercial traffic agreement Monster has with Yahoo! will add to the earnings and should be reflected in the next guidance.
- Monster has grown its presence in China with the acquisition of ChinaHR.com in 2008. MWW is well positioned to capitalize as China shifts the proportion of people from state owned enterprises to privately owned enterprises. Continued Chinese currency appreciation versus the dollar will benefit MWW revenues.

- Insider selling remains minimal, implying confidence in the long-term outlook.
- The overall market was just killed Friday. With Egypt in the news and video of riots, investors were not in the mood to take on any additional risk by purchasing MWW going into the weekend. The overall market as measured by the S&P index was down almost 2%, giving back all gains realized throughout the week. The sell-off seen Friday was a perfect example of crowd behavior, with the masses making the wrong choice. Now is the time to take advantage of the over-selling that took place.
Based on the press release and other financial records, I believe that MWW was oversold and is providing a buying opportunity. I was impressed with the information provided in the conference call transcript . Here is some of what Sal Iannuzzi, Chairman, President and CEO had to say, which leaves me optimistic with Monster going forward:
Revenue growth in the fourth quarter increased 21% compared to last year. Loss per share for the year was $0.07 and in the fourth quarter was a $0.06 profit. Our most profitable quarter in eight quarters. EBITDA for the year was $109 million and in the fourth quarter, it was $43 million.

Recently, there's been some buzz in market about the decline of the new posting as a traditional job order. Our data does not bear that facet, although we have always cautioned against direct correlation between job postings and Monster's bookings and revenue on a short-term basis. We do point out that including January, we have had 12 consecutive months of growth on a year-over-year basis in new job postings, most of which have been in the double digits.

We continue to expand our operations in important growth markets such as Asia, including China, India and Korea. Bookings in 2010 in Asia Pac increased 46% on a year-over-year basis. We are piloting our 6Sense suite with a number of key commercial clients and early feedback is very positive.

I am sure we have all read of our new tools used by recruiting to identify talents. Recruiters have one objective, to quickly identify the right candidate for the right job. Everything we have invested in over the past several years is squarely aimed at fulfilling that objective. We believe, and our results verified, that we are able to compete and win against all competitors in the market. With that, in mind, I want to reiterate our financial expectations to 2011. Bookings and revenue are expected to grow in the 20% to 25% range year-over-year. EPS will be in the range of $0.36 to $0.48 per share in 2011.
Crunching these numbers, we find that MWW has a guided forward P/E ratio of 33.2 to 44.3 for 2011. For a company that is growing and expected to keep growing between 20-25%, a P/E ratio of 33.2 appears to be too low, validating my belief that MWW has become a bargain.
Speaking after Mr. Iannuzzi was Mr. Timothy Yates, Vice President and Chief Accounting Officer. I have included some of the statements that I found to be of importance:
Bookings of $330 million were up 28% year-over-year and up 40% sequentially. Sal has discussed the business reasons why bookings were at the lower end of the range and in addition, bookings were negatively impacted by $5 million of currency translation versus last year.

Europe careers increased 20%, negatively impacted by 9% of currency translations,with all major countries experiencing bookings growth. During the fourth quarter, Sweden remained our largest percentage contributor, up 52%. Bookings in Germany, our largest European market, continue to build momentum with an increase of 35%.
The last part of the call was the Q&A. I am including some of the key parts.
Speaking was Douglas Arthur - Evercore Partners Inc.
Sal, you had a very nice bump up in international growth in the quarter. Really, the first meaningful one, this cycle, assuming that -- and you weighted to some of the detail on that, assuming that momentum continues, what are sort of your broad thoughts about profitability outside of North America in '11?
Sal Iannuzzi
I see the profitability both here and North America and outside of North America to be going up significantly. The great thing about our model and of our enterprise, and this is true certainly in the United States and in Europe, it was true in places like Brazil where we are totally in an investment mode at this point. We've navigated through, thankfully, the recession. We've brought down our cost globally, by $700 million. And we have, what we've been able to do when we have not laid off excessively. So while we may have some cost in some areas, we do not need to add very much. So the bottom line is that we will be able to, we believe, contribute significantly to profitability from this point forward.

I think the last time and I reiterated it this time, we expect that approximately 50% of all increase in revenue will flow to the bottom line. And that's why we're able to give the guidance of $0.36 to $0.48. If you take that midpoint and you take $0.42, take the $0.42 plus the $0.07 we lost in 2010, that will be a turnaround for the company of approximately $0.49 so call it $0.50 or so. So we think because we've got the basic cost covered that most -- a good portion of the increase will be able to be returned to the shareholders. Tim?
Timothy Yates
In fact, obviously the 50% is on the consolidated company. There are two relatively significant investments going on inside the international segment, which will continue to keep during 2011, the operating margins somewhat lower in the International segment albeit improved. And those in China, where the results are ramping up quickly but still the profitability is still lagging the rest of our portfolio because it's newer investment and Brazil, which is in smaller dollars but also a new investment. So it had some impact but overall, the International segment, its profitability increases significantly.


I started buying MWW with my first bid entered in at $16.01, about an hour before the close. Using the same theory and analysis that I used with V and COCO, I also shorted put option contracts believing the odds are against having the stock put to me. I came to this conclusion after looking at the implied volatility of about 50. While not that much higher than the B&S volatility model of 48.44, it is higher than I believe it should be.
Although understandable and normally seen after a drop off like MWW experienced, it is just as often wrong relative to the downward potential. When stocks fall fast, fear can be measured by the implied volatility as long as there is enough option volume to provide a reasonable spread between the bid and the ask. I will be looking to add to my long position Monday. My goal for the put options I shorted is part of my positive longer term outlook for MWW.
Disclosure: I am long MWW and COCO.