The residential construction sector has taken a major hit over the past several years as the industry most destroyed by the financial crisis and severe unemployment rates. Lack of demand and oversupply has reduced prices in the home sector, but even the reduction of prices still has not increased demand. The reduction of prices has significantly reduced the residential construction's bottom and top lines. Matters have only gotten worse as government tax credits have worn off, and real demand will be tied to employment and economic growth.
Toll Brothers (NYSE:
TOL
) is in a slightly better position than other residential construction companies because it produces high-end homes. The high-end of the country has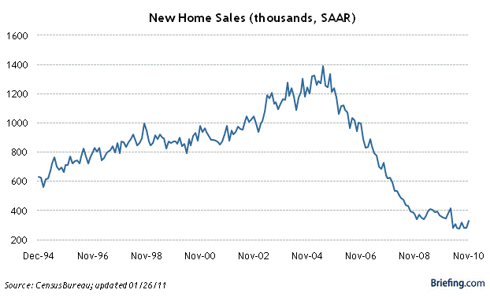 less unemployment, typically half of the normal population.
Lower unemployment means that Toll Brothers will more likely come back to profitability in a cycle in front of other residential construction companies as the high-end population will be the first to make a major movement back into home spending.
The company should be able to move into the black into 2011 as the company is showing a good trend of growth towards profitability over the past two years, and operating income should start to make its way back to normal levels by 2015. Home prices still need to drop further in order to spur demand for the majority of the industry, but luxury homebuilders like Toll Brothers are less affected by a need for home prices to drop.
Early signs that move-up and second move-up buyers are returning to buying is showing good signs. The number of new contracts for new home sales came in with 18% of sales for homes $400,000+ for December. This number was much better than the 13% mix average for all of 2010. This early sign is one of the first that move-up buyers are coming off the sidelines and could signal growth in this sector is on the way.
Another positive point for Toll Brothers is that the company has been able to buy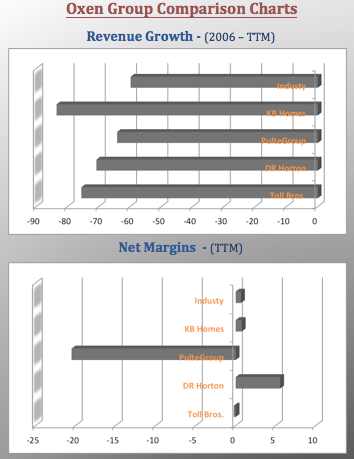 cheap land over 2010, and they are going to be able to start on new developments due to this cheap land they have bought. The company is also gaining market share from the simple fact that its competitors that are smaller have gone under, stopped building, or been bought out by larger corporations. In Philadelphia, for example, Toll Brothers is only one of two luxury-homebuilders competing in the market where there were ten before the crisis began.
Despite these advantages, Toll Brothers is still operating at valuation that appears to factor in growth to around $450M in operating income by 2015, which is still at a significantly lower level than at its height in the mid-2000s. Once demand returns, this growth is definitely obtainable, and given estimates on employment return and demand growth, that growth should really take off by 2013 – 2015 with normal levels back after this time. Therefore, an investment in a homebuilder is basically an investment that at least something needs to start happening in 2011 with growth each year moving forward at current valuation. If Toll Brothers can buck the trend and start to improve at an even more significant rate than valuation would be higher, and the stock price will definitely increase. For now, however, it looks to be a buy only on any significant dips.
In the meantime, homebuilders that can maintain balance sheets and financial health will be able to lead the pack. The company has a current ratio at 4.9, which is well above a healthy company at 2. This number is better than others in the industry and means the company is very financially healthy. In fact, the company has improved the number every year since 2007. Additionally, the company improved all margins in 2010 to the positive after they all went negative in 2009. These margins have lots of room to improve, and as they improve, valuation will as well.
One of the signs of just how weak the market is appears in the efficiency ratios that Toll Brothers is showing. The company has seen its day in inventory ratio grow from 416 in 2006 to 848 in 2010. Inventory turnover has fallen to 0.43%.
Valuation, though, is high for Toll Brothers as it is the most likely leader in housing at this time with its clean balance sheet and profitability in the past two quarters. The company has a P/E ratio that is not discernible because of negative EPS, but with FY 2011 EPS estimates has a P/E nearing 100. This stock is pricing in a lot of what is going to happen in the future. The company will need to come in at the black to maintain these levels.
One negative on the financial side is that the company does have a large amount of net debt over $1B. That debt is definitely a burden on the company's valuation. It needs to unload some of this debt to increase WACC, which will allow for the company to have a much better discounting factor. Further, TOL has still not been able to generate any free cash flow. FCF is the lifeblood of companies, and the company must find a way to get there so it can stop taking on debt.
Toll Brothers, overall, appears ready to make it back to profitability, and this is expected of them. The company, additionally, does not face major competition. The crisis has killed competition and put a lot of smaller companies out of business. The sheer size and market share that TOL now operates has created its economic moat, and when business returns, TOL will be ready to improve dramatically. Working against it though is business returning. Until then, it's a waiting game, a hold, a buy on dips, and a sell on increases.
Valuation
The Oxen Group's fair value estimate for Toll Brothers is $20 per share. The stock has a lot of future growth built into the stock, but expectations are fairly low for what that growth is even for us. If the company can improve at a faster rate, then this valuation will increase dramatically. Weighing on this valuation as well is debt. The company has a lot of debt that makes its valuation also weaker. As cash flow rises, a lot of it will initially be used to pay off debt. Once that occurs, cash flow can also help increase this price.
The stock is a Buy below $16.50. The stock is a Sell above $23.
Risk
Risk is medium for Toll Brothers. The company has gone through a lot in the past few years, and the stock has suffered because of it. Upside, from now, has a lot more potential than downside, but the company has been hinting at a profitable 2011. If it misses that, it could hurt the stock significantly. While the economy is seeming to come back a bit, home sales still need to improve for TOL to improve, and that is not a given. Anything related to homes is still a risk.
Management & Stewardship
Toll Brothers is run by CEO Douglas Yearly, who took over for the original CEO of the company Robert I. Toll. Toll has been in the industry for forty years. Yearly has spent the last twenty years working right under Toll as his executive assistant. Yearly has been instrumental to the company as the point man for getting the company to move into the city with its City Living sector that has become a 10% part of the business. While Yearly has much to improve, every quarter since he took over has been in the black. One of the best signs of management at Toll Brothers is that the company took a 30% decrease in salaries while only a 15% decrease in revenue occurred over the past two years.

Disclosure: I have no positions in any stocks mentioned, and no plans to initiate any positions within the next 72 hours.