January 27, 2011 night – Shares of Netflix ended up by roughly 15% to top all S&P 500 advancers after a profit report that is being unanimously described as 'blockbuster," as if to cruelly twist the knife at its crestfallen competitor in Chapter 11. Today's all-time high takes its 12-month gain to more than 300% and follows an undeniably impressive fourth quarter. Earnings were up 52% to $47.1 million at the 14-year-old California outfit, with EPS of $0.87 well ahead of consensus calling for only $0.71…. As if on cue, analysts have since moved in lockstep to lift earnings estimates, price objectives, and in several cases overall ratings. A by no means exhaustive list of brokerage boosts includes Bank of America-Merrill Lynch, Barclays, Canaccord Genuity, Caris, Jefferies, JP Morgan, Morgan Keegan, S&P…. [1]
Laughing out loud here. Viewed objectively, Netflix's (NASDAQ:NFLX) earnings report was dismal (see conference call transcript here). The company is worth nothing based on its runrate owner earnings whether we view the last quarter, trailing half year or trailing year. Netflix management may want to conduct a secondary offering that raises $1-2 billion ASAP at a trifling discount to its market price.[2] At Friday's close of $217.98/share, NFLX appears priced to plunge.
Owner Earnings
We define Netflix's "owner earnings" as its reported net earnings plus depreciation and amortization minus capitalized expenditures (plus cash proceeds of DVD sales minus noncash gains on those sales to arrive at net capitalized expenditures).
Warren Buffett defined owner earnings in his 1986 letter:
These represent (a) reported earnings plus (b) depreciation, depletion, amortization, and certain other non-cash charges … less (c) the average annual amount of capitalized expenditures … that the business requires to fully maintain its long-term competitive position and its unit volume. (If the business requires additional working capital to maintain its competitive position and unit volume, the increment also should be included in (c). However, businesses following the LIFO inventory method usually do not require additional working capital if unit volume does not change.)

Our owner-earnings equation does not yield the deceptively precise figures provided by GAAP, since (c) must be a guess – and one sometimes very difficult to make. Despite this problem, we consider the owner earnings figure, not the GAAP figure, to be the relevant item for valuation purposes – both for investors in buying stocks and for managers in buying entire businesses. We agree with Keynes's observation: "I would rather be vaguely right than precisely wrong."[3]
We generally make one more adjustment to owner earnings by subtracting (d) thoughtful and variable costs, whether capitalized or expensed, in excess of those required to maintain competitive position and unit volume. These include marketing investments that grow profitable business faster than competitors' average growth in a segment. We don't think Netflix's marketing expenses are greater than those required to maintain its competitive position in online entertainment distribution, or fueling a clearly profitable business.
The Business Prediction
The announcement appeared on page B5 of The Wall Street Journal, November 23, 2010:
"We are now primarily a streaming-video company delivering a wide selection of TV shows and films over the Internet," Netflix Chief Executive Reed Hastings said.

Netflix shares jumped 8.8% to $188.32 Monday on the Nasdaq Stock Market.
It was a dubious market reaction. Netflix subscribers had been paying around $12/month on average for DVD distribution, in which Netflix was competitively advantaged. Now Netflix was pushing a $7.99/month streaming plan. The company was slashing prices while prioritizing an Internet middleman business wherein it couldn't clearly be #1. We started buying longest-dated NFLX put options that day. Our reasoning was simple:
Netflix's new streaming pricing will reduce its revenues per subscriber, pressuring its owner earnings.

Netflix's new content deals will pressure its owner earnings too, as Netflix races to get big by offering more value than $7.99/month despite no readily defensible advantage in online distribution.

Netflix won't dramatically raise its pricing in the short-term amidst competition from Hulu and others.

Factors 1-3 will engender ongoing negative-to-modest owner earnings at Netflix even with substantial net subscriber additions.

Netflix's owner earnings yield (annual owner earnings divided by its market capitalization, like the earnings yield of any investment) will remain unsustainably less than 3% or negative in the foreseeable future with NFLX priced over $150 per share.
In Q4, that's exactly what happened.
Negative Owner Earnings
Netflix reported negative owner earnings in Q4 2010, the second half of 2010, and the full year of 2010, in which sequential quarterly owner earnings were approximately $12, $23, ($28) and ($69) million. Its P/E was over one thousand at the end of Q3 before we bought NFLX put options.
P/E indeed means price to earnings ratio, in this case with owner earnings (click to enlarge image):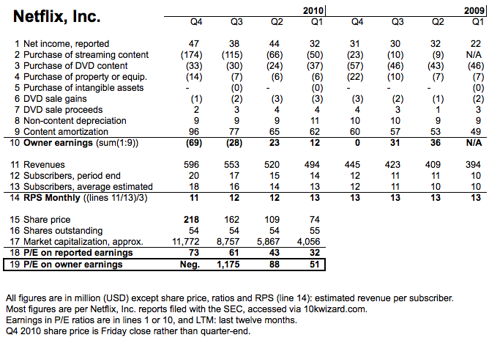 But Netflix Is a Growth Story!
There's a strain of idiocy on Wall Street that values customer base growth regardless of competitive dynamics.[4] Netflix CEO Reed Hastings knows better:
In prior calls, what I've said is the long term … operating margins in an industry are really determined by the number of competitors. So if there's three or four roughly equal-sized competitors at maturity, you'd expect pretty low operating margins. If there's one firm that's the leader in the market, you'd expect higher operating margins. So it really depends upon the competitive climate as supposed to something inherent in the cost structure. [5]
Amazon, Apple, Walmart and potentially Google and Facebook may provide entertainment distribution platforms online while selling other services to a substantial portion of Netflix's customers.
Just as Apple and Facebook aim to charge application ("app" including game) developers 30% of app revenues while leaving app pricing to app producers like apl.de.ap, they could charge entertainment producers any revenue share that's an economically viable margin for Netflix, and leave pricing to the producers. Facebook may be wise to decline any Netflix tie-up and take this route with Facebook Credits instead.
Content producers who sell non-exclusively via Netflix could partner to offer an unlimited streaming option via Amazon, Apple, Facebook or Google: whoever offers the smallest take. If these online behemoths serve most of Netflix's customers, and if producers lift a finger to near-maximize their share of online consumption dollars, Netflix's income may be perpetually constricted when viewed over years.
In other words, Netflix may never generate any durably whopping cash return on its capital invested in the streaming business whether it doubles, triples or quadruples its customer base.
I joined that base. I signed up for its $9.99 plan, switched to the $7.99/month streaming plan, exhaustively searched the available titles, and paid Netflix $7.99 after a one-month trial subscription. There are a few more films in my queue. After I watch those, I intend to quit the service. (Watching movies like Ip Man and Exam was part of my investment research, boss in the mirror.) I'm satisfied with the value received for 2-3 payments of $7.99. And I don't expect Netflix to generate much net cash from millions of customers like me.[6]
Investors
Netflix has cyclonic wind at its back with licenses from suppliers like Starz that unlikely contemplated its customer base growth. That should enable Netflix to grow faster (by offering more value vs. competitors) or earn more this year than in future years. Owning NFLX now is analogous to owning a commodity producer with unusually high margins before supply becomes less favorable. Businesses on cyclical highs generally may trade near (under) 7x reported earnings, not 70.
Notwithstanding its in-force licenses inked unusually (an important distinction: not just normally) below upcoming replacement cost, Netflix exhibits meager-to-negative owner earnings with modest net tangible assets.
In valuing any business above liquidation value, above demonstrated earnings power value, we have only prospective earnings growth value. Netflix's tangible liquidation value: nothing given its over $1 billion purchase commitments. It also has no earnings power value based on demonstrated owner earnings last year. That leaves 100% of its value in prospective owner earnings growth.
And that – amidst online entertainment distributors including itty-bitty Amazon (NASDAQ:AMZN), Apple (NASDAQ:AAPL), Facebook, Google (NASDAQ:GOOG) and Walmart (NYSE:WMT)– is priced over $11 billion with NFLX at $217.98/share. That's what investors are paying for Netflix's basket of intangible assets including management, temporary license deals, customer stickiness, and brand name. That basket didn't generate owner earnings in Q4.
Do investors forget that over one thousand million bucks is a lot of money for a basket worth potentially nothing?
Notes and Disclosure
[1] Justin Sharon, "Nothing But Netflix," January 27, 2011 at Minyanville (here). Anders Bylund got the best headline that day: "Netflix Eats Your Shorts" (here).
[2] Given a market price over $11 billion, negative owner earnings and no bankable durable competitive advantage, a profit maximizing owner-operator would raise the most it can raise by share offering. He may be unable to dilute equity more than 10-20% without squashing the deal by raising suspicion about valuation. Given a maximal offering near $2 billion, then, it may be marketed as a $1-2 billion deal to avoid negative perception if investment bankers raise $1 billion short of the goal. The profit-maximizing owner-operator would execute it rapidly because leaked intent could wallop his share price and threaten the deal.
Tactically Netflix could do well to sell $1-2 billion at $200/share if it trades near the last close of $217.98 for a week, as that may be viewed as no desperate discount and even provide psychological support for the nutty share price. It needn't be so nutty if Netflix raises oodles in secondary offerings.
We could tell a story that values Netflix above $20 billion contingent on such financings and three brilliant moves amidst stodgy competition. Our fee would be relatively peanuts.
[3] here
[4] Cf. NYSE: YOKU.
[5] "Netflix CEO Discusses Q4 2010 Earnings Call Transcript" by Seeking Alpha (here)
[6] Netflix's user interface is surprisingly rudimentary. To find high definition films to watch instantly, I visit the "Watch Instantly" tab and then "HD" under "Genres" at Netflix.com. There I can either scroll 43 pages of 30 films and television series per page, or sort that list by title, year, maturity or rating: not multi-factor selection, not genre, and not only films rather than series too. Netflix bulls may like this: its search functionality can only improve.

Disclosure: The author manages a limited partnership and separate accounts, some of which own NFLX put options that expire in 2013. The author has no position in other companies mentioned. The author may buy or sell any position at any time. The author may change positions in light of emergent facts or considerations, including new price-to-value-estimates of the author's current and alternative investments.