Often one of the most important things an investor forgets is that what appears to be a fact is, in reality, very creative fiction. The flow of fictional stories being told by Wall Street, the media, financial analysts and asset managers are so compelling that the average Investor takes the bait along with hook, line and sinker nearly every time. That's a fact and, for me, it is very sad. The fact for you is that it is a very expensive way to invest.
This scenario has been true about Gold for over a decade and long before that. The picture painted is one of the most compelling on the "Street." The salespersons have shared information that is "in part" correct but leaves out the big picture.
I have chosen four mining companies for this missive and I will share my basic valuation of them. Perhaps these and others should have already been in your portfolio, but they should definitely not be there now. These companies are each part of the important commodity sector and industry group (to view a chart of the "Gold" industry group, please click here). It is my strong opinion that there are often much better companies in these sectors and industry groups with superior valuations and prospects for profit.
In a month or two, perhaps more of these companies or their industry group may very well be on my list of my candidates for buying, but even then they may not fundamentally, technically, or consensus-wise, measure up. The trick is to identify companies and industry groups that (at that time) have a lower risk/reward ratio (factor) and a higher profit potential. Sounds good and is really easier to do than you might expect. Remember, you can only invest in just so many companies and ETFs before you are overdiversified.
I realize that this is a rather unique opinion for a financial analyst to make, but you just might want to take heed: If you are not selective with your specific investment decisions, in this current marketplace your profit potential will be adversely affected by 10% - 25% or more by the time you liquidate those securities. That's a big percentage to give away and can be avoided with just a little homework prior to taking positions.
The table below offers my general analysis but I believe you will see why my approach of valuation offers five high profile companies that I believe can be profitable in the intermediate to long term, however not at this time. Remember to be a bit patient before taking positions. For more depth of my work, please feel free to contact me.
Gold and the Mining Companies:
My universe: ABX, AEM, AGQ, ANV, AU, BVN, CEF, DGP,DZZ, EGV, ELD, FRG, GSX, GFI, GG, GLD, GLL, GOLD, GORO, HMY, IAG, IAU, IVN, KGC, NAK, NEM, NG, RGLD, SA, SLV, THM, UGL, ZSL.
If you think Gold or Commodities as an asset class is well understood, you are very wrong. Hopefully, after reading this missive and studying the charts below you will realize that the risk is much greater than you are led to believe. That includes all Gold - ETFs, mining companies and particularly the junior miners. It is my objective to help you realize the level of misconceptions that exist, both in the financial industry and individual investors, perhaps like you.
The typical propaganda disseminated by the financial industry that surrounds Gold and other Commodities at times like this when they have performed very well and in the past when corrections have occurred is appalling. I hope you will note that corrections are rather normal for Gold, which often take place a couple of times each year. (see the below 10 year chart). During these short lethal and meaningful corrections, there is much "babbling" coming from uninformed people who continuously claim that – this is the end of the precious metals "bubble". And of course the financial media grant them a platform to spread their disinformation to even further confuse investors. Check this out – it is deadly, profound and accurate.
You can see from both the 10 year and 35 year charts below exactly what I am sharing.
The huge problem I have with all of this is the hype and misinformation. I am definitely not saying that this is the end of the current 10 year move in Gold or related Commodities. What I am saying is that the risk/reward ratio is very high and it is time to take a breather. Regroup and decide if this is a place you consider as one where you are "investing wisely."
So now that I have hopefully established the scenario, I would like to give you a graphic perspective that is more than compelling.
This 10 year chart tells a very compelling story and is what has been used to sell many an investor securities of all shapes and sizes in the Gold arena. This is very deceptive selling and I for one think that disclosure should be much more strictly enforced. It won't be so you will have to decide for yourself, whether or not to invest in Gold.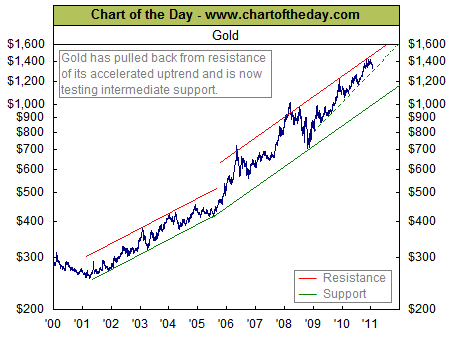 This 35 year chart tells the real story and is seldom if ever used to sell securities of all shapes and sizes in the Gold arena. If you like buying at the top or what we call "over-bought" or a "Positive Alpha" then that is your decision. Remember there is also "over-sold" and "Negative Alphas." You might also remember the old axiom that everything eventually returns to its "Mean." Please note that there have been many serious negative and sideway periods in Gold. Please take some time to study this particular chart.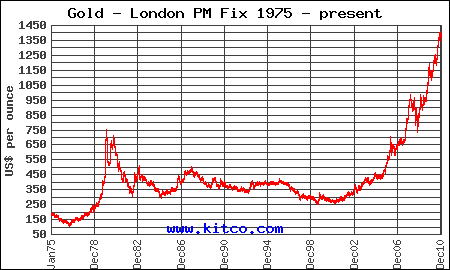 I use as my primary "Bellwether" company Apple, Inc. (NASDAQ:AAPL). Currently, Apple has a market cap of about $310 billion. Trying to match oranges, or should I say apples with apples is ridiculous. Quite often, the work of some who go so far as to say that mining companies are a better investment. Again, this is ridiculous but they do it anyway. I just cannot say enough about the old fashioned risk/reward ratio. I hope you are listening.
Just a quick remark about the risk/reward ratio. In 2008, many of the junior mining stocks sold off by 75% or more! Some, actually many, have not recovered since. Need I say more?
Just don't be suckered into purchasing Gold mining investments sold to you by a salesperson – ever! If you are not capable or do not have the time to do all of the necessary analytics yourself then pass and find solid investments like AAPL. Don't violate this advice or one day you will seriously regret it, maybe that day has already occurred.
Fundamental Valuation/Comparative Analytics Table (weighting 40%): Four Gold Miners. . .
Stock and Symbol

Approx. Current Price

My Target Price % Above (+) / Below (-) Current Price – Valuation is "Tweaked."

One Year Projections from the next - - Bullish Inflection Point.

PEG

P/E

Forward P/E

Valuation Divergence (%)

(One - Year Projected to a Mean) from the next - - Bullish Inflection Point.

Barrick Gold (NYSE:ABX)

47.3

+ 30% to 60%

1.71

18.1

11.7

+ 135%

Comments: Obviously this is a very positive Valuation and Target Price Projection. This work / analytics is for your possible taking positions at a future date. Definitely not at this time.

AngloGold (NYSE:AU)

43.1

+ 40% to 80%

0.25

33.5

10.3

+ 169%

Comments: Obviously this is a very positive Valuation and Target Price Projection. This work / analytics is for your possible taking positions at a future date. Definitely not at this time.

Newmont Mining (NYSE:NEM)

55.0

+ 20% to 40%

1.42

13.5

11.0

+ 119%

Comments: Obviously this is a positive Valuation and Target Price Projection. This work / analytics is for your possible taking positions at a future date. Definitely not at this time.

Kinross Gold (NYSE:KGC)

17.0

+ 5% to 10%

2.53

15.5

20.0

- 129%

Comments: Obviously this is a very negative Valuation and un acceptable Target Price Projection. This work / analytics is for your possible taking positions at a future date. Definitely not at this time.
Five notes for the above table and for your information:
a) Fundamental valuation - Data in today's marketplace requires me to look carefully at the numbers as being either realistic or creative. That's because more recently financial analysts are using new / funny math and have changed the criterion on basic valuation. This is producing many valuation data inconsistencies, so I have adopted an additional procedure that I call "tweaking the results." This procedure is sometimes needed to get me back to 'realistic' valuations. It requires having an eye on the short and intermediate-term company price movement, but is definitely not a part of my technical analysis. My valuations also consider the two-year - forward P/E data, but is not weighted heavily. Using this procedure produces very accurate analytics for decisions at bullish and bearish inflection points.
b) Most financial analysts determine the price target range by estimating a future earnings per share and then applying a price-to-earnings multiple, also known as the Price Earnings Ratio. I prefer to calculate price targets (high / low) for both the current and next fiscal year by applying the stock's present multiple to the average analyst's estimates and follow with some foxy "tweaking" of the results.
c) Further, I believe that there should be just two aspects of fundamental valuation. They are: the now and the later, which translates to 1-2 years and more than three years but not 10 years. Obviously, the further out we try to project earnings and cash flow, the more inaccurate the data becomes. That is why I do my valuations rather frequently, especially around times of anticipating inflection points.
d) PEGs: You will note that some of these companies are carrying high or sometimes negative PEG ratios. I consider the PEGs very important when deciding to take positions in a given security.
Since coming out of retirement in October 2007, I have witnessed a vast change in the valuation practices being offered by many financial analysts. The shenanigans and other accounting practice games were active before, but have now reached a new height of deception. The general public is often lazy about learning and perhaps naive. The financial analysts know that these characteristics exist and now are taking advantage. It's simple, the average Investor is asking to be told that all is "ok," so that is what they are being told.
Technical Thoughts/Analytics (weighting 35%): The general market and many companies have obviously been on a tear since early September, except for the mini pullback of the past week. The tear seems to have receded and given way to the beginning of a meaningful pullback. So selling and seeking the protection of cash or perhaps taking bear market positions is currently the best investment strategy.
For a current (up to the minute and annotated) chart of the above four companies industry group, click and scroll down to each company here.
I will now just let this consolidation (pullback) run its course.
Consensus Thoughts/Analytics (weighting 25%): Consensus analysis for me is very important, please note the high weighting I use. There is an old saying: If the Street does not like the company, don't buy it! So for this old bearish fox, I'm very pleased with the fundamental statistics/indicators, technical charts and my consensus work.
My Wrap:
While I believe the general market may be in for a meaningful pullback, the prevailing question from most investors is: When? How big and how long will it be? Do I hold my current positions or do I sell? Is there a profitable alternative? The answer will be obviously quite clear when the pullback is over but an old axiom for profitable investing tells us to be prudent in times like this. You might want to remember that, cash is always an excellent safe harbor. However, if you are a proactive investor, taking bearish positions may also be wise.
My focus is "investing wisely," e.g. taking advantage of the bull/bear cycles as they occur within the overall marketplace. These cycles are both economic and stock market in nature and must be carefully and frequently analyzed. Within the stock market, you can integrate modern analytics within these "cycles." This also means maintaining a comprehensive process of the thorough economic, fundamental, technical and consensus analysis of many companies, 15 sectors and more than 200 industry groups in my universe. I believe that this discipline provides the necessary clarity regarding the rotation that the economy and most all sectors, industry groups and companies go through – from favorable times to unfavorable times and perhaps back again. Few investors seem to understand that it the same for the economy. The world continues to produce an economic "cycle" effect that continues as a process, like - life itself.
My economic work is just another one of many "bellwether" forms of research/analytics to help identify prudent securities for buying and for short selling as the marketplace cycles from bull to bear and back again - over, and over and over again.
The good news about the marketplace is that we are presented frequent and conservative/low risk opportunities to invest long, invest short or to simply to hold cash. For me, this is called "investing wisely."
Disclosure: I have no positions in any stocks mentioned, and no plans to initiate any positions within the next 72 hours.