I usually research smaller oil and gas exploration and production stocks, such as Warren Resources (NASDAQ:WRES) and GeoResources (NASDAQ:GEOI), because I like to find that diamond in the rough. What is the difference between two equal stocks? Some would say it was the ownership and their talented staff, while others believe that it has more to do with the resource potential. I am pretty sure its both, but sometimes there are variables involved that no one sees coming.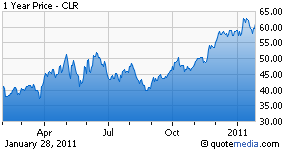 This could be said for Continental Resources (NYSE:CLR). Their boss was on TV last week claiming that geologists are wrong and that the Bakken has potential much greater then previously thought. If he's right, his company's number one position in one of the best sections of this play could mean his company is grossly undervalued. Even with a 10.4 billion dollar market cap we could see exceptional growth.

Along with being number one in the Bakken, CLR is the number three oil producer in the Rocky Mountains. More importantly, the company is accelerating its exposure to oil and other liquids. As other companies rode the price of gas to $4.50, Continental was buying up oil plays.

They had a great year in 2010. Year over year for the third quarter of 2010, they increased production 20%. Continental is the number one landholder in the Bakken and Anadarko Woodford Shales. They are currently planning for 30% growth this year. In five years, they believe they can triple their production and reserves. Margins are very good at 72%. Their CAGR from 2005-2009 was 17.3% with 2010 estimated at 15% to 17% and next year at 30%. Proven reserves have also grown substantially.

It is believed there are a possibly 24 billion barrels of potentially recoverable oil. This is five times the 2008 USGS estimate. The Bakken is a 14700 square mile continuous oil accumulation. Since the beginning of 2000, Continental has drilled 2750 horizontal wells. The industry is adding 1800 wells (150 active rigs) per year in the Bakken. Continental's leading leasehold in this are consists of 864,559 net acres. 72% of this is de-risked and in development mode. In the third quarter of 2010 they produced 20,160 Boepd which is a +50% increase from the third quarter of 2009. They have 21 operated rigs. Of this number, 4 are drilling ECO Pads, 2 rigs on HBP units, and 15 rigs on first wells per unit.

ECO Pads have a reduced surface footprint. They also decrease 10% of the D&C cost per well. The increased lateral length means more of the oil will be pulled from the well. Results have been very good utilizing ECO Pads.

Of the 247 net wells drilled in the area, it is only a small piece of how many more Continental plans to do. If 640 acre spacing is used with a dual reservoir, they still have the potential to produce 1663 net wells. If 320 acre spacing is used the number jumps to 3394. Cedar Hills Units are the 7th largest onshore oil field in the lower 48 states. The third quarter of 2010 had production of 14.953 Boepd. This is 21% of 2009 proven reserves. This area provides flat and stable production.

Continental also has a sizeable area in the Anadarko Woodford which has had 124 industry completions to date. Currently Continental has 10 gross well completions (8.2 net). They had eight rigs operating at the end of 2010. 32 total rigs are drilling in this area. Last year they did their third test in SE Cana. They found strong liquids content 2.5 MMcfpd and 88 Bopd. This was a strong validation of potential in this area. They have also continued their expansion in the Arkoma Woodford. They have 47201 net acres in the area.

Continental has 73009 net acres in the Niobrara. 28% of these acres are in Colorado and 72% in Wyoming. Assuming 320 acre spacing, 228 net locations are possible. Potential net reserves of up to 53MMBoe which are unrisked. Weld Co., Colorado is a pump house project with 14400 net acres. To date this location is in a very active play. 1280 acres spacing planned.

Other then Continental having the largest acreage in the Bakken/Three Forks area, there are other reasons why I like this company. It seems that Continental will continue its conservative principles with respect to company and shareholder money. Although this company is growing very fast, historically they tend to give forecasts well under what they believe they can do. This needs to be considered with any company before investing. Continental states it will continue to carry a low long term debt relative to cash flow and assets. The company plans to maintain ample liquidity. CLR is also going to hedge to protect to the downside. The balance sheet enables the company to start projects and add acreages and this is a plus for upcoming growth. CLR is a low cost high margin operator. Continental operates at 93% of its PV-10.

In mid 2010 Continental had 310 MMBoe proved reserves. In addition to this they have 2.3 billion Boe in unbooked, unrisked reserve potential. Specifically in the Bakken with 320 acre spacing the unbooked, unrisked reserve potential would total 3 billion Boe.

In summary most of Continental upside is located in the Bakken. The company has allocated a large portion of its capex to this project. Management continues to run a conservative and growing company very well. I think CLR is e a very good investment going forward. The Williston Basin is becoming a very large presence with respect to economics and Continental Resources is right in the middle of it.
Disclosure: I have no positions in any stocks mentioned, but may initiate a long position in CLR over the next 72 hours.