Well, I will be the first to admit that the timing of the call to sell NFLX in front of earnings was dead wrong (see earnings results here and earnings call transcript here). Moreover, Netflix (NASDAQ:NFLX) put the screws to the shorts, and the shorts have been covering en masse ever since NFLX's quarterly letter (.pdf) came out. Clearly, the headline 4Q10 results and the 1Q11 guidance numbers were more than enough to keep this momentum stock moving up. Let the long-only chest-beating and victory laps begin.
But, at the risk of once again upsetting some bulls on the stock, while the headline beat-and-raise quarter was admittedly quite impressive, it also was likely unsustainable.
Let's dig into the numbers. One of the main issues the shorts were pressing into the fourth quarter was the lack of translation of earnings growth to free cash flow, particularly in 3Q10. Management got the memo, and produced an eye-popping FCF number in Q4, as shown below: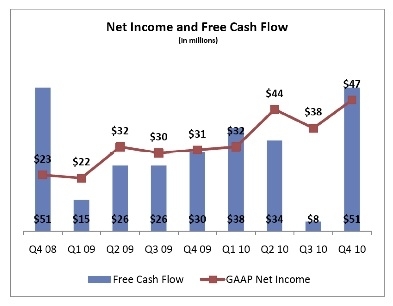 Of course, FCF is roughly operating cash flow minus capex. Thus, we can try to peel back the onion on their FCF improvement this past quarter by taking a deeper-dive into their operating cash flow.
A Deep Dive Into Operating Cash Flow
What is particularly interesting to me is that, despite the hoopla around NFLX's superior earnings and revenue growth metrics, their operating cash flow (CFO) got no attention. The reason? CFO actually declined for all of 2010 versus 2009, by 15%. Even in the this latest "blowout" Dec'10 quarter, the quarterly operating cash flow was down almost 9% versus the fourth quarter of 2009. This decline is despite the fact that CFO doubled quarter-over-quarter in Q410 to help produce the pop in the FCF number in the chart above. Even with the bounce in FCF, CFO was still down YoY. No matter how you slice it, a company that generates 34% revenue growth and 55% EPS growth just shouldn't see a decline in operating cash flow during the same period.
And that is just taking total CFO as the company reported it, with no adjustments on my part. If we pull apart the line items, the QoQ improvement in operating cash flow had much more to do with improvements in working capital and far less to do with net income growth.
Of the working capital improvements, about $37M benefit came from an undetermined "other assets and liabilities" category; prepaid content was nearly $23M less of a drag on CFO than the previous quarter (indicating some lumpiness in this number); and perhaps most eye-catching was that accounts payable massively helped working capital by another $61M. If I'm right that the A/P line is at least partially benefiting from delayed timing of streaming acquisition costs, these improvements in A/P will likely reverse to some extent in coming quarters, and will thus hurt operating cash flow in those future periods. Thus, to put all of these line items into perspective, total CFO for 4Q10 (which includes working capital improvements mentioned above) was $96.7M, of which net income made up just $47M. So A/P alone helped operating cash flow more than net income.
Normally working capital improvements are a good thing, but the line items mentioned above seem like an abnormal percentage of the operating cash flow for this quarter, and smells of being both unsustainable and perhaps even managed for short-term impact (i.e., to crush the shorts). It would seem likely there will have to be some reversion to the mean in these improvements in future quarters. But even if I'm wrong, and the company can continue to manufacture operating cash flow improvements separate from net income growth, my conclusion remains: If you thought the company looks expensive on its EPS growth, it looks even more expensive on its (lack of) demonstrated cash flow growth to-date.
Are Growth and Margin Improvement Mutually Exclusive?
This analysis above naturally begs another question - how can operating cash flow be declining when revenues and earnings are growing so rapidly? The answer would appear to be NFLX streaming acquisition costs, which are creating a significant drag on CFO. In dollar terms, this line item grew to $406M in 2010 from only $64M in 2009. Including DVD content acquisition costs, total content spending rose by more than 100% in 2010, which is a much faster pace than their revenue growth. Considering NFLX push towards more streaming content, it seems likely that high content costs will continue to suck operating cash out of this company at a much faster clip than revenues can grow.
The bulls will point to the fact that streaming has indeed led to higher content costs, but witness the HUGE drop in marketing spend, and thus the operating margin improvement. Yes, this is true, but consider that NFLX was only able to deliver a mere half-point of operating margin improvement QoQ from a whopping 400+ basis point decline in marketing spend QoQ. It remains to be seen whether the dramatic reduction in marketing spend is more a function of the new streaming model, managing operating margins to a near-term target, or a little of both. But either way, if I were a NFLX bull, I certainly would want a lot more of that marketing spend improvement from last quarter to translate down to the total operating margin line.
Ultimately, NFLX's new model will force the company to pay now or pay later given the increasingly competitive landscape. In order to continue to grow its subscriber base at the current pace using a streaming model, the company will need to continue to pay more to acquire content to keep customers interested. But that doesn't necessarily translate to an equal-or-better improvement in marketing spend every quarter. NFLX can manage the margin to 14% in the short-term by reducing spending, but in the longer term I expect this strategy will eventually lead to slower subscriber growth. They can't have their cake and eat it.
Subscriber Growth, Stock Buyback, and FY Guidance
Okay, but NFLX just blew it out on subscriber growth this quarter, right? Well, that depends on whether you count the number of free subscribers, and also the profitability of customers who are paying for service.
Let's look at the numbers. Total subscribers ended the year at 20 million, which was ahead of most Street models. But total paid subscribers were only 18.3 million, which means that nearly 9% of the total subscriber base wasn't paying for the NFLX service. Moreover, monthly average revenue per user (ARPU) per average paying subscriber continues to drop (it fell 4% QoQ and nearly 11% YoY); meanwhile, the gross profit of those same paying subscribers has also fallen by over 19% YoY. Subscriber churn also is not improving and continues to hover at 3.8%.
It appears that NFLX is making the bet that they can grow new paying subscribers at a faster pace than both 1.) the current subscribers that they churn, and 2.) the deteriorating value of each current paying customer. This again comes back to the question of marketing spend - can the company continue to ramp down this line item so fast and not risk subscriber growth slowing meaningfully at some point, especially when the value of each current customer is clearly deteriorating?
There were also a couple of other interesting facts from this past quarter than seemed to be glossed over in this headline beat.
First, NFLX did not buy back any stock in Q410 -- making it the first quarter with no buyback in at least the past two years. Stock buybacks had averaged about $55M per quarter for the previous four quarters. If NFLX had hypothetically bought back this same about of stock in Q4, they would have used up roughly two-thirds of their net cash generated in the quarter. At a minimum, this is a fairly big departure from previous capital management strategy, and likely speaks to management's view on the attractiveness of their stock (or lack thereof) at current valuations.
Second, while NFLX provided strong 1Q11 guidance on revenues, operating income, and EPS, they also said "our business is so dynamic that we will be doing less calendar year guidance than in the past." Again, while the near-term momentum should continue, if I were a bull, I would want to hear more confidence and visibility from management. To me, the word "dynamic" seems more like a euphemism for leaving room for a likely sloppy quarter or two somewhere in 2011.
At the end of the day, stocks like NFLX can get a life of their own when the headline metrics continue to beat-and-raise. But under the hood, there are some significant issues that I have discussed above that beg the question of the sustainability of such results going forward. Thus, the higher the stock goes from current levels and the more time that passes from the Q410 quarter results, the more NFLX looks like an outright short.
Disclosure: I have no positions in any stocks mentioned, but may initiate a short position in NFLX over the next 72 hours.