The stocks disclosed by Berkshire Hathaway (NYSE:BRK.A) in its 13-F filing are analyzed frequently, but rarely in the light of momentum. Stocks that have outperformed over the last three to 12 months tend to continue to do so for the next several months. While Warren Buffett is a long term investor, and momentum does not indicate much over the longer term, I thought it would be informative to take a look at several of Berkshire's strongest performers.
To find the stocks with the highest momentum, I ranked the stocks in Berkshire Hathaway's 13-F filing by 13-, 26- and 52-week momentum separately, then summed the rankings for each stock and re-sorted the list.
ConocoPhillips (NYSE:COP)
ConocoPhillips, incorporated on November 16, 2001, is an international, integrated energy company. The company operates in six segments: Exploration and Production (E&P), Midstream, Refining and Marketing (R&M), LUKOIL Investment, Chemicals, and Emerging Businesses (additional info here).
Price Performance:
13-Week: 16.01%
26-Week: 32.13%
52-Week: 46.84%
[Click all to enlarge]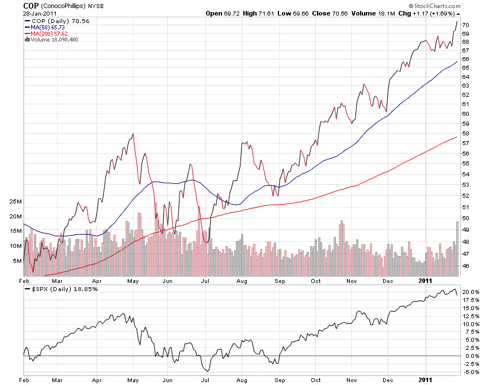 General Electric (NYSE:GE)
General Electric Company, incorporated in 1892, is a diversified technology, media and financial services company. The company's products and services include aircraft engines, power generation, water processing, security technology, medical imaging, business and consumer financing, media content and industrial products. The company serves customers in more than 100 countries. The company operates through five segments: Energy Infrastructure, Technology Infrastructure, NBC Universal (NBCU), Capital Finance and Consumer & Industrial (additional info here).
Price Performance:
13-Week: 26.01%
26-Week: 27.04%
52-Week: 24.53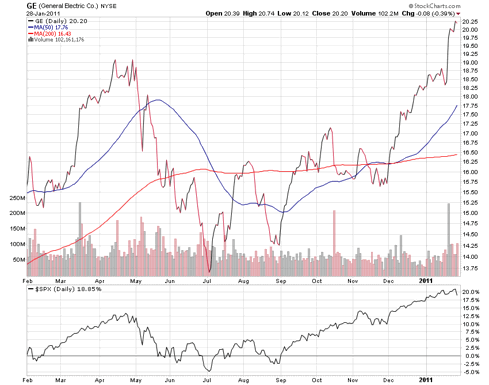 USG Corporation (NYSE:USG)
USG Corporation, through its subsidiaries, is a manufacturer and distributor of building materials, producing a range of products for use in new residential, new nonresidential, and residential and nonresidential repair and remodel construction, as well as products used in certain industrial processes. The company is organized into three reportable segments: North American Gypsum, Building Products Distribution and Worldwide Ceilings, the net sales of which accounted for approximately 47%, 35% and 18%, respectively, of its consolidated net sales during the year ended December 31, 2009 (additional info here).
Price Performance:
13-Week: 28.95%
26-Week: 18.25%
52-Week: 33.03%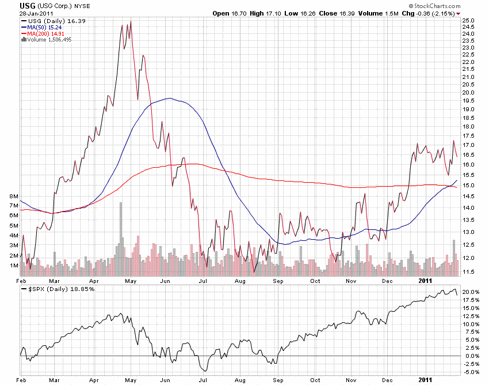 Exxon Mobil (NYSE:XOM)
Exxon Mobil Corporation, incorporated in 1882, is a manufacturer and marketer of commodity petrochemicals, including olefins, aromatics, polyethylene and polypropylene plastics and a range of specialty products. It also has interests in electric power generation facilities. The company has several divisions and hundreds of affiliates with names that include ExxonMobil, Exxon, Esso and Mobil. Divisions and affiliated companies of ExxonMobil operate or market products in the United States and other countries of the world. Its principal business is energy, involving exploration for, and production of, crude oil and natural gas, manufacture of petroleum products and transportation and sale of crude oil, natural gas and petroleum products (additional info here).
Price Performance:
13-Week: 19.48%
26-Week: 32.55%
52-Week: 21.8%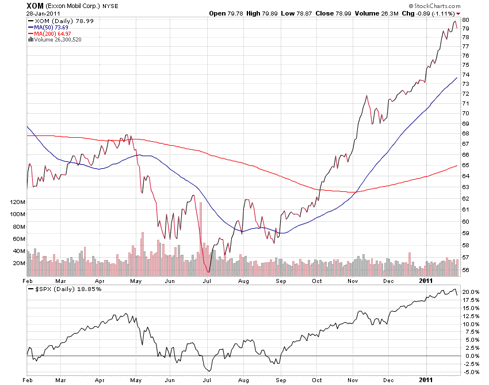 Ingersoll-Rand (NYSE:IR)
Ingersoll-Rand plc, formerly Ingersoll-Rand Company Limited, along with its subsidiaries, is a diversified, global company that provides products, services and solutions to enhance the quality of air in homes and buildings, transport and protect food and perishables, secure homes and commercial properties, and enhance industrial productivity. The company operates through four segments: Climate Solutions, Residential Solutions, Industrial Technologies and Security Technologies. The company generates revenue primarily through the design, manufacture, sale and service of a diverse portfolio of industrial and commercial products that include brand names, such as Club Car, Hussmann, Ingersoll-Rand, Schlage, Thermo King and Trane (additional info here).
Price Performance:
13-Week: 16.4%
26-Week: 21.46%
52-Week: 34.53%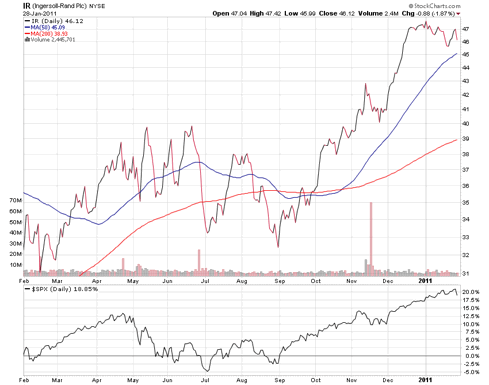 Below is the full list of Berkshire Hathaway's holdings sorted by momentum. Berkshire Hathaway is acquiring the shares of Wesco Financial (NYSEMKT:WSC) that it does not already own, so its ranking may not mean much.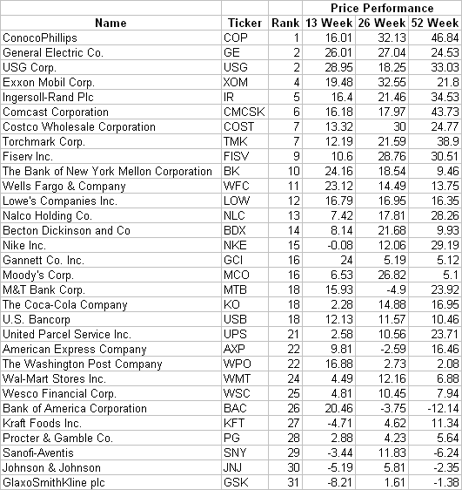 Disclosure: I have no positions in any stocks mentioned, and no plans to initiate any positions within the next 72 hours.