As some of Immersion (NASDAQ:IMMR) Corporation's partners already reported their financials, it may be interesting to look at what they said about year-end sales of the products that incorporate Immersion's technology and forecasted trends going forward.
Samsung's (OTC:SSNLF) performance in the fourth quarter continued to be driven by strong sales of its cutting-edge smart phones. In general, Samsung's mobile device sales reached 80.7 million units in Q4, up 17 percent year-on-year. Total sales for the year were 280 million units, or a 23 percent growth compared to the previous year.
(Click all to enlarge)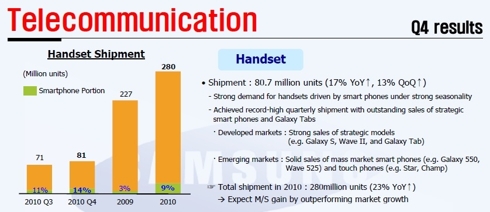 Click to enlarge
The company's forecast for 2011 is even more interesting, from Immersion's point of view (emphasis added):
With its growing lineup, the company is targeting smartphone sales of 60 million units for the year, double that of 2010. In the tablet market, Samsung will complement its Galaxy Tab with a range of devices to optimally meet various user needs.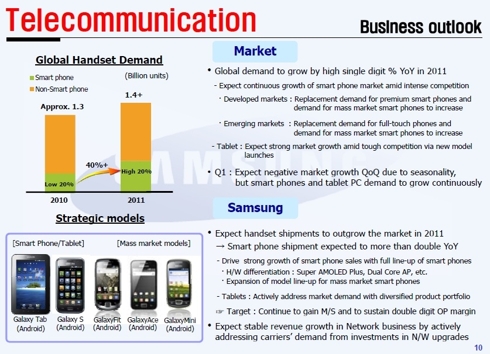 Click to enlarge
From the data reported, it also seems that the Samsung Tablet enjoyed a very strong Christmas season, with sales in December alone reaching 1 million units, for a total of 2 million in three months.
As always, it is worth remembering that Immersion will benefit from its partners' seasonal strong Q4 in its successive quarter, which is, for this reason, traditionally the company's strongest one.
According to South Korea's largest mobile carrier, SK Telecom Co. (NYSE:SKM), Samsung will also release a smart phone that can also serve as a set-top box, playing content on personal computers, tablet PCs and TVs.
Here is a quote from The Korea Herald:
The new phone represents the company's efforts to tap into the growing demand for the seamless exchange of content on different devices, including smartphones, personal computers, tablet PCs and TVs.

Connecting the new smart phone to the TV will turn the phone into a set-top box, which allows streaming content saved on the phone to be displayed on larger TV screens, SK Telecom said. As they leave the living room, consumers can pick up the movie where they left off on smartphones or other devices, SK Telecom said.
In spite of all its problems, Nokia (NYSE:NOK) also enjoyed a good result as far as its smart phone product line. Although the company is losing market share in the lucrative smart phone segment, it reported 28.3 million handsets sold during Q4 2010, which is a nice bump from 20.8 million at the same time last year (plus 36%) and 26.5 million in the previous quarter.
The perception of Nokia is probably different on the two sides of the ocean. While almost absent in the U.S. market, it still remains a leading brand in Europe, and its smart phone line of products was one of the most sold during the holiday season.
In particular, the Nokia N8, which is incorporating some advanced haptics, seems to be well ahead of the initial sales estimates. According to Finnish research company Inderes Oy, the N8 should have sold about 4 million units in Q4, well ahead of the 2.5 million estimated by Morgan Stanley (NYSE:MS).
Immersion's partner LG (OTC:LGERF) reported that its mobile phone handset sales rose 8 percent to 30.6 million devices in the fourth quarter from the third, but declined 10 percent from the year before. The company expects to improve these results through the launch of several new smart phones in the next few quarters.
Semiconductor partners also seem relatively bullish about growth in 2011. Cypress Semiconductor (NASDAQ:CY) recently reported Q4 results. Its TrueTouch touchscreen solution incorporates Immersion's technology, and there are high expectations for the future, as noted in its conference call:
T.J. Rodgers – CEO:

Probably our biggest announcement is the product we call Solo, internally. It's a single-chip TrueTouch solution for iPad or tablet-sized products.

You will see important products coming into the market shortly.

The Holy Grail of course is that the single-chip solution and we have been on new ways to market to bring out the first single-chip solution, and we are first. We have announced it, we have got it and we are announcing that we will have production this quarter.
During the same call, Rodgers also mentioned other markets, apart from mobile phones, that could use touchscreens, and could represent a decent market size:
Digital cell cameras in Japan are going touch. So, in this case, it's a touch controller. All of you know who got a camera, the controls are pretty elaborate and complicated. So, the digital cell camera world, that's a couple of 100 million units for the year. So, it's not cell phones, but it's certainly not trivial. It's moving towards touch control and we believe we have market share in that.

We have got a bunch of design wins. Some of them are already in the market, and the rest of them are on their way shortly.
Even recent market forecasts confirm the high growth expectations for touchscreens related products like e-readers and tablets, like this one from Yankee Group (pdf):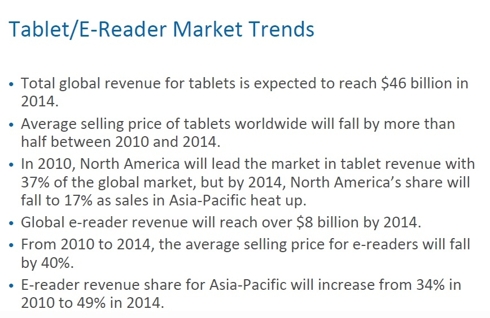 Click to enlarge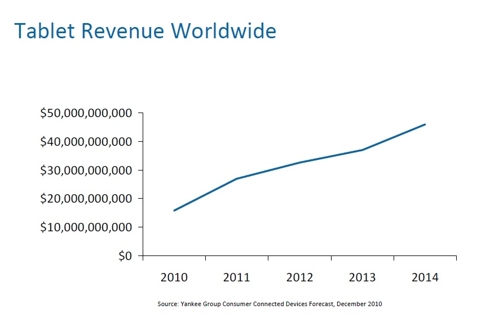 Click to enlarge
As we get closer to Immersion's conference call, we'll continue to keep an eye on its partners, whose results may set the tone for the company's 2011.
Disclosure: I am long IMMR.