Monster Worldwide (NYSE:MWW), the online job lister, has one of the most incredible charts over the last year. One year ago the stock sat at $15.59. On Friday, it stood at $15.95. Oh, but what a wild ride in between. At the end of August it was down more than 50% from where it sat at the end of January 2010. The stock then proceeded to more than double to $24 just two weeks ago. Then, on a poor earnings report, it fell all the way back down to under $16. In between there was a 25% jump on October 29, only matched by a 25% drop this past Friday! Efficient Market Theorists must be having a heart attack.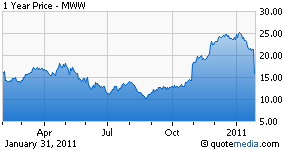 The question is whether the Friday drop is a long-term buying opportunity or just another stop in some other wild ride. First, let's look at what led to the big drop. Monster released earnings on Friday and reported a slight $501,000 profit for the quarter (after a 6 cent per share charge) and a 27 cent per share loss for the year. Revenue rose, but Monster's outlook for the next year was below what analysts were expecting. Monster expects earnings between 36 cents to 48 cents per share, and analysts had been calling for 45 cents. Estimating earnings for 2011 is really a fool's game. Monster is far from a predictable business and 2011 is far from a predictable year. The company should ditch the annual estimates and investors shouldn't give them too much credit.
It was a combination of the earnings miss, loss for the year, and the 2011 estimates that crushed the stock. It should be noted, though, that revenue was up both for the quarter and the year. Monster had delivered better than expected earnings last quarter, which had driven up the stock price, and in hindsight it almost had no chance of winning with this quarter's release. It seems as if the market was looking for another better-than-expected number, which was unlikely to occur.
Let's look a little more at the company. I've never been a fan of Monster even though it had a first-mover advantage with online job listings. I just don't see much of a moat with them. In the non-digital world, you still have newspaper and magazine ads, but even most of those are moving online. In the lower income market, you have Craigslist, CareerBuilder, Indeed and others. Upper income, you've got Dice (NYSE:DHX), The Ladders and LinkedIn. Offline, look at Korn/Ferry (NYSE:KFY) and Heidrick & Struggles (NASDAQ:HSII).
The biggest fear for Monster shareholders should be the coming LinkedIn IPO. Most people haven't recognized that LinkedIn's main focus is on job listings, and with its social networking functions, it's going to be a formidable competitor. For the first nine months of 2010, 41% of LinkedIn's revenue came from job listings. This is up from 29% the year before. The company is doing something right. To go a little deeper into LinkedIn's competitive advantage, look at it this way; if you were looking for a job you had two options. You could comb through and search among a bunch of listings on Monster, send in your resume and cover letter and hope for the best, or with LinkedIn you could be notified of job openings by companies that you're following. You can see which of your friends have a connection to that company. Then, you can use your friend as a resource to either put you in touch with a decision-maker at the company, or give you advice about the best way to apply. To me, this is a no-brainer. Just wait until Facebook starts to take advantage of its network for job listings. In ten years you may have LinkedIn dominating the upper-scale job market, and Facebook dominating the lower-scale job market. On the job listing side, businesses will see the advantage of using these other resources and shift their spending. This should terrify Monster investors and reiterate how little of a moat they really have.

If you're a short-term investor and feel that you have some unique advantage or insight into Monster, best of luck to you. I don't see a short-term catalyst that would cause me to be able to convincingly argue to be long or short. There is just too much unpredictability. Longer term, though, this is not a stock I would like to be in. The competition seems to have an advantage, and new entrants are coming online all the time. If you want to be in a job listing stock, wait for the LinkedIn IPO.