On Friday, Charlie Rose interviewed U.S. Treasury Secretary Tim Geithner live on stage at the World Economic Forum. Most of the interview focused on macroeconomic topics such as the US economic recovery, Europe's sovereign debt crisis, and the S&P's cut on Japan's debt rating. But about 45 minutes into the conversation, the two briefly discussed (very briefly) the future of the GSEs, namely Fannie Mae and Freddie Mac.

Within the context of U.S. financial reform, Rose asked Geithner what changes are coming with respect to these organizations. Geithner's response:
"We still have a mess is the housing finance business - now almost completely dependent on the government. We're going to lay out a set of reforms to crowd private capital back in the business - to dial back the role of the government over time to leave us with a system that will note be vulnerable to collossal failures [of the GSEs], and more generally in underwriting practices."
As is well-documented, the housing market's uncertainities and stimulus programs such as first-time homebuyer tax credit has led to the rapid rise in the number of FHA-insured mortgages (along with lower interest rates and looser underwriting guidelines that private sector lenders typically won't match.)

FHA Single Family Activity in the Home-Purchase Market Through Sept 2010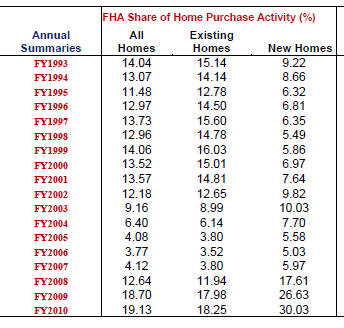 For the complete report, go here.
Examining Fannie Mae's December 2010 Monthly Summary, the end-of-year figures show that Fannie has:
Slightly increased its Gross Mortgage Portfolio from $772.5 million in December 2009 to $788.8 million by December 2010.
Reduced their MBS and other guarantees from $2.826 trillion to $2.695 trillion
The total "book of business" essentially unchanged from 2009 to 2010 ($3.240 trillion at EOY 2009 to $3.224 trillion at EOY 2010.)
Several times early in the interview, Geithner stressed that past governments across the world have removed themselves from economic intervention too soon, leaving "fragile" recoveries to suffer negative consequences. He also discussed how public works projects - infrastructure, education, R&D investments - were all key foci of the U.S. government, policymakers and Congress. In that breath, one wonders how the government plans to disinvolve itself in such a crucial part of the U.S. economy while still shepharding the recovery, especially one that is lagging the signs of economic growth appearing in recent months?

"Less" government could simply mean that it won't grow larger at the current pace we're seeing today. Does the government continue to lead the charge in support ofnthe housing market - effectively buffering against future bubbles and busts as a public good, or does it really begin to scale back its involvement as Geithner is suggesting it will?

Homeownership rates are reverting back to historical mean from their bubble peaks. Lending standards are more "normal" now than they've been in a decade while the foreclosure process is clearing unqualifed homeowners from the market. At the end of the day, will either side of the political aisle be willing to tell their constituents that purchasing will be more difficult going forward than it is today? It's hard to imagine the policy suggestions can gain much force in today's climate. Guess we'll find out in a couple of weeks ...