In the fall of 2009 Reynolds American (NYSE:RAI) engaged in one of the most intriguing acquisitions ever by a tobacco company when it purchased a smoking cessation firm based in Sweden, called Niconovum. Not only was this acquisition a seemingly contradictory one, but also one that confused many observers who were already well acquainted with Reynolds' past acquisitions. Would this acquisition benefit shareholders by acting as a future hedge against declining cigarette sales volumes? Or would it dilute shareholder value by diverting excess free cash flow and manpower to a non-core business segment?
By looking at Jensen's Theory of Free Cash Flow using two different approaches, an opinion can be formed as to whether Reynolds American's acquisition of Niconovum has been successful or not so far.


Michael Jensen, a widely acclaimed professor at Harvard Business School, proposed in his 1986 paper entitled "Agency costs of Free Cash Flow, Corporate Finance and Takeovers" that companies that operate in low growth, high FCF producing industries are more likely to pursue value destroying mergers and acquisitions, as opposed to value creating mergers and acquisitions.
Value destroying mergers, he postulated, resulted in less FCF being available to distribute to shareholders in the form of dividends. These sorts of acquisitions usually occurred when companies attempted to diversify into other industries in which they had no prior management experience. To prove his theory, Jensen explored examples from the 1970s and 1980s in which large corporations operating in low growth, high FCF producing industries acquired companies in different business lines in an attempt to diversify. Recent examples of acquisitions consistent with Jensen's theory include Daimler - Chrysler and AOL – Time Warner, both of which resulted in hundreds of millions of dollars in losses for shareholders.
Why the acquisition is consistent with Jensen's Theory:
Reynolds American, as the second largest tobacco company in America, is undoubtedly facing headwinds due to the fact that cigarette sales are continuing to decline in developed markets. However, despite operating in a low growth industry, Reynolds is still managing to produce large amounts of FCF.
Well, I mean, this business is really all about, you know, watching the marketplace, watching the market share and generating cash for our shareholders. As you know, we generate about $1.4 billion in free cash flow for a year.

- Thomas Adams, Chief Financial Officer, October 25th 2010
Upon acquiring Niconovum in 2009, Reynolds asserted that it would look to integrate Niconovum's smoking cessation therapy business into its strategy of 'total tobacco'. Since the deal closed there has not been any information released from Reynolds American detailing how much revenue the proposed Niconovum operating unit will bring in or how much it will cost to operate.
Earnings associated with the Niconovum unit have been lumped into the 'all other' category, which also includes the much larger Santa Fe tobacco company subsidiary. By looking at the segment data, it is difficult to determine the impact of Niconovum on Reynold's overall cash flow. For the nine months ended September 30th, income is up as opposed to the previous year, but when looking at the quarter ended September 30th as opposed to the previous year, earnings are down.
Trying to determine corporate value from an acquisition is difficult and also not tied directly to the generation of cash flow; however, by looking at the most recent numbers, it seems that Niconovum has not had a substantial impact on FCF generation at Reynolds.
click to enlarge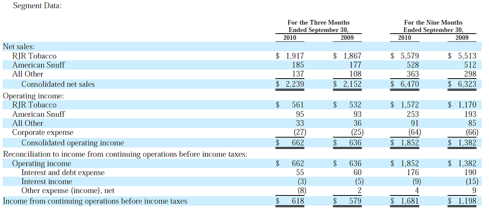 In the most recent third quarter earnings conference call, neither the acquisition of Niconovum, nor any strategy involving smoking cessation products, was discussed by management or questioned by industry analysts. When the acquisition of Niconovum was first announced back in the fall of 2009, Reynolds American stated that it was interested in pursuing opportunities in the smoking cessation market and that with additional investment into Niconovum and its patented proprietary nicotine deliverance technology, it could become the world's most efficient smoking cessation brand.
Although smoking cessation offers an additional source of revenue for Reynolds American, the acquisition of Niconovum does not appear to offer a substantial return on value for Reynolds. Expansion of the Niconovum brand into America would take 4 -5 years at the earliest, and would require capital intensive research studies to prove its effectiveness to the FDA. The fact that Reynolds American lacks an international presence will prevent them from obtaining synergies as a result of this acquisition as all of Niconovum's operations are located in Sweden and Denmark, far from any of Reynolds' distribution networks.
Since the acquisition, FCF figures and operating income have been difficult to determine for Niconovum. Management has not discussed the acquisition, the status of its "total tobacco" strategy in relation to Niconovum or any sort future plans regarding introduction of Niconovum products to new markets. With $45 million spent on the acquisition that could have been distributed to shareholders in the form of dividends and little progress to show for it, it would appear that Reynolds American's actions are consistent with Jensen's theory of FCF.
Why the acquisition is not consistent with Jensen's Theory:
One of the main tenets of Jensen's Theory of Free Cash Flow states that companies with large free cash flows that operate in low growth industries will waste free cash flows on value destroying acquisitions, most often in businesses with which they do not share core competencies. Reynolds American acquired Niconovum in 2009 as part of a specific "total tobacco" strategy implemented by CEO Susan Ivey, which stated that Reynolds' goal, given the declining nature of cigarette sales, would be to become a diversified tobacco company engaged in the production of smokeless tobacco, smoking tobacco and, as of 2009, smoking cessation products.
Reynolds' acquisition of Niconovum is part of a clear strategy aimed at investing in tobacco related industries and thus does not represent an acquisition outside of the tobacco industry that Jensen would categorize as value destroying.
According to Michael Jensen, one of the reasons for failures in diversification strategies is the lack of experience that acquiring managers have in the industries of the companies they are acquiring. Outside of naming a former marketing manager as President of Niconovum USA, Reynolds has done nothing to alter the management structure at Niconovum. Reynolds' decision to leave Niconovum's management intact will allow Niconovum to continue growing organically and through an existing management structure, thus allowing Reynolds to avoid the pitfalls of inexperienced management that have often, according to Michael Jensen, led to failed acquisitions and decreases in corporate value.
During 2009 RAI entered a new product category with the acquisition of Niconovum AB. Nicotine-Replacement therapy products are a small category with good potential for future growth. These products also align with public health objectives. Like RAI's other companies, Niconovum's strength is in its superior technology and innovative products that will offer more you appeal to consumers than existing products. Over time Niconovum plans to expand its product line and enter additional markets.

Susan Ivey (Q4 2009 Conference Call)
Reynolds American's acquisition of Niconovum represents a targeted growth strategy aimed at diversifying Reynolds' sources of cash flows to help protect the company against the declining cigarette market. Niconovum has already proven itself as a company with a strong brand and product in both Sweden and Denmark and will provide an additional stream of revenue for Reynolds. With Reynolds as a source of capital, Niconovum will be able to continue producing superior smoking cessation products and maintain its position as one of most advanced smoking cessation companies in Europe.
Not only will Reynolds provide adequate capital needed for product expansion and research but they will also provide a valuable distribution and marketing network along with a top notch legal team that will lead Niconovum into the American smoking cessation market. Due to various factors, Reynolds American's acquisition of Niconovum does not fit the profile for a value destroying merger per Michael Jensen's Theory of Free Cash Flow.
Conclusion:
One of the most interesting aspects of Reynolds' acquisition of Niconovum is its ability to hold the fate of a smoking cessation business in its hands. With its $45 million investment, Reynolds not only acquired proprietary technology and a market presence in Sweden and Denmark, but also a piece of mind in knowing where, when and if it would ever enter new markets with its smoking cessation products. Given the fact that the margin on cigarette sales in undoubtedly higher than the margin on smoking cessation products, It can be suggested that this power alone could be saving Reynolds millions of dollars a year in FCF as a result of keeping customers smoking as opposed to getting them to quit.
While compelling arguments exist both for and against classifying this acquisition as value destroying, prudence suggests that more time is needed to fully understand the implications of the transaction on Reynolds shareholders before passing judgment.
Disclosure: I have no positions in any stocks mentioned, and no plans to initiate any positions within the next 72 hours.