By Patrick Crutcher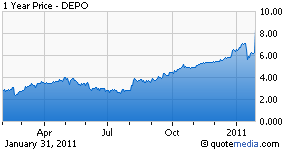 For those following our recomendation and coverage of Depomed (NASDAQ:DEPO), on Friday the FDA announced approval of GRALISE (gabapentin) once-daily tablets for treatment of post-herpetic neuralgia. DEPO traded briefly in after-hours, closing up 19% at $7.37. The FDA approval has triggered a $48 million milestone payment from Abbott Labs (NYSE:ABT) due to Depomed. Management has planned a conference call for tomorrow at 8:00am EST. Additionally, there are several things we can take away from this approval that benefit Depomed.
Something important to take away from this approval is the importance of favorable labeling. The labeling Depomed received for GRALISE will be a significant factor in it's ability to gain market share. They had listed incidence of dizziness (10.9%) and somnolence (4.5%) that were far lower than gabapentin(28.8% and 21.8%) or Lyrica (31% and 18%). This will be extremely helpful in marketing this drug, especially to managed care, where this is highly prescribed but whose patients struggle with compliance and side-effect profile. Once-daily dosing also helps differentiate from gabapentin or Lyric, where dosing is anywhere from 2-4 times a day. These advantages over current treatment options will be important in the marketing of GRALISE. We also should stress that the orphan drug designation also gives Depomed 7-years of marketing exclusivity. It's a little too optimistic to anticipate an update regarding the mediation efforts between Abbott and Depomed over their licensing agreement surrouding GRALISE. We don't anticipate substantial news on this front in tomorrow's conference call.
Approval of GRALISE was important to more than just the DM-1796 program. The approval of GRALISE was a significant step in the regulatory pathway for Serada. Remember, Serada is Depomed's gabapentin formulation for the treatment of women with postmenopausal hot flashes; potentially a $2 billion market. Now, consider that Serada is the same drug and dosing that the FDA just approved with GRALISE. If BREEZE 3 results are positive, Depomed could certainly make a strong case for approval, backed by not only an SPA, but approval of the drug in a different indication and the support of 4 Phase 3 trials using their AcuFormTM gabapentin. Positive results in BREEZE 3 would be highly predictive of Depomed's approval of Serada.
It's important to recognize the potential value Depomed will offer in 2011. We should expect to hear about mediation efforts with Abbott. We are anticipating the Phase 1B results from DM-1992 ( AcuFormTM Carbidopa/levodopa) sometime this quarter. This is another case where Depomed's AcuFormTM technology is very useful in improving existing drugs. Cardidopa/levodopa plays an important part in managing Parkinsons's Disease, yet the drug has considerable dosing and tolerability issues. Management has already posted positive results in Phase 1 trials, but chose to re-adjust the dosing in order to get additional efficacy and safety that they felt would further improve it's worth. Depomed hopes to in-license this product sometime in 2011. Merck (NYSE:MRK) recently submitted the Janumet (Sitagliptin Metformin HCL) NDA, which will come up for approval around August. Depomed will receive a single-digit royalty on sales of Janumet. Lastly, Do not forget about Serada: they expect completing the trial in Q3 and report top-line results sometime in Q4.
The additional $48 million on top of their current cash of around $65-70 million, puts Depomed in a great financial position going forward. They hope to add more value to shares via out-licensing DM-1992, DM-3458 and ex-North America marketing rights to GRALISE. We expect that 2011 will be an even better year for Depomed as Glumetza sales continue to increase, GRALISE gets on the market and excitement builds for top-line results from BREEZE 3.

Disclosure: Long DEPO