Some people say silver will outperform gold. Some people say they are both bound for a pullback. I say geopolitical tensions such as the Egyptian crisis, looming debt crisis in Europe, and buying of precious metals by both the central banks and investors will keep gold and silver from falling.
But as far as the question, "will silver outperform gold?" I ask, "can't you own them both?" And Paramount Gold and Silver (NYSEMKT:PZG) appears to be ideal for this.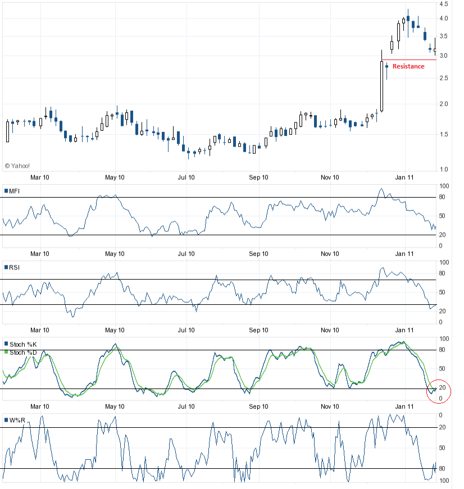 click to enlarge
Source: Yahoo Finance
The top black line in each graph is overbought territory and the bottom black line is oversold territory.
As one can see, the graph of the stock price and its technicals show an ideal buying point. The price is hitting a bottom resistance line, which could make the stock verse higher. The %K and %R shows a bullish cross, as depicted by a red circle. The W%R just crossed back above oversold territory. RSI is in oversold territory. And the MFI is approaching oversold territory. Thus, the graphs look very bullish.
Analysts on Yahoo Finance give a 12-month price target of $12.11, a whopping 357% gain over Friday's closing price of $3.39. Is this too high of a target?
Though the company currently has a negative earnings and a price/book ratio of 6.38, they have $18.78 million in cash and zero debt. Institutional ownership is a low 4.10%, meaning there is plenty of room for buying for institutions, which is a major force in driving a stock higher. Insider ownership is a healthy 34.05%.
Total cash flow from financing activities jumped from $3.84 million in 2009 to $14.34 million in 2010. Their total stockholder equity rose from $27.07 million in 2009 to $39.92 million in 2010. If the company faces a similar 373% jump in total cash flow from financing activities, a 350% rise in stock price is justified.
There is also the possibility that the company could be a buyout candidate. All 70 of its drillholes in its San Miguel mine in Northwest Mexico hit gold and silver, with one major high-grade gold and silver vein. From the estimated amount of gold and silver, the mining project should be profitable as long as gold stays above $400. And who knows, there may be more finds in the future. Certainly, this is enough to tempt some buyers.
Source: All statistics from Yahoo Finance.
Disclosure: I have no positions in any stocks mentioned, and no plans to initiate any positions within the next 72 hours.