By Chris McKhann
Put buying in the PowerShares DB Agriculture Fund (NYSEARCA:DBA) this morning shows longer-term concern for the downside, even as shares are above their closing highs.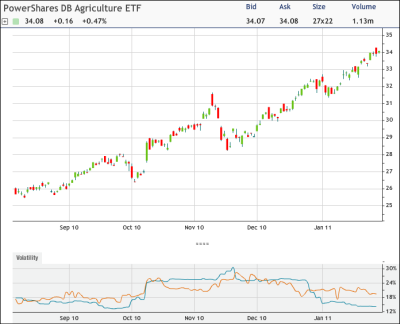 The DBA exchange-traded fund is up 0.47 percent today to $34.08, above Wednesday's closing high. Shares did get up to $34.28 on Friday morning, but the market selloff brought them back to unchanged on the day. Agricultural futures have climbed an average of 50 percent in the last seven months, and the DBA now sits at its highest level since August 2008.

Despite this -- or perhaps because of it -- one option trader is showing concern about a pullback. The big action the morning is in the January 2012 30 puts. Our systems show that 5,000 of them have changed hands, the biggest block of 4,550 bought for $1.40 as the trader paid the ask price.

The put buying isn't tied to any trading in the underlying stock that we see today, but it could be protection on existing long shares. These commodity-based ETFs have certainly garnered plenty of attention and followers.

It could also be an outright bet that shares of DBA will fall over the next year. Traders who are reluctant sell futures or short the fund often use long-term puts to play bearish inclinations.
(Chart courtesy of tradeMONSTER)