As I noted in my previous article that the technicals and fundamentals say that SPDR Gold Shares (NYSEARCA:GLD) is a good buy, I will take this one step further and look for the best gold stock.
Below is a screen of gold stocks from Friday, January 29.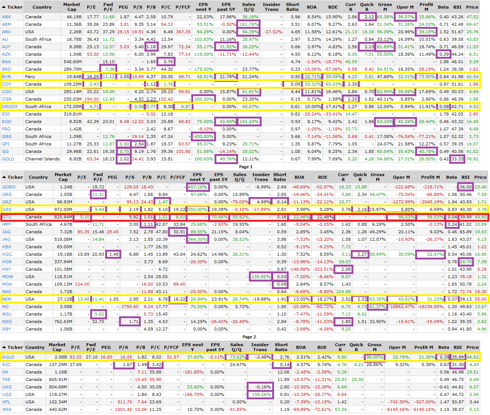 (Click to enlarge)
P/S = Price/Sales P/B = Price/Book P/C = Price/Cash
P/FCF = Price/Free Cash Flow EPS next Y = EPS growth next year
EPS past 5Y = EPS growth last 5 years Insider Trans = Insider Transactions
Sales Q/Q = Sales growth quarter over quarter
ROA = Return on assets ROE = Return on equity
Curr R = Current Ratio, which "measures whether or not a firm has enough resources to pay its debts over the next 12 months." A ratio of 1.25 means that "for every dollar the company owes it has $1.25 available in current assets."
Quick R = Quick Ratio Gross M = Gross Margin Oper M = Operating Margin
Profit M = Profit Margin
Purple boxed numbers are the top five best statistics in each category. Current and quick ratios about two were used.
Seven companies had five or more purple boxes.
| | | |
| --- | --- | --- |
| # Purple Boxes | Company | Operations |
| 10 | Central GoldTrust (NYSEMKT:GTU) | Trust |
| 8 | Newmont Mining (NYSE:NEM) | Many Countries |
| 7 | Compania de Minas Buenaventura SA (NYSE:BVN) | Peru |
| 7 | Cardero Resource Corp. (CDY) | Mexico, Peru, Argentina, US |
| 6 | DRDGOLD Ltd. (DROOY) | South Africa |
| 5 | Golden Star Resources, Ltd. (NYSEMKT:GSS) | Ghana, Brazil, West Africa |
| 5 | Royal Gold, Inc. (NASDAQ:RGLD) | Many Countries |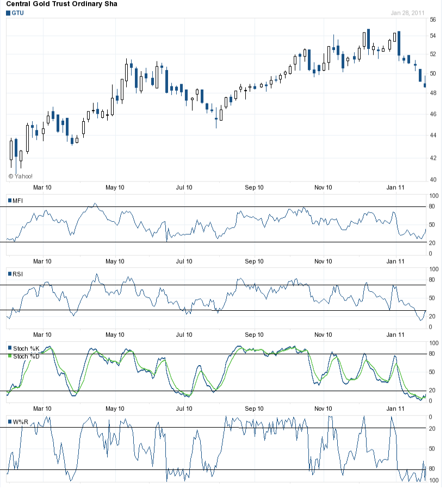 (Click to enlarge)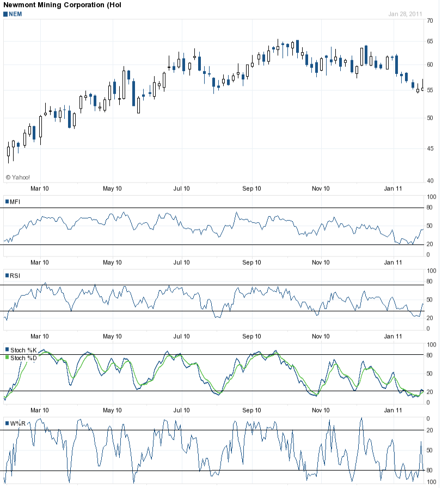 (Click to enlarge)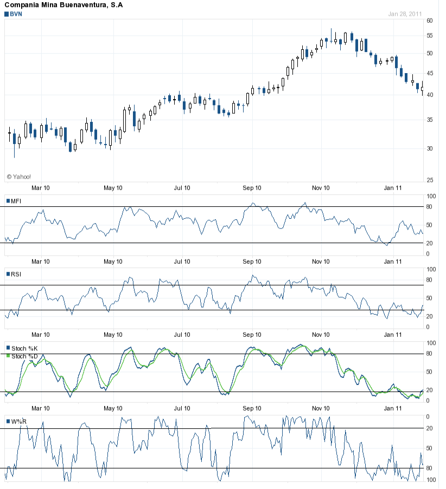 (Click to enlarge)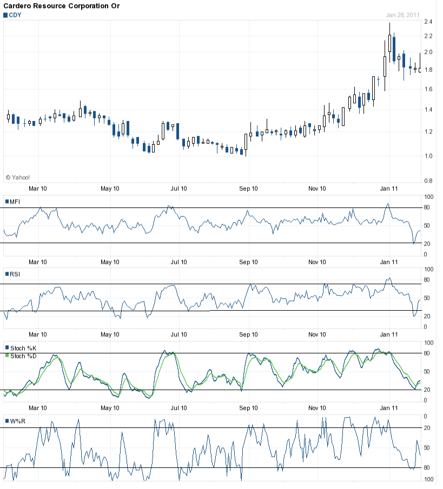 (Click to enlarge)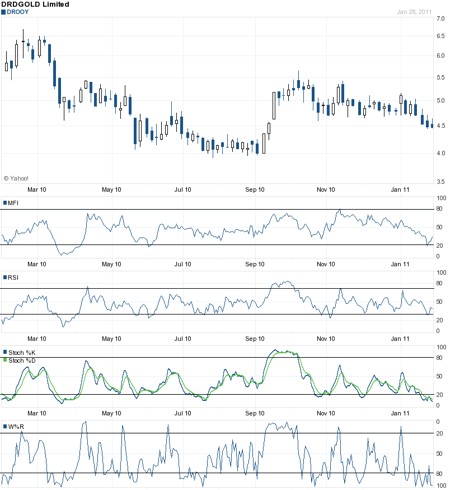 (Click to enlarge)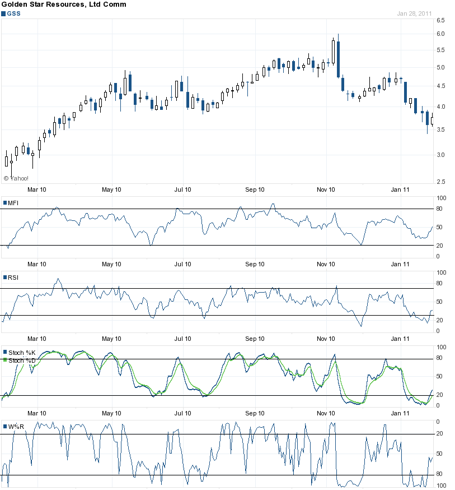 (Click to enlarge)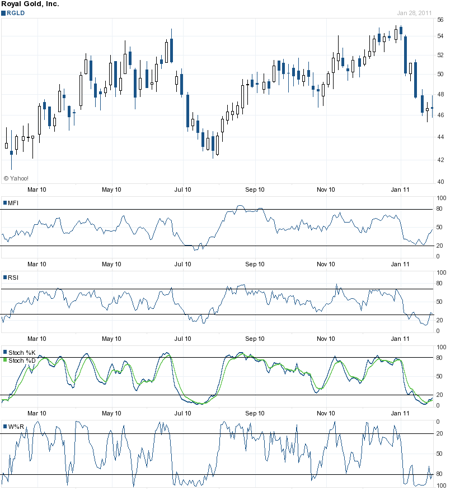 (Click to enlarge)
Top black line in each graph is overbought territory and the bottom black line is oversold territory.
Most of the charts look fairly similar, but GTU has a W%R, %K and %D cross, and RSI deepest into oversold territory out of all the graphs. The MFI is also one of the lowest.
GTU stores gold bullion, similar to SPDR Gold Shares, and the trust doesn't have to worry about geopolitical tensions like DROOY and BVN. Plus, the technical charts and fundamentals point to a higher GTU stock price. Thus, GTU may be the best buy in the gold sector.

Disclosure: I have no positions in any stocks mentioned, and no plans to initiate any positions within the next 72 hours.