After the last five days of processions, deaths of common people and continued protests in all of Egypt, it is too early to call the Egypt situation. Some of the key dimensions of the situation are:
Potential Outcome of Protests:
The chances of protestors being able to overthrow the current regime seem remote, not only because the numbers are still below the critical mass needed but also because the opposition lacks alternative, globally-acceptable leaders to replace the current regime. It seems improbable that people like El Beradi or Ikhwan will be able to capture the power. Ikhawan ul Muslamoon is the only organized opposition group, but it does not represent the mainstream and is not acceptable to the global community.
The developing law and order situation in the densely populated cities of
Egypt
may result in disillusionment among the populace, and may evaporate sympathy for the would-be revolution; protests may fizzle out. This outcome may strengthen the army's position in any future political dispensation.
Stability, Risk & Succession:
Even if the protestors may not be able to unseat Mubarak, they may have put a stop to his ambition of contesting the coming presidential election or nominating his son, Gamal, to be the next president. The most likely scenario is that the newly-sworn vice president, General Omer Soliman, may act as a transitionary president before the next lot of army generals consolidate themselves in the power.
Soliman is the most visible name from the most powerful constituency in
Egypt
, the army. Another possibility is that another general, who is less close to Mubarak, may be selected to lead the country. If street protests continue and succession becomes protracted, it may create a longer period of instability that will hamper normal economic activity. This may delay the flow of foreign investments and may even result in further outflows from riskier investments like equities.
Contagion Risk:
Although the possibility of spreading the Tunisian / Egyptian contagion to other countries like
Saudi Arabia
is far-fetched, the fear of Egyptian contagion spreading to the rest of
the Middle East
and the world has increased, as it appears from equity markets' reactions. If there is an extended period of instability in
Egypt
and a stand-off between the government / army and protestors, the political instability may spread in
North Africa
and
the Middle East
-- to
Algeria
,
Jordan
,
Yemen
,
Bahrain
,
Kuwait
and potentially to the world's largest oil producer,
Saudi Arabia
.
Even if the current situation in
Egypt
is quickly resolved in favor of the protestors, it may still lead to a domino effect in the region. It may potentially embolden the protestors in
Algeria
,
Jordan
and
Yemen
-- and, potentially, in
Syria
and
Saudi Arabia
-- thus triggering a chain reaction throughout the
Middle East
.
Investing Implications & Risk:
Ripples of
Egypt
's unrest are already being felt around the world. The Egyptian stock exchange was down 20% last week, with mid- and small-cap names down by 25%.
[Click all to enlarge]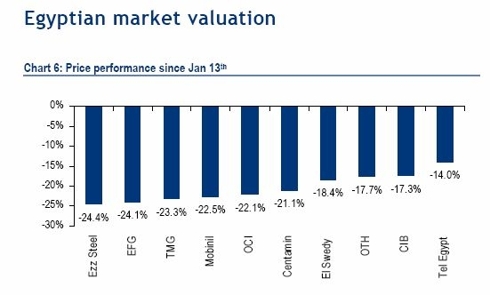 The cost of insuring Egyptian sovereign debt has risen to 4.38% from 2% only a week ago. Middle Eastern markets were sold off in the last few trading sessions. Global equity markets also weakened. The U.S. dollar has risen on the fear trade. Crude oil prices shot up by 4.39% to close at $89 / barrel in the last trading day, as investors weighed the risk of closing the
Suez Canal
, through which 10% of global tradable oil passes. This has also created threats and opportunities fro investors in Egyptian and Middle Eastern equity markets.
The Threats and Opportunities in Egyptian Equity Market
The Egyptian stock market was closed on Sunday and Monday and may face renewed selling pressure whenever it reopens. After last week's sell-off, the Egyptian market's discount to the emerging markets may make it look relatively attractive. However, earnings estimates for 2011 may be revised downwards, which may reduce discounts to emerging markets.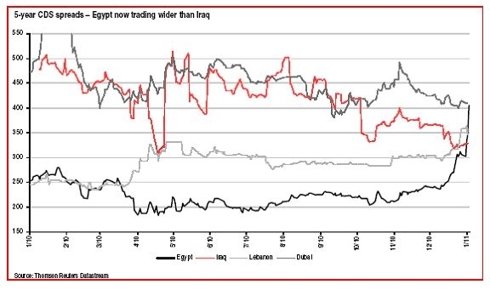 The increase in political risk as read in CDS has risen from 200 bps to 450 bps, which implies a 20-30% increase in discount rates. This should make a case for an Egyptian index fair value discount to the emerging markets, as against premiums, in 2010. A further 10% decline in the Egyptian equities index, if current fundamentals don't change, may make that market attractive. Index ETFs like EGPT, EGYP and GULF may become attractive buys at that stage.
The Egyptian pound may face more downward pressure as foreign portfolio money is flying from the country. Also, there have been anecdotal reports of local businessmen and high net-worth individuals moving their money outside of

Egypt

. The Egyptian pound has declined to 5.83 against the dollar, and is likely to slide even further if the current instability continues.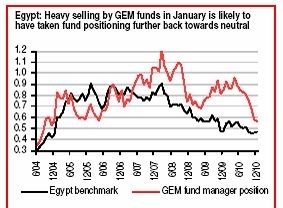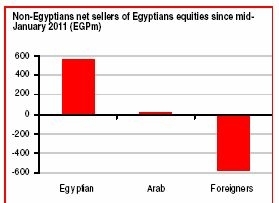 It is probable that the risks have shot to the upside and are likely to revert back. This anticipated decline in risk will help re-rate the market upwards, which offers the equity markets investing opportunities. However, we would like to see some visibility on succession and stability before taking any index position on this overshoot belief.

Egypt

is unlikely to face BoP challenges even if earnings from tourism drop by 70%, as it has $37 billion in forex and $26 billion in fixed income investments – half of the holders being the foreigners. The external debt to GDP ratio is 14%.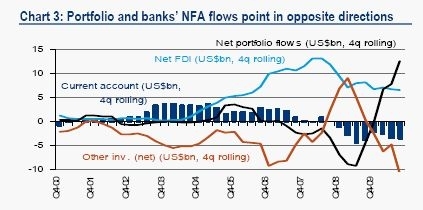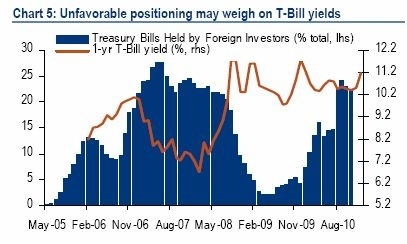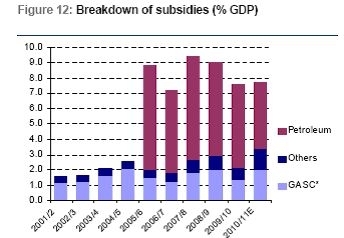 For the brave early investors willing to take on

Egypt

ian equity risk, a preferable investment should be in the equity names with strong cash positions, higher and visible cash flows, and with the defensive business model. Egyptian Telecommunications (OTC:TEGPY) and Commercial Bank International (OTC:CMGGF) are the names which may survive the worst outcome, have visible cash flows and strong cash positions. A preferred trading strategy may be to buy at dips to average down the cost.

At the second level, those names are preferable whose earnings come from exports or from outside

Egypt

. Orascom construction (OTC:ORSDF), which is a 50% fertilizer (70% exported), and 50% construction (65% from outside

Egypt

) and Ezz Steel (OTC:ALZJF), with 40% export and 60% local sales, are the few examples of such riskier investments.

Another pertinent dimension is that the owners / founders of many blue-chip Egyptian companies are quite closely connected to the Mubarak regime (Talaat Mustafa and Ghaboors) or are part of Mubarak's party (NPD) / government. In the worst case, an adversial regime may supplant the current one, and some of these companies may face business problems.
Middle Eastern Equity Markets
As expected, there was a severe sell-off in the GCC due to the Egyptian crisis, taking several of the GCC large caps to the limit down level. Hedge funds such as GEM funds were the main sellers over the last few days; some had to face margin calls initiated by their long Egyptian positions, which collapsed on Thursday last week.

Meanwhile,

Egypt

5-year CDS has doubled to 430bps since the start of the year; Dubai CDS gained 20 bps to 440 bps; and the Saudi CDS went up from 75 to 110 overnight. Naturally several hedge funds also tried to increase their short delta with the large caps.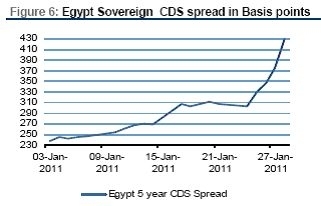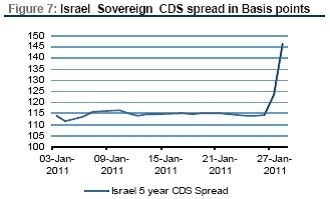 Saudi Arabia's stock exchange tumbled by over 6 percent on Saturday, setting the stage for other regional markets to drop on Sunday as concerns mounted about the violent protests in

Egypt

. The Tadawul All Shares Index fell 6.44 percent to close at 6,267 points. The drop in the TASI offered a window into the potential battering that emerged when other regional markets reopened on Sunday.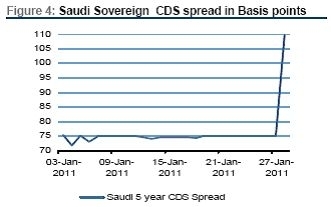 Emaar Properties, which has four major projects in

Egypt

including commercial and residential developments near

Cairo

, fell 9.1 percent. About 10 percent of Emaar's assets are in

Egypt

. Builder Arabtec and contractor Drake & Scull, both active in the North African state, fell 9.6 percent and 8.3 percent, respectively. UAE-based low cost carrier Air Arabia, which flies to four destinations in

Egypt

and operates a hub in

Alexandria

, fell 8.8 percent

In

Qatar

, the benchmark index DSM fell 4.1 percent, slumping to an eight-week low as 19 out of 20 stocks declined and the other went untraded, while

Oman

fell 3.2 percent and

Kuwait

dropped 2.1 percent.

Although the GCC markets recouped some of the losses in Monday's trading, we may expect some further equity sell-off in GCC markets if and when protests in

Jordan

and

Yemen

gather pace. On the other hand, if contagion spreads, the spike in crude oil prices may be deemed as positive for Middle Eastern equity markets.

Despite the heavy uncertainties, we think this will throw up several investment opportunities across the MENA region, which we believe shouldn't be suffering from contagion. Names like Abdullah Al Othaim Markets; Al Rajhi Bank; Fawaz Abdulaziz Alhokair & Co.; Jarir Marketing Co.; National Shipping Co. of Saudi Arabia; The Riyad Bank; Samba Financial Group; Saudi Arabian Mining Co-Ma'aden; Saudi Basic Industries Corp.; Saudi British Bank; The Saudi Fertilizer Company; Saudi International Petrochemical Co.; Saudi National Petrochemical Co.; Saudi Telecom Co.; Industries Qatar; Commercial Bank of Qatar; Qatar Islamic Bank; Bank Muscat; Renaissance Services; Emaar Holdings; and DP World should offer a great value from a current entry point.
The recent spike in VIX indices highlights the

Egypt

risk spreading to the global equity markets. Global markets were sold in the last few trading sessions on unease about the Egyptian situation. We expect the global markets to react negatively to any extension of instability and spread of contagion in other parts of the

Middle East

.

Further, if the contagion spreads to the rest of the

Middle East

, it may propel the crude oil price to shoot past $200 per barrel, which may quash the budding global economic recovery and will be bad for equity markets. The last recession was triggered by a crude oil price of $140 per barrel in June 2008.

Commodity-induced inflation may cause social unrest in non-commodity emerging (EEO) and frontier markets (FRN) ETFs in East Asia, as well as with VNM, TUR, EPU, ECH and EPI.

Egypt

may serve as a symptom of a deeper malaise or a trigger point for social unrest spreading to these developing small economies. Indices of non-commodity countries like

Hungary

, Turkey, Vietnam,

Pakistan

,

India

(IFN) & China (FXI) may under-perform the developed markets.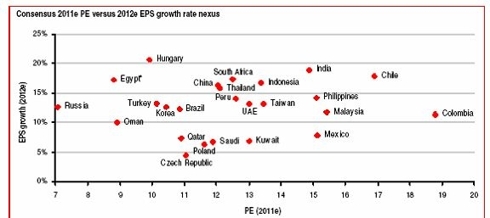 Equity investment in developed markets ETFs like [[

EWG]], EWC, and GULF

may outperform the emerging markets, which outran others in most of 2009 and 2010. A long (commodity countries) / short (non-commodity countries) strategy can be used to play this theme while remaining market neutral.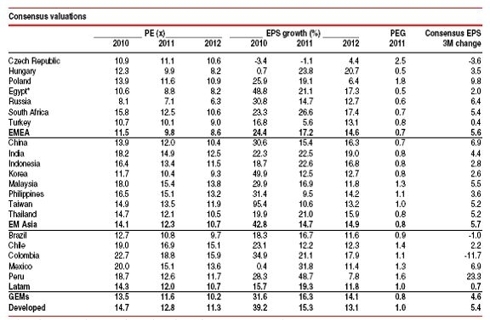 Emerging Market Currencies, Euro & U.S. Dollar
Egypt

's unrest has driven investors to move away from equities toward the dollar, prompting stocks to fall and the greenback to gain.

The dollar and other safe-haven currencies gained in the last few days as investors sought refuge from the turmoil in the

Middle East

/ Egypt.


The euro fell broadly as traders worried that the single currency was at further risk, as the political unrest in

Egypt

threatened to spread to neighboring Arab countries.

Emerging market currencies also sold off, led by the Turkish lira and the Israeli shekel. With Egyptian markets closed on Fridays and Saturdays, investors sold shekels and lira and bought the dollar in a proxy trade during the unrest. It is likely that the U.S. dollar may keep its strength until the situation becomes clear.
Although

Egypt

is not a significant oil exporter, it is home to the

Suez Canal

, a major shipping channel between the

Red Sea

and the

Mediterranean

. The U.S. Energy Information Administration estimated that 1.8 million barrels of crude and refined petroleum passed through the

Suez Canal

per day in 2009. Current unease emerges from 10% of global tradable oil passing through

Suez Canal

, we don't see any closure of canal and expect the markets to normalize

World oil prices rose in Asian trade Monday on fears that mounting political tensions in

Egypt

would disrupt supplies flowing through the

Suez Canal

.

New York

's main contract, light sweet crude for March delivery, was up 37 cents to $89.71 per barrel in morning trade. Brent North Sea crude for March rose 18 cents at $99.60. The rising prices reflect continued tension in

Egypt

and the possibility that there would be (supply) constraints through the

Suez Canal

. There is some nervousness about supplies that could affect

Europe

more than the

U.S

.

Investors are concerned that similar demonstrations -- which have also touched

Tunisia

,

Yemen

and

Jordan

-- could spread elsewhere in the oil-rich

Middle East

. Crude oil price sensitivity to the events in

Middle East

has been highlighted by the last few days of market reaction.

Investor fears over a spread of the protest could make crude oil a major benefiting market. If the Egyptian protests are protracted with no quick resolution, and contagion spreads to other parts of the Middle East, it may cause the crude oil price to top $200 / barrel or even higher. For a historical perspective, recall the crude oil price increase from $10 per barrel to $40 per barrel during the Iranian revolution.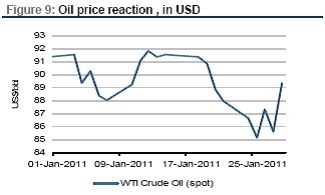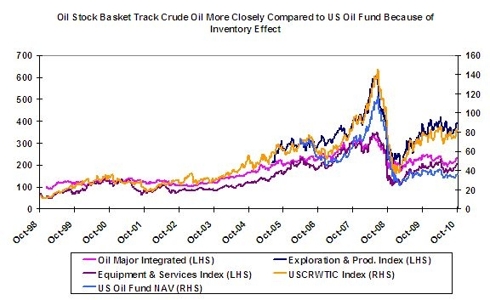 Although the Tunisian "Jasmine Revolution" and Egyptian protests have been triggered by escalating food prices, their impact may propel food prices even higher, as countries may try to build their grain reserves in an environment of declining yield and acreage.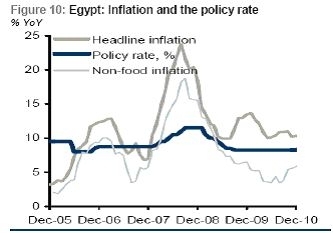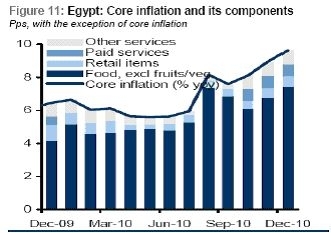 There is no quick fix for nations bedeviled by record high food costs that have stoked civil unrest. And any extreme weather event in a grains-producing part of the world could send prices soaring further.

Fears of a shortage is already prompting importers to build up bigger inventories after a year in which stocks of corn and soybeans in the United States -- the world's top exporter -- dwindled to their lowest level in decades. We expect the grain and fertilizer prices to gain further strength in coming weeks. Many investment vehicles / themes are available to play this spike in agricultural prices, which include direct futures investment, ETFS, equities, agricultural implement equities, fertilizer stocks and options on corn prices and agricultural / fertilizer equities and substitutes.
Disclosure: I have no positions in any stocks mentioned, and no plans to initiate any positions within the next 72 hours.