As you may have already heard, LinkedIn (NYSE:LNKD) will be initiating what could be a string of social media/internet Initial Public Offerings. The company filed prospectus papers with the Securities and Exchange Commission, the initial step for an IPO. They will be the first among a class of private social media companies, such as Etsy, Zynga, [yes] Facebook, Twitter and possibly others to enter the public markets. The company, which derives its current revenue through a triple revenue model (Hiring Solutions, Marketing Solutions and Premium Subscriptions), is projected to hit revenues of $200 million through the end of 2010 ($161 million through 3Q2010).
LinkedIn is currently one of the hottest traded private stocks on SecondMarket.com and Sharespost.com. The valuation at the last traded transaction gives the company a $2.23 billion market capitalization ($23/share), while the next seller is demanding a $40/share price, a 74% spike (don't do it!).
Membership Rates
Although understanding the growth of current members helps, it is imperative to gauge how many of the members are actually active. In fact, LinkedIn admits in the risk portion of the prospectus that a "substantial majority of our page views is generated by a minority of members." Additionally, the company mentioned,
The number of registered members in our network is higher than the number of actual members because some members have multiple registrations, other members have died or become incapacitated, and others may have registered under fictitious names.
How relevant is the 90 million user milestone then?
Growth
What is relevant is the current revenue stream growth and how sustainable that growth might be. The company warns,
we expect revenue growth rate to decline, and as we continue to invest for future growth, we do not expect to be profitable on a GAAP basis in 2011.
This then becomes a guessing game - can LinkedIn convert your hard earned dollars into future profits?
My Model
Here is my own model and expectations for LinkedIn for 2010, 2011, and 2012. I believe the revenue multiple (multiple investors are willing to pay per share) will decline to 7x and 5x in the coming years thus making this stock worth less than it is currently worth in the private market today.
Click to enlarge: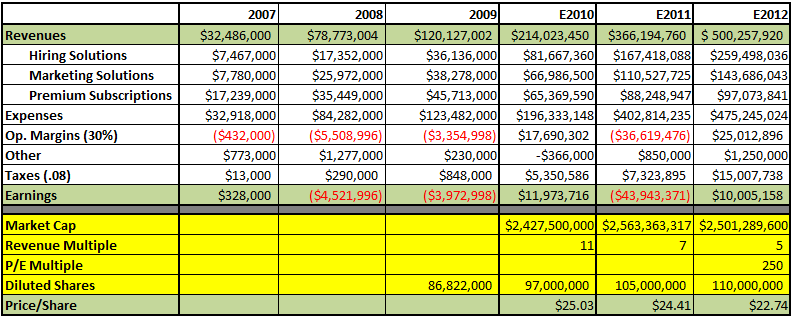 LinkedIn vs. Facebook
One thing to keep in mind is that LinkedIn is NOT like Facebook. The two are actually quite different and distant in terms of the value proposition and the growth expectations. With that said, here are some interesting comparisons between the 2 sites.
Click to enlarge:

When comparing December total visits, according to Compete.com, LinkedIn has 1% of total Facebook visits, while boasting to have an equivalent of 16% of Facebook users. This means that the majority of LinkedIn users almost never visit the site! In fact, Quantcast.com indicates that on a per person basis, visits/month is actually in decline mode (below)!
Click to enlarge: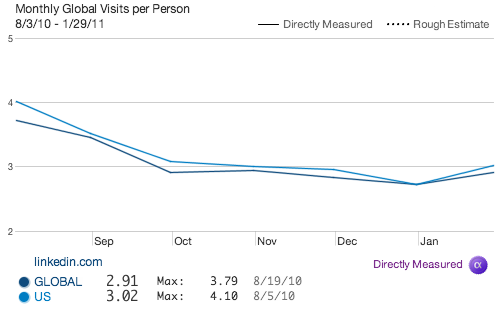 Additionally, LinkedIn has been sliding in the Compete Rankings (criteria that ranks websites according various popularity criteria) from a peak of 53 in March 2010 to 73 in December 2010, another indicator that visitors are not seeing significant value in the site.
Click to enlarge: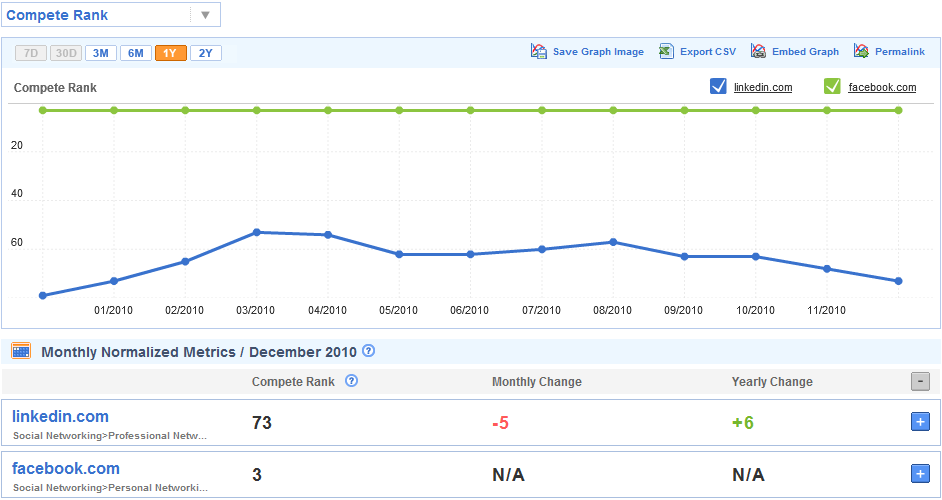 Final Thought
LinkedIn is obviously an excellent tool for many corporations and individuals to connect. It by far surpasses anything we've seen in terms of connecting to employers, our peers, and creating professional networking opportunities. The question is whether the site has the ability to bring value to its shareholders and justify a current share price equivalent to an 11x revenue multiple.
Unlike Facebook, LinkedIn has some serious limitations in terms of how individuals can spend time on the site. The site can't bank on photo albums or games, and people will not spend hours/month giving their status updates on LinkedIn. The company then would need to refocus its strategy on "hiring solutions" and build a better monetizing model for corporations to hire through the site. This could significantly alter the current revenue model to give a more promising solution to shareholders, while creating an ability for users to have a more meaningful experience on the site. It could also help with our stagnant/high unemployment rate!
Disclosure: I have no positions in any stocks mentioned, and no plans to initiate any positions within the next 72 hours.

Disclaimer: This article is intended for informational and educational purposes only and shall not be construed to constitute investment advice. Nothing contained herein shall constitute a solicitation, recommendation, or endorsement to buy or sell any security or private fund.