Last week was full of important data releases. On Thursday, the initial claims report surprised economists and investors alike with a dramatic upswing. Jobless claims shot up to a seasonally adjusted 454,000 from the previous week's revised 403,000.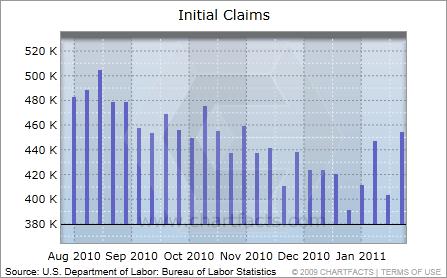 click for expanded images

The Department of Labor attributed the unexpected jump to the inclement weather that swept across the Midwestern and eastern portions of the nation, forcing workers to stay home. The increase represented the single largest week over week jump since September of 2005. The four week moving average, which smoothes out volatility, is up almost 15,000 from one month ago.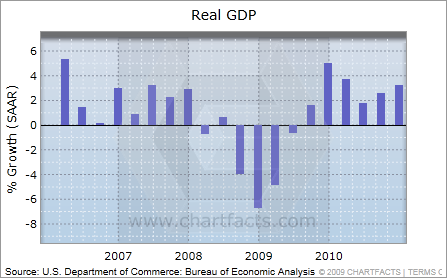 Also on the economic front, GDP was released on Friday. The news was mixed. On the positive side, December posted a second straight quarter of increased GDP growth. At 3.2%, it was up significantly from 2.6% in the September quarter and 1.7% in the March quarter. The bad news was that expectations had been even higher with most estimates at 3.5% or above.
Digging deeper into the GDP report, personal consumer expenditures were up an annualized 4.4%, while exports rose 8.5% and imports declined 13.6%. These bode well for the economic outlook. The disconcerting number in the data was a dramatic slowdown in inventory growth. Inventory investment was down to $7.2 billion from $121.4 billion in the third quarter.
Switching to the corporate side, Ford (NYSE:F) had a disappointing earnings release in the week (see earnings results here and earnings call transcript here). The street had pegged Ford EPS to come in at $0.48. The company reported $0.30. Ford shares tumbled more than 13% on Friday. Fourth quarter net income was $190 million, which followed up a third quarter $1.7 billion.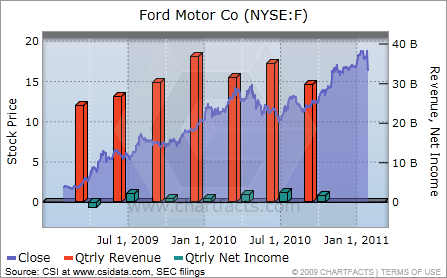 Ford took an one time charge of $960 million for a debt to equity conversion. CEO Booth cited rapidly rising commodity prices and pricey vehicle launches with the Ford Focus and the Explorer as downward pressures on profits.
On the other side of the ledger, Netflix's (NASDAQ:NFLX) earnings release was very well received by the market (see earnings results here and earnings call transcript here). Netflix reported EPS of $0.84. That was significantly above consensus of $0.71. Revenue increased 34% over the previous quarter and shares responded with a 15% jump on Thursday.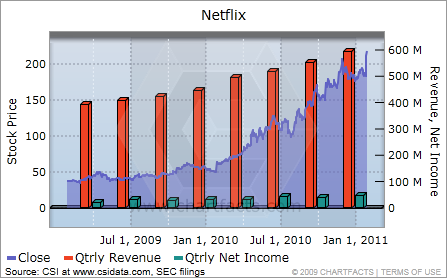 In the fourth quarter Netflix surpassed 20 million subscribers. With the continued rapid rollout of streaming capable blu-ray players, televisions, game systems and smartphones, many believe the subscriber base will continue to ramp.
Disclosure: I have no positions in any stocks mentioned, and no plans to initiate any positions within the next 72 hours.